A Unique Family Dining Experience at Backyard Italian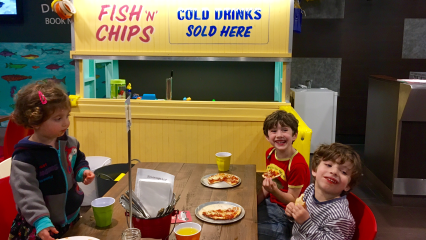 By: Amanda Lieber, ellaslist explorer
Backyard Italian is FANTASTIC. The first thing that caught my eye was the ceiling lined with fake greenery and the retro pictures lining the walls of the stairwell when we entered from Anzac Parade. The décor followed us into the restaurant. When we walked through the glass doors, we had stepped into Italy.
The Dining Sections

The restaurant has been divided into 5 sections, with each section decorated appropriately to its themed name.
"Back Yard" has Nona's washing hanging from the back wall, a sight which immediately transported me back to the laneways of the little villages in Italy.
"Front Yard" has comfy chairs, lush fake foliage and a birdcage.
"Tin Shed Dining"(over 16s) feels like you're in a shed, the view from the 'windows' completes this experience; Nona's washing with a soccer ball.
"Family Dining" and play area, is specifically set up for families. Sectioned off by glass walls so the kids can run around and not disturb others dining without children!
"Sports Bar (TAB)" which is next to the family dining.
The décor is perfect, with something new to discover everywhere you look.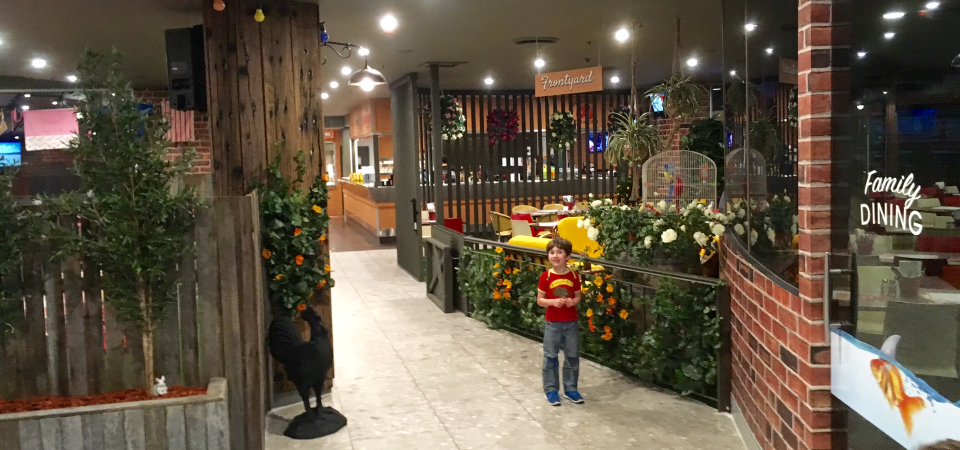 The Play Area – Family Dining

WOW! A room just for families! It includes two areas for the children to play in, a bar (for the adults) and a toilet. This area is separated from the main restaurant by ceiling to floor glass walls so you can still see out but it is sound proof!
The children ran straight to the 'Fish and Chips' shop, complete with seagulls and life jackets hanging from the ceiling. They spent ages taking orders, making pizza, milkshakes and serving them to us. After lunch they enthusiastically played on the low wooden pirate ship, navigating carefully though the waters with the telescope and steering wheel.
There are tubs of other toys including duplo, pots, pans and marine life. The walls are beautifully decorated with bright coloured fish and the sharp edges of the equipment has been covered with soft material to avoid any injuries.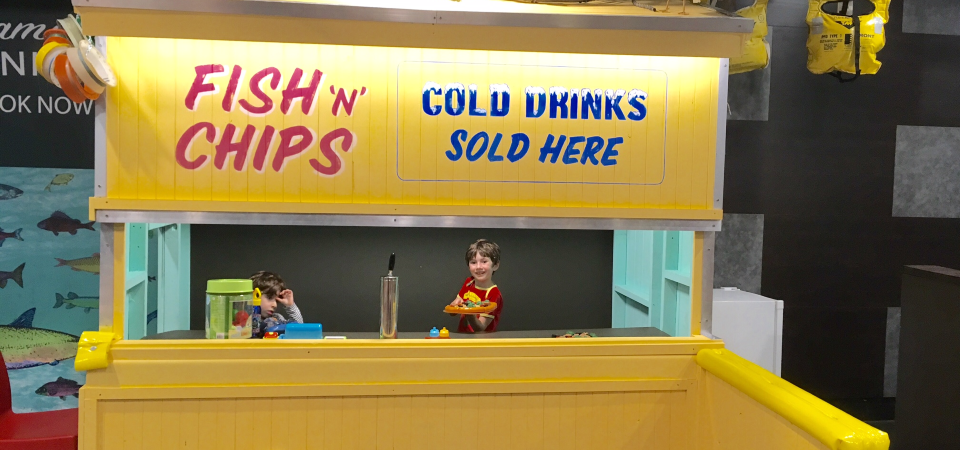 Italian Dining for the Family

They have a full Italian menu which made our mouths water whilst reading it. It includes: sharing dishes, salads, four types of parmigiana, pastas and pizza. They cater for gluten free and vegetarian. If you have any requirements just ask the friendly, approachable staff. There is a lunch special from Wednesday – Friday "Express Lunches – $12" which include highlights from their menu.
We enjoyed a Grilled Chicken Caesar Salad ($12) crunchy, delicious and full of flavour, the poached egg was a little over done and cold (from morning prep), a Mediterranean salad ($15- my tastebuds loved the various herbs! It's a small salad for one. The Kids meals aka "Ankle Biters" ($10) includes a juice/soft drink and an ice-cream.
Food options: crumbed chicken, boscaiola, fish and chips. Ours had bolognaise and Margharita pizza.
Judging by the empty plates and comments 'YUM, this is delicious' the children were satisfied.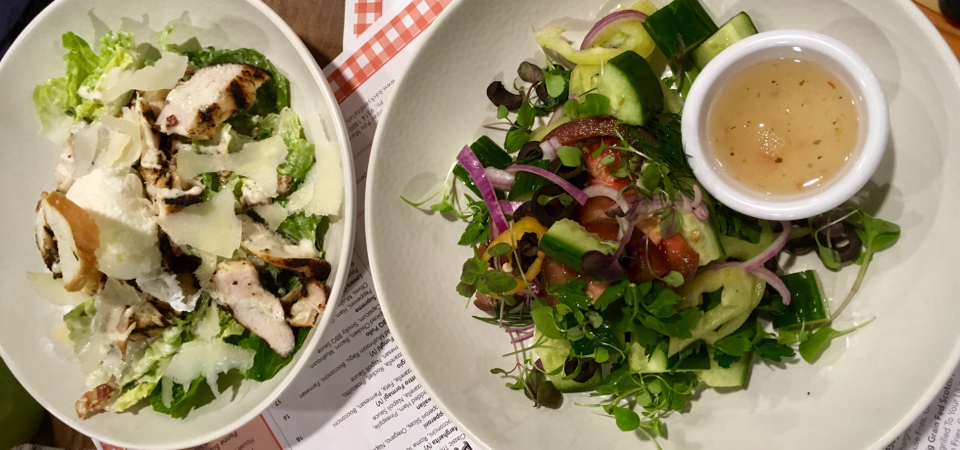 Top Tips


Dinner is available from 4pm, you can get in early, fed and home by a decent time.


We went during the week for lunch and it was quiet, I have a feeling they will get very busy so I suggest booking your table, especially for the family dining area.


There is an elevator from the carpark or street level, push "B" for Backyard Italian.


Check their website for promos, Melbourne Cup Day children welcome (

YAY

) in the family room.


When we walked in, there was a faint smell of smoke (from next door) but it doesn't affect the family area. (I do however have a sensitive nose)


We discovered The Greener Grocery, a huge family owned fruit and veg shop also selling meat, fish, frozen scoop your own berries, an organic range and more. Reasonably priced, delicious and fresh!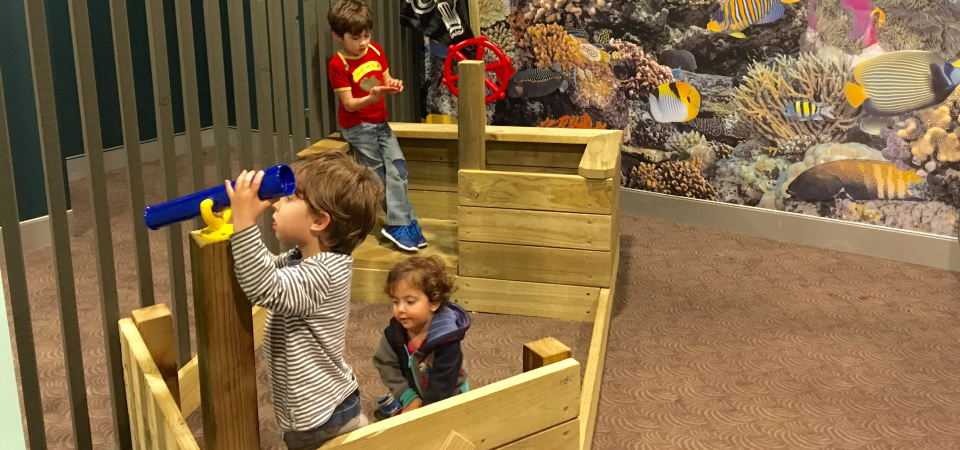 In a Nutshell

What makes the cafe kid-friendly: The dedicated family dining and play area, I counted 10 high chairs available.
Atmosphere: Inviting and down to earth
The Food: YUM, Italian and variety of choice
Value-for- Money: Decent portions and reasonably priced
Special features and Fun bits: Definitely the play area
Who is the cafe best suited for? Families, singles, couples, good to go after work
What did we love? The children being contained in one area. Loads of things to keep them entertained and using their imaginations. The staff are incredibly friendly and helpful. And the kids loved the the play area, pirate boat and the ice cream!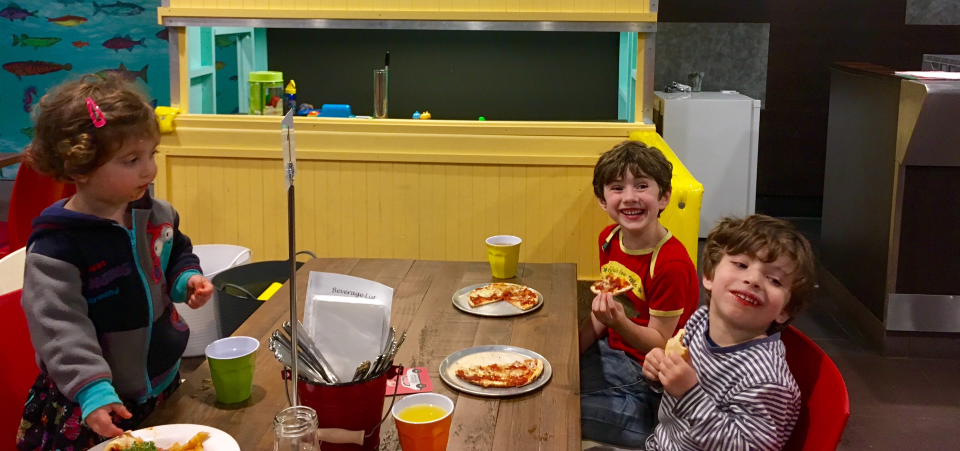 What You Need To Know

Opening Times: Open 7 days: Mon – Thurs from 4pm ; Fri – Sun – from 12pm
Phone: 02 9314 1800
Address: 832 Anzac Parade, Maroubra Junction
Parking: 2 hour free parking via Green Street (5 Level Car Park) and free parking areas in the middle of Anzac Parade opposite restaurant.
Amenities: Toilet and change area in the family dining area (might get a bit scruffy if the dining area is full unless checked regularly)
More Info at www.backyarditalian.com.au.