A Pick Your Own Cherry Adventure for the Family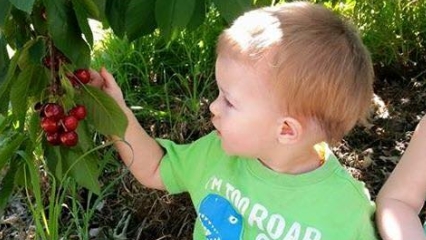 We could go through a punnet of cherries a day in summer! But we all know how pricey these little juicy bites of paradise are. So every year, we look forward to heading out to an orchard to pick basketfuls of cherries straight off the tree. It's one of the highlights of the year for our family and we reap the delicious benefits for weeks after…cherry pies, cherry jam and cherry ice-cream. Yum!
Visit the National Cherry Festival
You need to travel a little further out of Sydney to visit the Cherry farms but I assure you it's worth it. We usually make a weekend of it and time our mini-break over the National Cherry Festival in Young (end of November, early December most years). This is such a fun festive event and perfect for the whole family. The kids love ogling over the Cherry Pie Eating Contest (these eaters are HARD-CORE!) and The Cherry Spitting competition is hilarious (bring an umbrella).
Celebrating the Cherry
One of the highlights is the colourful street parade. See if you can spot the giant cherries. There are also heaps of market stalls selling scrumptious treats and home-made craft. Plus our children spend hours in the sideshow alley amusements and rides. And it's worth keeping the little ones up for the fabulous fireworks display on the opening night.
Pick your Own Cherries
But let's get down to the business of picking. As part of the Cherry festival, there are special tours to one of the top 'pick-your-own' orchards, where you can pluck cherries to your heart's (and tummy's) delight. The tour includes transport and only costs $10 a person.
The National Cherry Festival is timed to co-incide with the height of cherry harvesting season so it's the very best time to take your pick of these plump, juicy, firm and super fresh cherries.
Take your Pick of Cherry Farms
There are nine local cherry orchards in Young, which are all open to the public. Not all of them offer 'pick-your-own'. So see below for more details.
So, if you're looking for a cherry adventure and some fruity family fun, you certainly can't beat a trip to Young's Cherry Festival. We'll see you there!
Ballinaclash Orchard & Cellar Door
Pick Your Own Cherries, Apricots, Nectarines & Plums. Keep an eye out for their popular cherry pie making classes.
Address: 4321-4335 Olympic Hwy, Young
Phone: 02 6382 3696
More info
Check Facebook for Latest Updates
Opening Hours: 7 Days during cherry season.
Saturday & Sunday: 8am to 5pm; Monday to Friday: 9am to 5pm
Allambie Orchard
Pick Your Own Cherries
Address: 3725 Olympic Highway, Wombat
Phone: 041 846 2821
More Info
Check Facebook for latest updates
Opening Hours: Monday – Sunday 8am to 6pm (Mid November to January)
No Entry Fee – Pay for what you Pick
Main Range Orchard
Pick Your Own Cherries
Address: 920 Boundary Road Young
Phone: 02 6384 3285
More Info
Check Facebook for latest updates
Opening Hours: Open every weekend from 8am to 5pm during cherry season (from 28 Nov 2015). During the week by arrangement.
Wombat Heights Orchard
Pick your own Cherries, Peaches and Sugar Plums
Address: Back Wombat Road, Wombat
Phone: 02 6384 3208
More Info
Check Facebook for latest updates
Opening Hours: Open every day of the year. In cherry season open from 8am – 6pm.
Hill-Lock Orchard
Pick Your Own Fresh Cherries and Strawberries, Mulberries and a range of fresh vegetables
Address: 78 Racecreek Road, Wombat
Phone: 043 994 7727
More Info
Opening Hours: Open 7 days a week until Christmas Day
Glenn Mohr Farm
Pick Your Own strawberries (Mid October – March), fresh cherries and vegetables available from the packing shed (November – January)
Address: 4249 Olympic Highway, Young
Phone: 0481 355 543
Willayoung Orchard
Apricots, cherries, peaches, nectarines, plums and figs available for sale. No Pick Your Own.
Address: 191 Willawong St, Young
Phone: 02 6382 2910
More Info
Eastlake's Family Tree – Fairfields Orchard
Cherries and Strawberries available for sale. No Pick Your Own
Address: 3923 Olympic Hwy, Young
Phone: 02 6384 3403
More Info
Valley Fresh Cherries and Stone Fruit
Cherries, Strawberries and Plums available for sale. No Pick Your Own
Address: 4179 Olympic Highway, Young
Phone: 02 6384 3221
More Info