A New Wave Park Is Coming to Sydney Olympic Park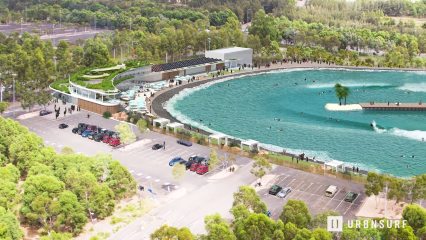 By: Serina Hajje, ellaslist
While Sydney may be sprawling with sparkling beaches and pools, it's getting harder to enjoy a good swim when crowds seem to be getting bigger. It's even harder for people living in Western Sydney where it can take over 30 minutes to get to your nearest beach.
Well, surfers (new and professionals) will soon be able to enjoy a wide and spacious wave park, according to Sports Minister Stuart Ayres, who recently announced that the current P5 car park at Sydney Olympic Park will be utterly transformed into UrbnSurf Park.
Riding the Waves

The facility is expected to open mid to late 2018. Its key feature will be the surfing lagoon, which can generate artificial waves between 1.7 and 0.6 metres high, making it ideal for professionals and beginners. That makes it perfect for kids with an interest in surfing. It's perfectly safe from jellyfish and rips and will offer careful supervision.
Twilight Surfing

Surfers can also take to the waves at night! UrbnSurf Park will include lighting to keep visitors there literally all day and night, as well as a cafe, rooftop bar, wet suits and board-hire.
Gnarly dudes!