8 Essential Things To Do With Kids In Melbourne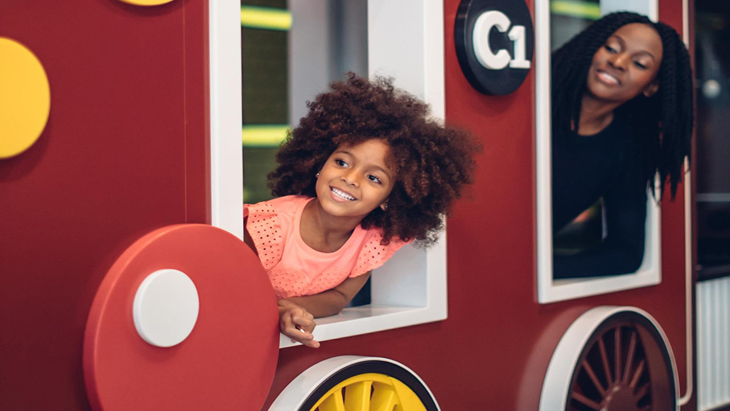 By: Claire Halliday, ellaslist
With so many incredible things to do in Melbourne, how to pick just 8?
But we've done it.
Yes, there will be things we've missed, but this list is about those most iconic outings that every family should have at least once – and can rely on for return visits.
Melbourne Museum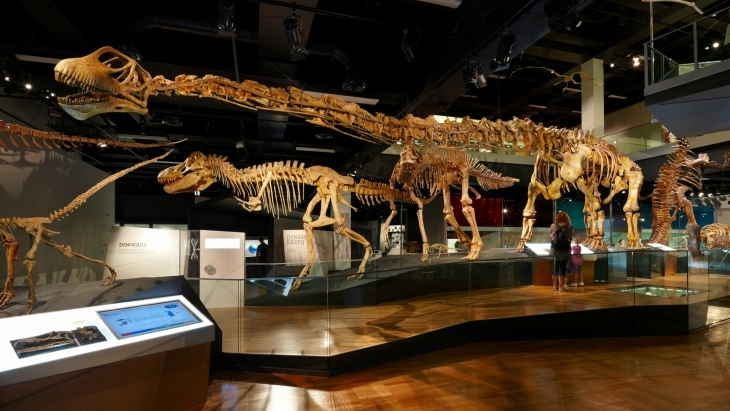 There are lots of different reasons to enjoy this venue – one of Australia's biggest and best museums. If education is your focus, bring a notebook and encourage your little ones to document some cool facts – or think of some questions they may want to research at home later. With so many different sections to explore, it's another one of those places that can be visited and then revisited.
For very little kids, the dedicated children's section is fantastic – with lots of things to move and touch. On nice weather days, an outside section has plenty of things to play with too, and spots to pull out some picnic food (although there are in-house food options, including cute kids' lunch packs, as well). There is plenty of paid parking in the underground carpark, or come on public transport for some extra exercise.
While you're there, take the kids for a short walk to see the historic Carlton Exhibition Buildings and, if the weather's nice, make sure you leave enough time to hang out in the spacious playground just nearby.
What You Need To Know
Phone: 13 11 02
Address: 11 Nicholson Street, Carlton 3053
Prices:
Adult $14
Opening hours:
Daily 10am-5pm
More information: visit the website
Scienceworks

During school holidays, this place can be a madhouse and on wet weather days, when stressed-out parents are looking for entertainment options for bored children, the queues can also be long.
One solution? Wait until the middle of the day when the morning arrival rush has died down. Scienceworks is all about making science something fun. Interactive opportunities are the key. The Melbourne Planetarium, the Lightning Room and the historic Pumping Station are all on-site but be aware that some parts of Scienceworks require additional entry fees, beyond the general entry price.
Other exhibitions change with the school holidays, so it's worth checking the website to see what's on and what times things are running to help you plan your day.
What You Need To Know
There is a carpark but when things are busy it fills up fast. To make a day of it, public transport is an option and the ferry ride from Southbank is a fun way to add to the experience. Once you land, it's a very short stroll to Scienceworks but you will need to check ferry departure times to get you back to the city.
Phone: 13 11 02
Address: 2 Booker Street, Spotswood
Prices:
Adult $14
Concession and Child (3–16 years) free
Opening hours:
Daily 10am – 4:30pm
More information: visit the website
Melbourne Zoo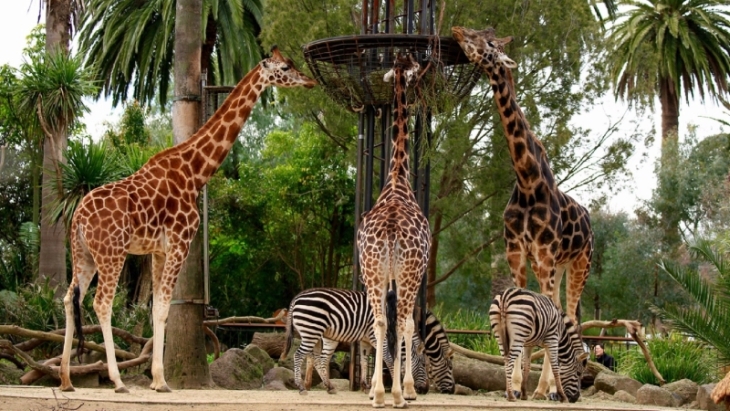 The landscaped grounds are lovely enough – then, of course, there are animals. With more than 250 species to discover, taking in everything (especially if your kids are the type that love to read all the key facts and figures on display outside each enclosure) is more than just a day trip. The proximity is a plus here. In a car – on a good traffic day, that is – it's just a few minutes from the CBD.
The Growing Wild exhibit is a world-first that aims to nurture a love of nature from an early age.
Sure, there are animals, but the sculptures, tunnels and sounds that encourage kids to crawl, climb, or see what it's like to assume the meerkat look-out position, are all about interactive play.
What You Need To Know
Pack your own picnic food to avoid the high cost and standard choices from the on-site café and take a lunch break early to secure a spot on the lawns before the crowds get thicker. On hot days, though, icy-poles are a must-do. Parking can be a challenge so being the first to arrive can save you some time and queuing stress.
Phone: 1300 966 784
Address: Elliott Ave, Parkville
Prices:
Adult $32.50
Child (0-15 years) Weekends and holidays FREE
Monday-Friday outside holidays $16.30
Opening hours:
Daily 9am-5pm
More information: visit the website
Luna Park

It's a Melbourne icon.
What You Need To Know
In summer, St Kilda beach is a swinging hot spot for families and singles – so if you're driving, be prepared to hunt for a car park.
Older teens or daring younger ones may be brave enough to try the fear-inducing, or you can let out some good old-fashioned screams on the classic Scenic Railway Roller Coaster. There's a fun carnival and all the usual fried food delights (try eating them after you've been flipped upside down and sideways), as well as amusements and carnival games.
What You Need To Know
Phone: 9525 5033
Address: 18 Lower Esplanade, St Kilda
Opening hours:
Monday-Friday closed
Sat 11am-11pm
Sun 11am-8pm
More information: visit the website
Sea Life Melbourne Aquarium
It's a favourite destination for many tourists to Melbourne, with more than 10,000 creatures to observe, including one of the largest salt-water crocodile exhibitions in the world – Croc Lair. The bizarre leafy sea dragons are always exciting to see and the penguin exhibit lets you imagine what life must be like in the shivery expanse of Antarctica. You can also feed fish and encourage the kids to get hands-on by touching sea cucumbers, starfish and stingrays. For those willing to invest some extra dollars into their day out, diving with the sharks is also on the activity menu.
What You Need To Know
It can be an expensive day out for a big family but with children under four years old free, it's a nice place to spend some pre-school outings.
Phone: 9923 5925
Address: King St & Flinders St, Melbourne
Prices:
ADULT (16+ yrs) $41.50
CHILD (4-15 years) $28
CHILD (under 4) FREE
Opening hours:
Daily 9:30am-6pm
More information: visit the website
Shrine of Remembrance
When it was built in 1934, this state memorial to Australians who have served their country in war and peacekeeping operations was focused on WWI. Since then, of course, WWII, the Korean War, the Vietnam War and other conflicts in the Middle East have all seen many more young men and women travel across the globe in the name of defence.There are hundreds of artefacts and displays to see and with volunteer guides on-hand to talk you through the important facts and figures, you'll all learn a lot.
If you have a link to past generations of Victorians who have played their own part in Australia's war history, you'll be able to find details about them here – an interesting way to educate your children about their own family heritage.
What You Need To Know
A trip here can be a sombre occasion, so with the Royal Botanic Gardens just across the road, it's worth combining it into one day out, to let play time in the beautiful surrounds add a happier touch to your visit.
Phone: 9661 8100
Address: King St & Flinders St, Melbourne
Prices:
Free entry (but donations are welcome)
Opening hours:
Daily 10am-5pm (last entry at 4.30pm) closed Good Friday and Christmas Day
More information: visit the website
National Gallery of Victoria (
NGV

)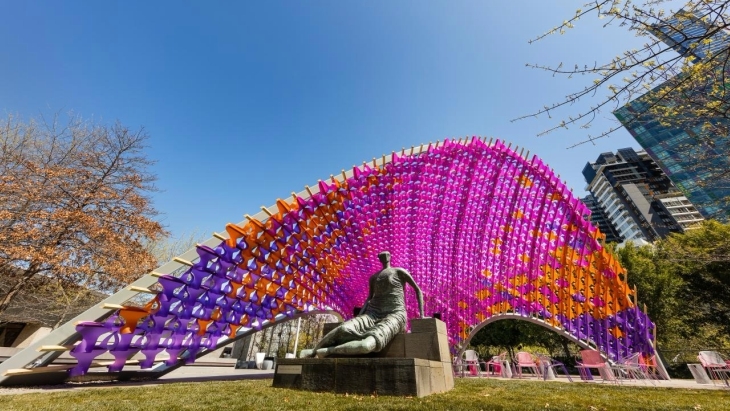 If your children have never got their hands wet in the iconic waterwall that is the impressive entrance to this wonderful, world-class gallery, then they've missed out on an essential Melbourne experience. Once you've dried them off, head inside (it's free unless you're attending a specific touring exhibition).
Whether on not they have any deep appreciation for art, there are many aspects of the NGV to capture their imagination. Head for the modern art section for lots of bold shapes and colours – and some thought-provoking discussion about what are really is.
The children's section always takes elements from some of the main exhibitions on display and has lots of interactive things to do and make.
Outside, at the rear of the NGV, there is more fun to be had, with things to climb and touch.
But for one of the most essential parts of your visit here, make sure you stop in the Great Hall long enough to appreciate its colourful beauty. It's best on a clear day when shafts of sunlight stream in through the coloured glass panels in the soaring ceiling. The thing to do – and don't be embarrassed – is to get down on your backs and just look up. As clouds float across the sky, the patterns and colour intensity changes and it's a fantastic space to spark daydreaming for pure pleasure.
What You Need To Know
Because large backpacks and bags are not allowed inside, it's smart to plan your trip so all essential kid-pleasing items are contained in a bag that's small enough to have with you – otherwise you'll need to surrender your supplies to the security lockers at the entrance and this can make life tough for parents with small children.
Phone: 8620 2222
Address: 180 St Kilda Road, Melbourne
Prices: FREE for general entry
Opening hours: Daily 10am – 5pm
More information: visit the website – http://www.ngv.vic.gov.au
The Eureka Tower
This 297-metre gold-plated skyscraper is a symbol of excess – in more ways than one. On the 88th floor, 285 metres above sea level, you'll enjoy a truly stunning observation deck (the highest public one in the Southern Hemisphere) that offers a view in all directions.
Be brave. When the weather is windy, the very top of the tower has been built to flex up to 600mm.
What You Need To Know
It's wonderful enough to simply enter and view the sights of Melbourne – both by day and by night – but if your children have heard of The Edge experience, you might be under pressure to fork out extra for that and go through the momentary terror of feeling as though the ground is slipping away from your feet as you stand in the glass-bottomed cube that juts out high above the city skyline.
Phone: 9693 8888
Address: Riverside Quay, Southbank
Prices: Family ticket package online – 2 adults + 2 children = $46 (does not include The Edge experience)
Opening hours:
Daily 10am – 10pm (last entry 9.30pm)
Christmas Day and New Year's Eve 10am – 5.30pm
More information: visit the website – https://www.eurekaskydeck.com.au