6 of the Best Eats in Melbourne for under $10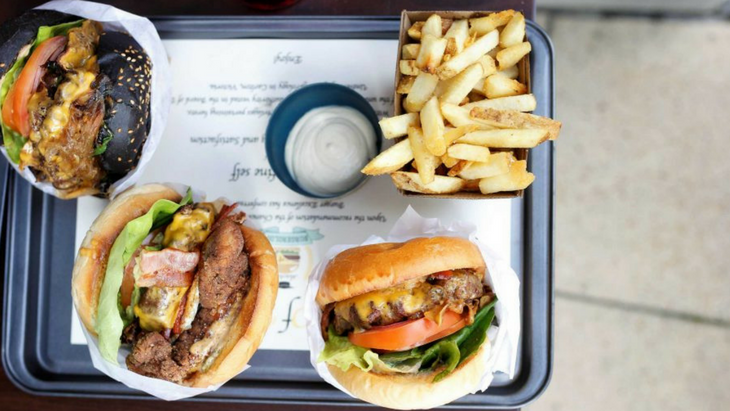 These days it can definitely feel like an expensive expedition to take the family out for dinner, so we've done you a solid and sourced all the best places to grab a meal for under $10 a head.
Dinner out never looked so good!
1. Chug, St Kilda
On Mondays between 3pm and 10pm you can grab a Cheeseburger, South Cali Chicken, Mushroom or Haloumi Burger and chips for just ten bucks.
Thursday nights are $10 parma nights, and head out for some Friday celebrations with their $10 fish and chips between 3 and 10pm.
Find them: 204 Barkly St, St Kilda
Opening Hours: Monday - Friday 3pm - 1am, Saturday 12noon - 1am, Sunday 12noon - 11pm.
Image Credit: Chug
2. Camy Shanghai Dumpling and Noodle House
Hidden away in Melbourne's Tattersall's Lane lies one of the best downright cheapest spots to get dumplings in Melbourne.
The service is fast, the booths are great for kids, and the $13 bottles of wine are entirely drinkable!
The $10-and-under goodies are legion, from 10 steamed dumplings for $6.40 or 20 for $8.40 (yes, you read that right), fried dumplings just a buck more, soups around the $8 mark, 3 spring rolls for $3.50, noodles dishes (they're gigantic) for under $9, and other meat-and-rice dishes all under $10.
Super veg-friendly, they've got a huge range to choose from or you can head upstairs for the all-you-can eat buffet.
Find them: 23 Tattersalls Ln, Melbourne
Opening Hours: Monday - Friday 11.30am - 9 or 10pm, Saturdays 12noon - 10pm, Sundays 12.30pm - 9pm.
3. Sushi Monger
You may have to queue for a bit if you go in peak hour, but it's worth it for some of the best sushi served in the Melbourne CBD.
Three spring rolls and miso soup will set you back a paltry $7.50, and even if you upgrade to full meal status, a chicken katsu bento is still under a tenner at $9.80.
Find them: 17 325/309 Bourke St, Melbourne (inside The Walk Arcade)
Opening Hours: Monday - Friday 10.30am - 3.30pm

4. Bimbo Deluxe
Pizzas for $9 (including an extensive vegetarian/vegan selection)! Burgers and chips for $8! Snacks and sides like wedges, tater tots, onion rings, southern spiced chicken wings (or cauliflower for the vegans) between $6 - $7... Bimbos is an institution.
Pizzas range from the traditional to Mexican and French flavours, dessert pizzas, salmon, prawns, and a whole 9 vegetarian options that can all be made vegan on request.
Even better, all day Sunday pizza is only $4! They also run the $4 special Monday - Friday 12 - 4pm, Thursday 7pm - 11pm, and Friday - Saturday 7pm - 9pm.
Find them: 376 Brunswick St Fitzroy
Kitchen Opening Hours: Sunday - Thursday 11.30am - 11.30pm, Friday - Saturday 11.30am - 11.30pm
Image Credit: Bimbo Deluxe Facebook
5. La Panella Bakery
This local favourite is a mecca for vegans across the country as they sell a very realistic entirely veg-friendly meat pie for only three bucks.
Their entire range is vegan, which includes sausage rolls, croissants, custard tarts, jam donuts, french rolls, sandwiches made to order (including faux tuna, turkey and ham) and banh mi. You can also pick up your bread/bread roll needs there as they are a full bakery also.
Find them: 465 High Street, Preston
Opening Hours: Monday - Friday 6am - 6pm, Saturdays 6am - 5pm, Sundays 6am - 4pm.
6. Trang Bakery and Cafe
Melbourne folk rave about this Banh-Mi spot, and with good reason - they're some of the hugest, most delicious, and cheapest vietnamese sandwiches around.
A sandwich the size of your head will only cost you between $5.50 and $7, rice paper rolls are a whopping seven bucks, and fried rice is between $5 and $10. Bargain!
I've heard the special roast pork roll with everything is hard to beat, but they also offer lemongrass tofu, satay chicken, BBQ pork, vietnamese sausage, chicken kebab, chicken schnitzel, egg, ham, salami and tuna.
The vegan menu is amazing, with lemongrass tofu, eggplant tempura, vegan roast duck, and vegan chicken sandwiches, and lemongrass tofu rice paper rolls.
Find them: 382 Smith St, Collingwood
Opening hours: Monday - Saturday 8.30am - 4pm.