12 Weeks to Make My Body Mine Again! Week Six - Run, Wombat, Run!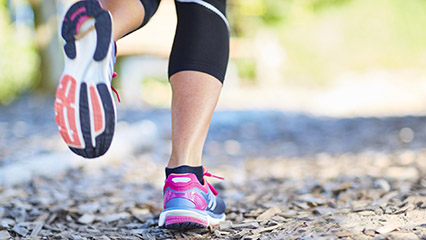 By: Heather Gow, ellaslist explorer
Heather Gow bravely embarks on a very public journey tracking her ups and downs on her personalised running and nutrition program with Benefit Sports Nutrition and Run with Us Online. Read Heather's Intro Article, her Week One Update,  Week Two Update,  Week Three Update, Week Four Update and Week Five Update here.
Lithe Gazelle or Asthamtic Wombat?
I have a friend who runs like a gazelle. Lithe and long-legged, she bounds around Centennial Park, barely breaking a sweat whilst murmuring words of encouragement to her less gait-gifted running buddies, neglecting even momentarily to become too breathless to talk. Those of us along for the ride (or really just wanting the cuppa and some kid-free chatting time after) stumble along behind her like asthmatic wombats, responding gruntingly to her chat and desperately praying for it all to be over. My state of mind has oscillated between deluded belief that if I just keep running, I'll eventually run myself into a new, gazelle-like physique and running style, and a temptation to give up running completely in favour of something more suited to the limitations of my physiology and temperament (pro-wrestling, maybe? darts? Or that thing Canadians do with brooms?)
Running Programs Tailored To You
Greta Truscott, running coach at Run With Us Online, is a national level distance runner who has run marathons and ultra-marathons, has been a running coach and consultant for Michelle Bridges' 12WBT and coached hundreds of people herself – she's well qualified in the business of transforming wombats into gazelles. She offers a range of running programs, from beginner 5 kilometres to ultra-marathon 100. All of the running programs are structured optimally to maximise the chances that you will achieve your goals – however, they are not simply "set and forget". The programs include weekly emails and feedback that enable your programs to be "tweaked" and personalised so that they fit into your lifestyle and support you to get stronger, fitter and faster.
A Focus On Finding The Fun
The beginner running program started out with easy intervals, which were confidence-building and helped me to get into a rhythm of running out the door whenever I had the chance. The program gradually builds to longer intervals of running, but continues to include interval training twice per week, with a longer, continuous run once per week. The rest of the workouts balance the training and promote recovery and injury prevention; they include a yoga or Pilates session, strength and core training and a cross training session weekly. Greta promotes self-massage as an injury prevention technique and has a great video online to teach effective self-massage. Like Charlene Cassie, the nutrition consultant from Benefit Sports Nutrition, Greta has a young family and understands the difficulties many face when trying to establish a structured training routine. She's supportive and focussed on helping her clients to find the fun and to love running as much as she does.
Staying Strong, Stubborn & Determined!
I can't say I've yet found running fun, although at the halfway point I can genuinely say there's been moments when running has felt awesome. I can also say that I've resolved my state of mind – I'm no longer convinced I'll ever be a gazelle but nor do I want to give up. I've decided to embrace my inner wombat. Hey, they're strong, stubborn and determined. When they're relaxed they sleep on their backs with their legs in the air, just like me. And, in the "surprising facts" category, they can run up to 40 kilometres an hour and do 100 metres in less than ten seconds. I'll be aiming to run like a wombat from now on.

READ HEATHER'S WEEK ONE UPDATE HERE
WEEK TWO – THE BEST LAID PLANS!
WEEK THREE – IT NEVER GETS EASY!
WEEK FOUR – UNEXPECTED EATING PLAN ISSUES
WEEK FIVE – CLIMB EVERY PLATEAU
SPECIAL OFFER FOR ELLASLIST READERS!
25% DISCOUNT ON WELL-MUM NUTRITION PLAN
Heather is participating in a 12 week running and nutrition program crafted by BeneFIT Sports Nutrition and Run With Us Online and customised to help her achieve her fitness and wellbeing goals.
25% DISCOUNT ON WELL-MUM NUTRITION PLAN – SPECIAL OFFER FOR ELLASLIST READERS!
If Heather's great progress has inspired you to reassess your wellness plan, take advantage of BeneFIT Sports Nutrition's wellMUM plan. This program has been specially designed for the busy mum in mind. Based on Charlene's own personal experience as a mum to very active 21 month old twin boys, this program will help get your health and wellbeing back on track.  It's time to make your body yours again!
Tailored to suit your individual needs, body composition and goals, this program is based on a flexible day-to-day meal plan and enables you to pick what you want to eat within a daily point allowance as opposed to a detailed meal plan. You receive a recipe booklet and pick your meals within your specific point allowance for each day.
WARNING!  This is not a diet. It's a lifestyle plan!   
For a special discounted price of $75 you will receive:
> Body composition analysis and report
> Macronutrient guidelines detailing the quantity of carbs, protein and fat you should be consuming to lose weight
> Point based nutrition plan for flexibility and choice
> Free recipe e-book with recipes for the whole family, including adjustments for the little people in your life to avoid cooking multiple meals every day
Start your transformation and book yours now!
Heather Gow is a mother of three and a step-mum of one. She's on a break from her psychology career and is currently kid-wrangling full-time. She writes stories for children when hers are asleep.
She blogs infrequently
 and
tweets lefty political rants
. She lives in the Eastern Suburbs and can generally be found somewhere on the endless loop between school, daycare, swimming lessons, gymnastics and Nippers.