12 Weeks To Make My Body Mine Again – Week 11 – Don't Be A Jerk!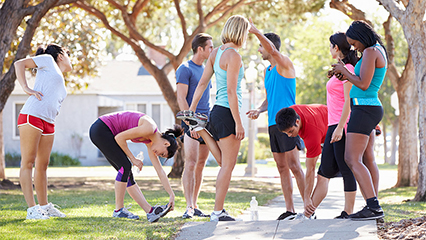 By: Heather Gow, ellaslist explorer
Heather Gow bravely embarks on a very public journey tracking her ups and downs on her personalised running and nutrition program with Benefit Sports Nutrition and Run with Us Online. Read Heather's Intro Article, her Week One Update,  Week Two Update,  Week Three Update, Week Four Update, Week Five Update, Week Six Update, Week Seven Update, Week Eight Update, Week Nine Update and Week Ten Update here.
Like every parent of a certain age, there comes a point when you decide you must accept that the years are going to fly by like months, the months like weeks and the weeks like… well, you get the drift. So I will not carry on about how fast the last eleven weeks have gone and how I can't believe my 12 week program is almost over and how it's nearly Christmas again even though we literally put our tree away last week. Instead, given my extensive experience running in events (see last week's update), I will share with you a few guidelines for race etiquette – or, how not to be a jerk when running with others.

Don't Be A Roadhog Jerk
Look. I know that not everyone shares my aversion to running with others, and that some people even have the miraculous and frankly freaky ability to both run and speak at the same time, with the end result being that some people consider going for a run to be a social event. I have nothing against that at all – in all honesty, I'm probably jealous – but, if you are jogging at a snail's>pace with your four best mates spread across the path whilst listening to one of them regale you with salacious tales of who said what at the P&C or how they just
HAVE
to buy a Thermomix, there's a high chance the people behind you whose path you are blocking will think you are a jerk. Even though P&C gossip and Thermomixes are undeniably awesome.
Don't Be A Stopping Jerk
Nothing ruins the buzz of a running event more than a collection of injuries caused by either tripping over a suddenly-stopping person or by braking suddenly to avoid such an incident. You may need to stop for a variety of reasons, some avoidable (like having to retie your shoelaces or skip a few songs on your playlist to find that Bruno Mars song) and some not so (avoiding your lungs exploding or experiencing a sudden ankle breakage). Take the proper precautions, friends, and if you absolutely have to stop, try to step out of the flow of traffic first. No-one wants a pile-up at the 2km mark.
Don't Be An Unaware Jerk
There are no rules against running with headphones and music, even though you can find plenty of bitter debate between running playlist advocates and run-to-the-beat-of-your-own-feet purists online if you care to look. But if you're running with your state-of-the-art noise-cancelling headphones in and can't hear people coming up behind you, the instructions of officials, or the friendly banter of your fellow runners, you're running a high risk of being a jerk. Keep your volume down or run with one earbud out.
Don't Be A Rude Jerk
Ninety-nine times out of one hundred, the person who marked the course, directs traffic, hands you water, or clocks your time is a volunteer who's given their time freely to ensure that the likes of you can get their running game on at some obscene o'clock on a weekend morning. No harm in a word of thanks or a gesture of appreciation in the interests of not being a jerk, is there?
More Top Tips At Your Fingertips
You can access many more running tips, whether in regard to race etiquette, race nutrition, race preparation and tapering, or avoiding injury from people who actually know what they're talking about by signing up with Greta Truscott and Charlene Cassie from 
Run with Us Online
and 
Benefit Sports Nutrition
. Their website is stacked with articles and forums for members and can answer just about any question about running under the sun.
Brace yourself for next week; Week Twelve – the
FINAL

instalment!

READ

HEATHER'S

WEEK

ONE

UPDATE

HERE

WEEK TWO – THE BEST LAID PLANS!

WEEK THREE – IT NEVER GETS EASY!

WEEK FOUR – UNEXPECTED EATING PLAN ISSUES

WEEK FIVE – CLIMB EVERY PLATEAU

WEEK NINE – FUN RUNS AREN'T FUN




SPECIAL OFFER FOR ELLASLIST READERS!
25% DISCOUNT ON WELL-MUM NUTRITION PLAN

Heather is participating in a 12 week running and nutrition program crafted by BeneFIT Sports Nutrition and Run With Us Online and customised to help her achieve her fitness and wellbeing goals.

25% DISCOUNT ON WELL-MUM NUTRITION PLAN – SPECIAL OFFER FOR ELLASLIST READERS!
If Heather's great progress has inspired you to reassess your wellness plan, take advantage of BeneFIT Sports Nutrition's wellMUM plan. This program has been specially designed for the busy mum in mind. Based on Charlene's own personal experience as a mum to very active 21 month old twin boys, this program will help get your health and wellbeing back on track.  It's time to make your body yours again!

Tailored to suit your individual needs, body composition and goals, this program is based on a flexible day-to-day meal plan and enables you to pick what you want to eat within a daily point allowance as opposed to a detailed meal plan. You receive a recipe booklet and pick your meals within your specific point allowance for each day.

WARNING!  This is not a diet. It's a lifestyle plan!   

For a special discounted price of $75 you will receive:

> Body composition analysis and report

> Macronutrient guidelines detailing the quantity of carbs, protein and fat you should be consuming to lose weight

> Point based nutrition plan for flexibility and choice

> Free recipe e-book with recipes for the whole family, including adjustments for the little people in your life to avoid cooking multiple meals every day

Start your transformation and book yours now!




Heather Gow is a mother of three and a step-mum of one. She's on a break from her psychology career and is currently kid-wrangling full-time. She writes stories for children when hers are asleep.

She blogs infrequently

 and

tweets lefty political rants

. She lives in the Eastern Suburbs and can generally be found somewhere on the endless loop between school, daycare, swimming lessons, gymnastics and Nippers.