12 Weeks to Make My Body Mine Again!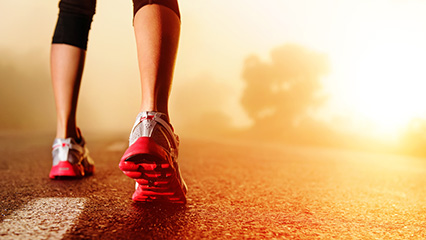 By: Heather Gow, ellaslist explorer
I can't quite remember when it was that I stopped looking at myself in the mirror. Maybe it was between the births of my first and second children, when the second pregnancy followed so quickly after the first that there was barely time to drop the significant "baby weight" I'd collected and I ballooned to such a size I couldn't bear the sight of myself. Or maybe it was in that blur of days after my second was born, when there was no time for anything except a quick glance to make sure my clothes were reasonably free of visible baby bodily fluid stains before I ran out the door.
Squishy & Matronly – No Thanks!

Now, after a year of breastfeeding my third child, my body no longer feels like it belongs to me. The words that might be used to describe it are not words I am ready to claim, particularly 'squishy' and 'matronly' – urgh!
Time To Reclaim My Body
As I began the weaning process, and with a bare six months until my fortieth birthday, I was starting to think about how I might start to reclaim my body and reshape it into something that I might recognise when an opportunity to participate in a running and nutrition program was offered to me by ellaslist. "It's a sign!" I thought, and jumped at the chance. So, tomorrow I begin.
Finally, a Program Tailored To Me
Run with Us Online is an Eastern Suburbs business founded by Chris and Greta Truscott which provides personalised running programs for people looking to improve their performance, whether that means optimal training to run a sub 3 hour marathon, or, like me, just being able to run 5k without stopping. Along with the personalised running plan, they provide extensive information and online support, about everything from injury prevention to recipe ideas.
Support When I Need It
There are online forums so that you can talk with other runners, and you can even join 'real-life' running groups a few times per week in Centennial Park. This is optional, thank goodness. I think it will be a while before I am prepared to run with other people!
Customised Nutrition Advice

Fuelling my training is an essential part of the program. Run with Us Online has partnered with BeneFIT Sports Nutrition run by Charlene Cassie, a sports nutritionist, triathlete and mother of toddler twin boys, to provide extensive nutritional support in conjunction with the running program.
My Hopes For The Future
I've used online fitness and nutrition programs before and had some success; however, I've usually been unable to overcome the inevitable "plateau" that generally occurs for me when I'm still a couple of kilograms from my goal weight. I'm excited by the prospect of actually having "real people" supporting me to overcome training and/or eating issues this time rather than a cookie cutter online program. Not only that, real people who are mothers and who understand the challenges of getting out for a run when your partner gets home late from work or eating a balanced diet when you've got a household full of fussy eaters.
Follow The Ups & Downs!
I'll be sharing my experiences weekly with ellaslist readers. Please, if I ever call it a 'weight loss journey', feel free to track me down and slap me. I'm somewhat nervous about sharing the ups and downs publicly, however, I know that doing so will make it more likely that I will stick with it, and hey, I'm a bit of a physical doofus so at the very least it's likely to be mildly amusing! Day 1 is tomorrow – in twelve weeks' time – I'll be looking that mirror squarely in the face again.
READ HEATHER'S WEEK ONE UPDATE HERE
WEEK TWO – THE BEST LAID PLANS!
WEEK THREE – IT NEVER GETS EASY!
WEEK FOUR – UNEXPECTED EATING PLAN ISSUES
WEEK FIVE – CLIMB EVERY PLATEAU
SPECIAL OFFER FOR ELLASLIST READERS!
25% DISCOUNT ON WELL-MUM NUTRITION PLAN
Heather is participating in a 12 week running and nutrition program crafted by BeneFIT Sports Nutrition and Run With Us Online and customised to help her achieve her fitness and wellbeing goals.
25% DISCOUNT ON WELL-MUM NUTRITION PLAN – SPECIAL OFFER FOR ELLASLIST READERS!
If Heather's great progress has inspired you to reassess your wellness plan, take advantage of BeneFIT Sports Nutrition's wellMUM plan. This program has been specially designed for the busy mum in mind. Based on Charlene's own personal experience as a mum to very active 21 month old twin boys, this program will help get your health and wellbeing back on track.  It's time to make your body yours again!
Tailored to suit your individual needs, body composition and goals, this program is based on a flexible day-to-day meal plan and enables you to pick what you want to eat within a daily point allowance as opposed to a detailed meal plan. You receive a recipe booklet and pick your meals within your specific point allowance for each day.
WARNING!  This is not a diet. It's a lifestyle plan!   
For a special discounted price of $75 you will receive:
> Body composition analysis and report
> Macronutrient guidelines detailing the quantity of carbs, protein and fat you should be consuming to lose weight
> Point based nutrition plan for flexibility and choice
> Free recipe e-book with recipes for the whole family, including adjustments for the little people in your life to avoid cooking multiple meals every day
Start your transformation and book yours now!
Heather Gow is a mother of three and a step-mum of one. She's on a break from her psychology career and is currently kid-wrangling full-time. She writes stories for children when hers are asleep.
She blogs infrequently
 and
tweets lefty political rants
. She lives in the Eastern Suburbs and can generally be found somewhere on the endless loop between school, daycare, swimming lessons, gymnastics and Nippers.
Reviews
Hi. I really like to looks great on bikini but cant start to get fit..