Rushcutters Bay Park & Playground (gated)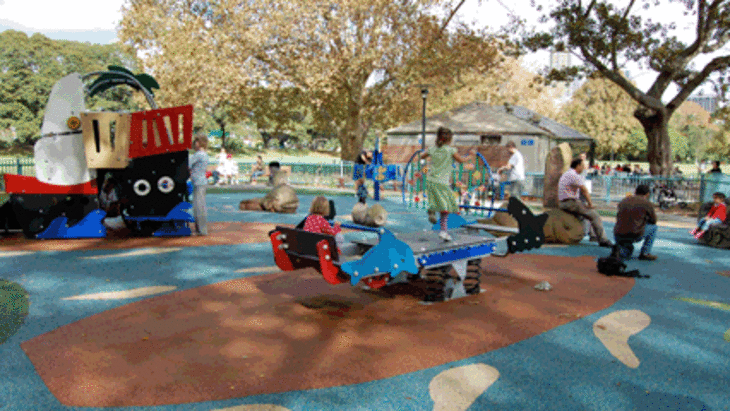 A fantastic fully fenced playground, park -and cafe combo, this playground is perfect for a mums group get together. It has an excellent variety of low level interesting equipment that makes it an excellent choice for babies, crawlers up until about 3 or 4 years of age.
You'll find swings, baby buckets and a see-saw, also a wobbly speedboat to drive, a lovely mini pirate boat cubby house with slide and lots of separate play stations with wheels, megaphones, cogs and levers to spin and pull all at toddler height. There's no shade canopies, but plenty of large leafy trees always give a break from the sun, colourful foam flooring and safety fencing keeps your little ones in and the dogs from the park out! In the middle there's some lovely stone fish sculptures to climb on and a carved stone throne for your little princes and princesses to rule their subjects – you!
The Rushcutters Bay Kiosk next door serves good general café fare and has an excellent kids menu, and the attached park is lovely flat green space with great smooth pathways for bikes, scooters and ride-ons. Beware that this park is a very busy dog-park and there may be a doo-doo or two around. Toilets are attached to the Kiosk, the disabled loo is big enough for a stroller.
Parking is 2 hours free along the New Beach Road that runs alongside the park, this road can get busy, so you may have to drive along a bit to get a spot. There's another smaller playground at Yarranbbe Park further along this road.