North Sydney Olympic Pool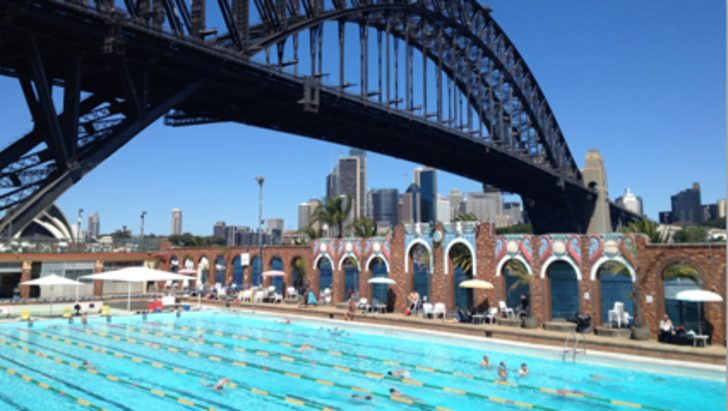 To enjoy one of the quintessential Sydney experiences, bundle the family up and head to the North Sydney Olympic Pool. You almost have to pinch yourself when you look up from splashing about to see the Harbour Bridge almost directly above you and the Opera House and  Luna Park within spitting distance! But you don't have to pay a million dollars for this view-with reasonably priced entry fees, you'll discover a whole day's worth of budget family fun to be had!
Don't be put off by the pools glamourous art deco façade and locale-this is an excellent pool for the whole family. There is a kiddies pool to splash in and learn to swim classes from 6 months. There is even a crèche (Mon, Wed, Fri), so mum and dad can sneak off to swim a few laps while the kids are safe in good hands. There's plenty of parking and it's free if you come for a swim. Our tip-avoid the hectic early morning, and after work periods to enjoy a really relaxed visit.
Tried and Tested by ellaslist
ellaslist explorer, Sarah Stores, recently took her kids to the North Sydney Pool. This is what she thought:

When you enter this beautiful, grand old swimming pool complex we were a bit confused about where to go as there is so much on offer.  There is an indoor pool, a crèche and the large outdoor lap pool.  We went down the large stadium seating – which my kids thought was great fun – and discovered the two kiddie pools.  These two pools were perfect for my kids – there was a great one for my 20 month old toddler to run around in and splash and there was also a slightly deeper one for my 4 year old to explore and practice his new found swimming confidence.  We spent some time splashing around and enjoying the pool in the sunshine.  But when it was time for a rest and a snack we discovered the true magic of the pool.  We grabbed an ice-cream from the shop and headed up the stairs to the sun deck area.  On the week day that we went it was completely deserted long stretch of area with deck chairs and fake grass. The kids had an amazing time running up and down and exploring while we sat directly under the harbour bridge and soaked up the sunshine and the views of the city and the harbour. It was an absolutely magical morning.
 And to cap it off, if you park in one of the designated pool parking spots on Alfred st you get free parking for 2 hours!  What a perfect day.