Centennial Parklands, Playgrounds & Bike Tracks
Toddlers
Preschoolers
Kids
Family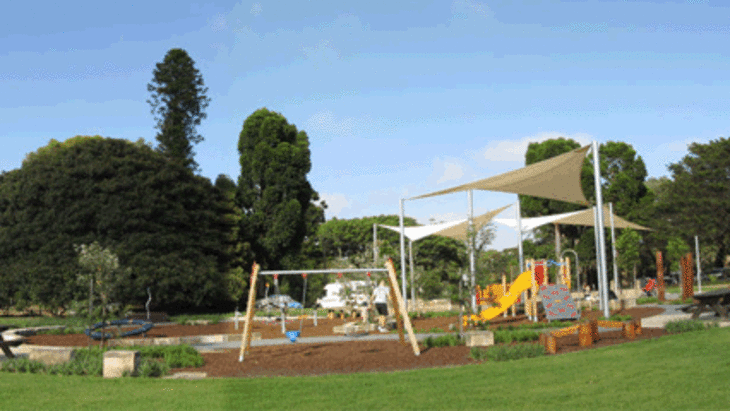 There are some fantastic playgrounds within the fabulous Centennial Parklands for the under 5's
Cafe Playground: This is a wonderful playground located slap bang in the middle of the park, it's ideally located near to the Kiosk and café facilities which guarantees it's daily popularity, but you'll never feel hemmed in here because it's opens on to the acres of beautiful lush green playing fields.
The equipment is varied and fun and has more to offer than your average park its got a great sandpit, cubby house, a giant guiros, hug me poles, balancing bars, a water feature, turtle sculptures to climb on and we particularly love the fabulous little bells embedded into the decking that toddlers just love stamping on. Well shaded, with lots of spots round the edge to sit and sip your coffee while the kids have fun. Recommended.
Fearnley Grounds Playground: The newest playground addition is located in the south-west corner of Centennial Park, Fearnley Grounds is a cycling and family-friendly precinct where you can relax, grab a coffee or meal, hire a bike and enjoy a picnic with family and friends.
Fearnley Grounds features a new cafe – The Greenhouse at Centennial Park, Centennial Park Cycles, Kids bike track, Playground, toilets, new pathways and picnic tables, covered picnic shelter and free gas barbecue. Read all about it in our Fearnley Grounds article.
Paddington Gates Playground: This recently redesigned playground has two play spaces have been created to cater to the varying needs of children. There is a dynamic play area for high energy activities such as climbing, swinging, spinning, balancing and sliding and a quiet play area for more restful play such as sand play and learning. An accessible swing is also available that can be used by children with special needs, such as wheelchairs. There is a shaded area with a barbeque installed close by. An accessible toilet is also located near the playground car park.