Autumn School Holiday Activities at Royal Botanic Garden Sydney
Autumn School Holiday Activities at Royal Botanic Garden Sydney
Sat Apr 09 - Sun Apr 24 2022
Kids
Teens
$0.00
Royal Botanic Garden Sydney offer a range of school holiday programs to immerse kids in nature, creativity and outdoor fun these Autumn school holidays.
Magical Rainforest in a Jar
Create your very own special Rainforest in a Jar to take home while learning all about what your mini forest needs to grow.
Where: The Calyx, Royal Botanic Garden Sydney
When: 12 & 13 April 2022; 10-11.30am and 12.30-2pm
Cost: Adult + Child Ticket $42; Extra Child $18*; Extra Adult $24*
Ages: 5yrs+ with an accompanying adult
* Cost Notes: Extra child or adult ticket can only be bought with Adult + Child ticket.
Vacation Care - Garden Grubs
Kids will spend the day exploring and participating in a range of creative and action based activities whilst connecting with nature! This is a full day vacation care program. Great fun for the kids while parents are at work or in need of a day to themselves.
Where: The Moore Room,Connected to the Maiden Theatre, Royal Botanic Garden Sydney
When: 12 & 13 April 2022; Long Day 8am-5.30pm. Standard Day 9.30am-3.30pm
Cost: Standard day: $90 per child /$81 member*. Long day: $120 per child /$108 member*
Ages: 6-12yrs
Notes on cost: * members are Foundation and Friends members. Receive 10% off when you order two tickets for siblings on the same day.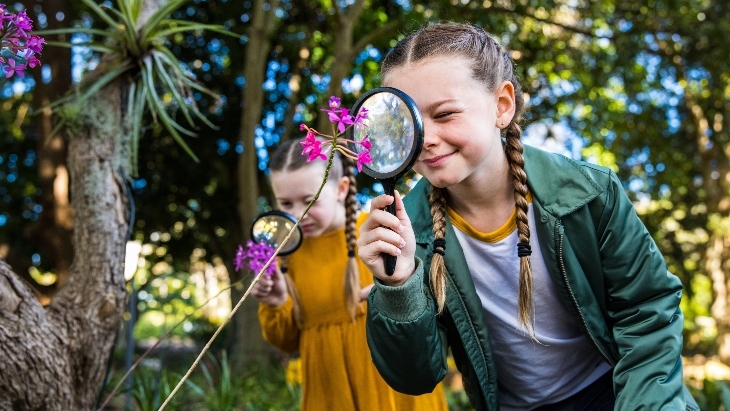 Aboriginal Planting Workshop
Enjoy this FREE 45 minute workshop to learn about medicinal, nutritiional and traditional properties of native plants with Royal Botanic Garden Sydney' First Nations guides. You'll get to pot a native plant and take it home.
Where: Rathborne Lodge, Royal Botanic Garden Sydney
When: 12 & 13 April 2022; 10-10.45am; 11-11.45am and 12-12.45pm
Cost: FREE
Ages: 5yrs+
Inside the tide
Combining the theatrical with horticulture, this immersive exhibition creates a surreal, magical and playful display. Telling the stories of hero plants in three aquatic communities: Kelp Forests, Coral Reefs and Seagrass Meadows, wander through what feels like an under the sea experience and watch a pantomime come to life. Come face to face with giant sea creatures like the topiary blue whale, a chandelier of jellyfish or blue ringed octopus with interactive elements both children and adults will enjoy.
Where: The Calyx, The Royal Botanic Garden Sydney
When: Daily, 10am-4pm (runs until June 2022)
Cost: Donation
Age: All ages
Sea of Hands Installation
The Sea of Hands is designed by award winning artist Frances Belle Parker, a proud Yaegl woman. The design is planned to be a fully immersive audio-visual experience and focuses on cultural land burning practices.
The Royal Botanic Garden Sydney is partnering with ANTaR, the national organisation for Aboriginal and Torres Strait Islander reconciliation and rights, to bring its interactive symbol of reconciliation, the Sea of Hands.
As part of the exhibition thousands of people are invited to come down and plant hands into the lawn of Rathborne Lodge. The design will involve 10,000 hands in the colours of charred and burnt banksia pods.
Where: Rathborne Lodge via Wolloomoo Gates, The Royal Botanic Garden Sydney
When: To help build the artwork by 'planting' a hand:
From 5 - 9 April, 10am to 4pm
Experience the artwork:
From 10 - 16 April, 10am to 9pm
Cost: FREE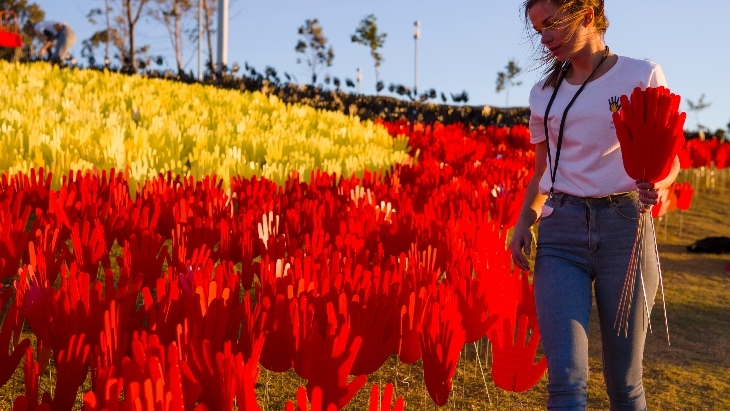 Aboriginal Bush Tucker Tour
Learn more about Indigenous bush foods and how these foods were traditionally used and adapted to modern day as you take a walk with your First Nations guide through the Botanic Gardens
Where: Garden Shop, The Royal Botanic Garden Sydney
When: Thursdays, Fridays, Saturdays; 11am-12pm
Cost: Adult (16yrs+) $30. Members & Concession $27. Kids (7yrs+) $20. Kids (under 7yrs) FREE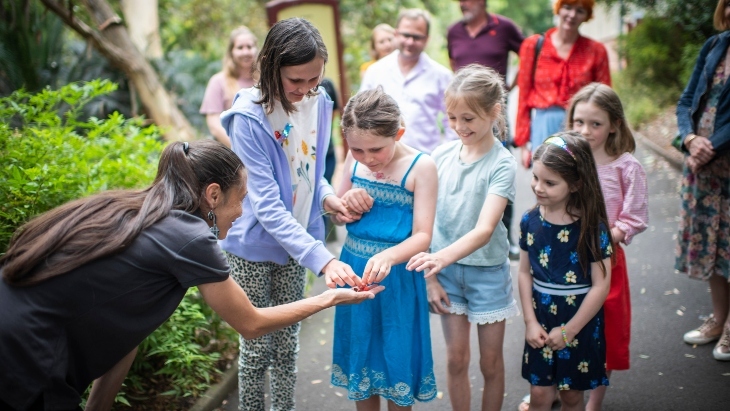 Tinkerbell and the Dream Fairies
In an enchanting world of song and dance, the adventurous Tinkerbell meets up with the fairies from A Midsummer Night's Dream. Together, the cheeky Mustardseed, fluttery Moth, daring Cobweb and sweet Peaseblossom go on a magical quest with Tinkerbell.
Dress up and join in the fun!
Where: The Royal Botanic Garden Sydney
When: 9-24 April 2022; 10am-1pm daily
Cost: Tues - Thur: $25 per person. $90 per group of 4. Fri - Sun: $30 per person. $110 per group of 4
For more information or to book into any of the activities and programs, visit the Royal Botanic Garden Sydney website.
Tell them ellaslist sent you!