VitalSelf: Mums & Bubs Group Fitness And Pilates
VitalSelf: Mums & Bubs Group Fitness And Pilates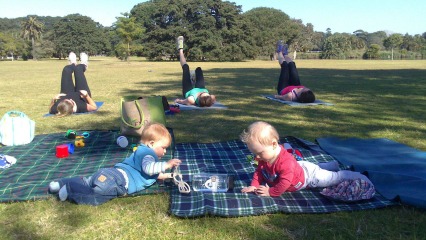 Multiple Locations in the East: Centennial Park, Rushcutters Bay, Double Bay, Rose Bay & Paddington
VitalSelf Fitness Mums & Bubs, based in Sydney's Eastern Suburbs, specialises in pre and post-natal fitness, assisting Mums and Mums-To-Be to regain your fitness or retain your fitness in a safe and controlled environment.
You can train safely with VitalSelf Mums and Bubs as classes are specifically designed to rebuild your core strength & stability as well as regaining your cardiovascular fitness. Training times are flexible and we have nannies to care for the bubs during the sessions ensuring the Mums can concentrate on their exercise without having to care for bub.
For each new Mum, we take into consideration specific health issues related to pregnancy and childbirth when returning to exercise, so there is always a safe exercise for everyone. All sessions are specifically structured and varied to keep your body challenged and your brain interested, whilst still being aware of the differing individual needs of all the Mums.
If you feel more comfortable with a mat pilates session indoors, the Mums and Bubs Pilates session is an ideal way to strengthen your major muscles after having your bub.
Prenatal fitness is really important as studies show it is good for both the Mum and the Bub. With experience in training many pregnant ladies, we will adjust the fitness program according to how your body changes during pregnancy and we get out our big fitball too so you can keep up your cardiovascular fitness also.
To ensure our Mums receive the best possible care, VitalSelf Mums and Bubs work closely with specialist womens' health physiotherapists.
In addition to your fitness goals, VitalSelf will also help you with your nutritional habits to further assist you to reach your after-bub fitness ideals. Join some like-minded Mums and Mums-to be – have fun, get fit and make some new friends.For more information,
For more information, visit the website.
Tell them ellaslist sent you!