German International School Sydney (GISS)
German International School Sydney (GISS)
Located in beautiful Terrey Hills on Sydney's Northern Beaches, the German International School Sydney caters to students from Preschool (3yrs) to Year 12 International Baccaaureate (IB) (18yrs).
Students at the school come from different countries and backgrounds and have different personalities with diverse interests and individual pathways.
Many of the students are local. Even without prior knowledge of German, they are welcome to enrol in the school at any year level. The school is a recognised "Excellent German School Abroad", and encourage that students from German-speaking countries develop their own language while they simultaneously acquire high-level English skills. This creates a unique international school community and culture that will enrich the students well beyond their school years.
GISS is a recognised NSW independent school which leads students to achieve the IB, a world-renowned school qualification that enables and qualifies students to study at the best universities worldwide, including Germany and Australia.
Preschool
Age 3-5: Play, learn and grow in a nurturing and fun environment!
The objective is to prepare and equip students for a fulfileled, happy and successful life. Respect, responsibility, competence and resilience as well as instilling a life long love of learning are key factors in achieving this.
The preschool teachers are qualified and experienced, both in Australia and internationally. They provide a stimulating learning environment which encourages creativity, exploration and authentic experiences as a basis for conceptual understanding.
Primary School
(Kindergarten - Year 4)
The core concept of their holistic teaching and learning approach is a team of two teachers who work together ensuring that each child achieves their individual potential. Six lessons of English and five lessons of German are the foundation of an intensive language concept.
In addition to that, they provide intensive language support in Maths and General Studies. These two subjects are taught in German. An additional teacher supports students with German as an additional language and assists the whole cohort in the development of conceptual thinking and research skills.
Arts, Music and PE are all taught in German with integrated language support (CLIL) provided by the subject teacher. The students have a choice of subject for Religion (taught in German) or Ethics (in English) from Year 1.
Junior Secondary
(Years 5 - 10)
During Junior Secondary years, the focus is on encouraging students to aspire to be creative lifelong learners and globally aware citizens who support and value cultural difference and understanding. GISS offer a unique high school education on an international campus, with over 20 different nationalities making up the multicultural tapestry of the student community.
The Junior Secondary curriculum embraces languages, mathematics and the sciences and has the approval of the German and NSW education authorities. Years 5 to 10 students have the opportunity to study certain subjects in either English or German instruction. Geography, Physics, Chemistry and Ethics will be taught in English only, whilst Art, Music, Religion and Sport are taught in German.
German is also offered as a foreign language for students who don't speak or are not fluent in German. Students transferring from Australian schools can enter at any level. In addition, from Year 6, French is presented as a foreign language however, for students wishing to undertake the German Year 10 exams, continuing French until Year 10 is required. All other students have the opportunity of electing to undertake Spanish in Year 9.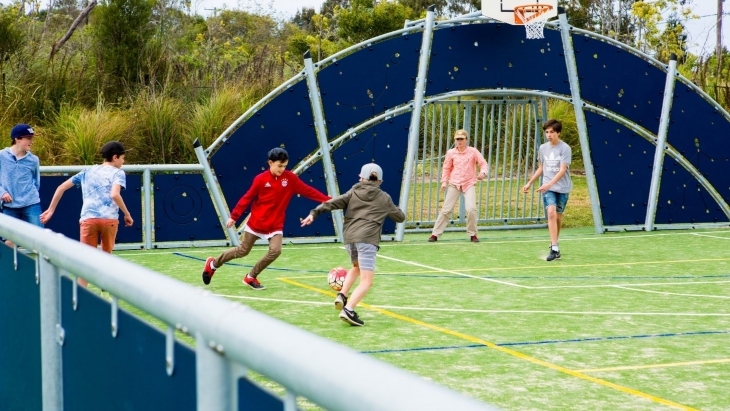 Senior School
(IB Diploma Programme - Years 11 & 12)
The International Baccalaureate Diploma Programme* has be­come recognised as the best university preparation programme available for students aged 16+ and is the leading, in­ternationally recognised qualification for university entrance. The hallmark of academic excellence worldwide, it is an holistic programme that supports students in developing their skills of information processing, analysis and application; critical thinking and creative problem solving; collaboration and communication; social and emotional wellbeing; and, experiential learning through creativity, activity and service.
The curriculum model arranges the six academic areas around the core requirements.
Vision
The German International School Sydney enables their students to live a fulfilled life in tomorrow's modern, fast changing and challenging global society.
Mission
The German International School Sydney offers the highest quality co-education in a continuous bilingual and multicultural environment, and is dedicated to developing each individual student's full potential.
They are committed to the best of German, European and Australian educational and cultural values fostered in a friendly and caring community.
They challenge their students to develop into responsible, reliable, competent and confident adults.
Values
celebrate different cultures, opinions and standpoints.

guide students to appreciate openness, honesty and respect.

aim for the highest educational quality standards.

foster an atmosphere of peace and understanding amongst all of us.

care for students and provide a nurturing environment.
Boarding: No
Facilities: Air-conditioned class rooms, indoor sports hall, outdoor multisports field, swim school (next door), various outdoor play areas with sun covers
International Baccalaureate (IB) Offered: Yes
Fees: Preschool from $6,680/year (2 days/week); K-12 from $11,920/year. Find out more HERE.
Scholarships: GISS offers a local scholarship for the duration of the 2-year International Baccalaureate Diploma Programme (IB Year 11 and 12). Find our more HERE.
Enrol Now! Find out more HERE.
Tell them ellaslist sent you!