Buone Notti Backyard Glamping Parties
Buone Notti Backyard Glamping Parties
Buone Notti Backyard Glamping Parties love sleepovers, and they love camping. What better way to celebrate a birthday than to combine the two!

Buone Notti Glamping Parties offers 5-star unforgettable glamping under the stars! They provide a beautiful space for the sleepout in the safety of your own backyard, that gives the little guests not just the novelty and fun of camping outdoors, but also their own space to hang out. You can even have your own cinema inside the tent – how amazing is that!

A birthday party is a special time for your child and their friends, but it's also a lot of planning involved for the rest of the family. Buone Notti Glamping Parties take the hassle and stress out of hosting a sleepover, so you can concentrate on the fun bits. The Bell Tents have the highest quality, are beautiful and comfortable and can host parties, cinemas, sleepover parties or simply accomodation.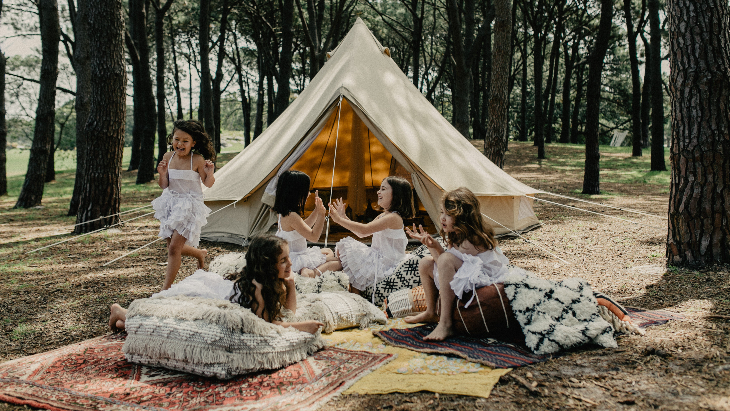 All beddings are provided for including proper warm mattresses with quality linen, blankets and/or doonas (depending on the season) so you do not have to worry about scrounging up the sheets or borrowing mattresses.

You can select the decoration of the tent amongst different themes and they provide lighting for inside the tent. Free delivery and set up is included in most areas in the Sydney region. The next day they come and take it all away, so you are left with nothing to do. Making it very fun for the kids and easy for the family.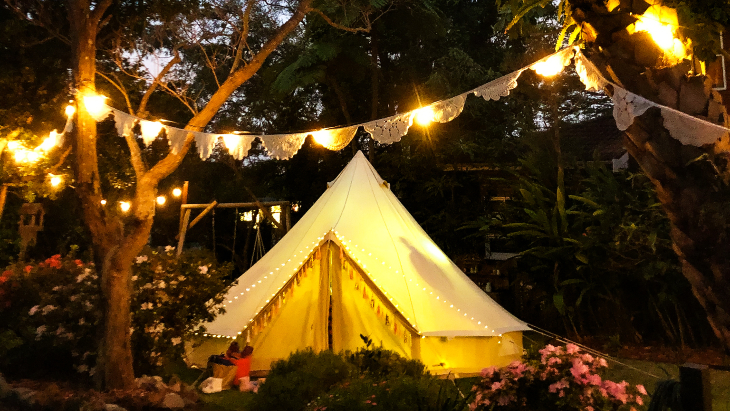 If you wish, they can also bake your custom birthday cake, turn your tent into a private cinema that is totally weather-proof and provide other great activities like cupcake decorating (great for the smaller party animals).

Buone Notti Glamping Parties offers different packages with tents sleeping up to 10 people and have a range of exciting colour schemes. Whether it's for boys or girls, young or old, glam or sophisticated they have you covered.

Buone Notti Glamping Parties is a little family company, and everything is beautifully decorated and baked by them - no outsourcing and no third parties.

To book a party or for more information, please visit Buone Notti Glamping Parties' website.