Quantal Bioscience- Science Workshops (K-8)
Quantal Bioscience- Science Workshops (K-8)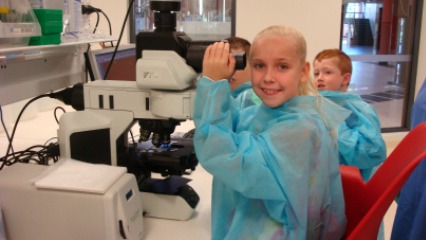 Quantal Bioscience in North Parramatta offers research consulting, science management and specialist testing services in applied microbiology and microbiomics- and a range of awesome kid's programs too!
They offer school holiday Science For Real workshops for Kindergarten-aged children through to Year 8 students, with a team of super qualified scientists helping to bring concepts to life in ways that kids can understand. Some of their programs include:
Mini Microbial Me (K-2): Even the littlest students can learn about the amazing microscopic world going on inside them!
Microbial Me (Grade 3-6): Did you know that you are mostly microbe?! YOU have about 100 trillion microbes living on and inside your body. Children will get to know microbial minions in this Science for Real workshop. Kids will meet their teeth beasties, spawn their own minions, build and blast a biofilm and work with real microbiologists.
Microbe Planet (Grades 3-6): Did you know? Ten billion bacteria live in a gram of ordinary soil, a mere pinch between thumb and forefinger. Microbes are the most abundant living thing on planet Earth. Working with real microbiologists, in this Science for Real workshop kids will discover the hidden microbial worlds in pond water, in the soil and on plants.
Microbe Kitchen Rules (Grades 3-6): You might think you're a masterchef, but it's really the MICROBES that RULE our KITCHENS! Working with real microbiologists, kids will get to know all the not-so-pleasant pathogenic microbe in this Science for Real school holiday workshop.
Of Microbes and Minerals (Grades 3-6): Kids will learn how microbiologists classify cells and mineralogists classify crystals, and try out their new skills to identify a mystery specimen. Next, they'll explore the close connections between microbes and minerals, through the science of geomicrobiology; prepare to travel from Earth to Mars and back again! Kids will make their own microbe fossils and more…
CSI: Microbiology (Grades 5-8): In this workshop, kids will work with real microbiologists to investigate a foodborne disease outbreak. Which food did it? Plus, children will be introduced to the amazing new study of microbial forensics.
Microbe Hunters (Grades 5-8): Join the small game safari! This is the most intensive workshop offered by Quantal Bioscience! Over 3 days, children will learn the habits of our microbial quarry, devise and build a series of special traps for the microbes we seek, set out our traps then, bring our captures back to the lab and, armed with microscopes, classify them and put them through their paces. Throughout the safari, we'll follow in the footsteps of important scientists through history.
Sea Life Up Close (Grades 5-8): Learn all about marine microbiology and the broader marine environment in this hands-on Science for Real workshop. Kids will see our smallest forms of sea life up close! See up-close how changes in environmental conditions in our seas affect our smallest sea life, with consequences for us all. Learn about coral bleaching and marine microbial symbionts of all shapes and sizes.
Budding Scientists collaborative (BSc): Once students have attended one or more of the school holiday workshops, they may be invited to participate in the Budding Scientists collaborative after school program, if they are really into science. For more information about the BSc program, email [email protected].
For more information and to enrol, visit their website or call 02 9683 8572.

Tell them ellaslist sent you!