Little Heroes Swim Academy: Swim School & Holiday Swim & Beach Programs
Little Heroes Swim Academy: Swim School & Holiday Swim & Beach Programs
Kids
Mums & Bubs
Teens
Preschoolers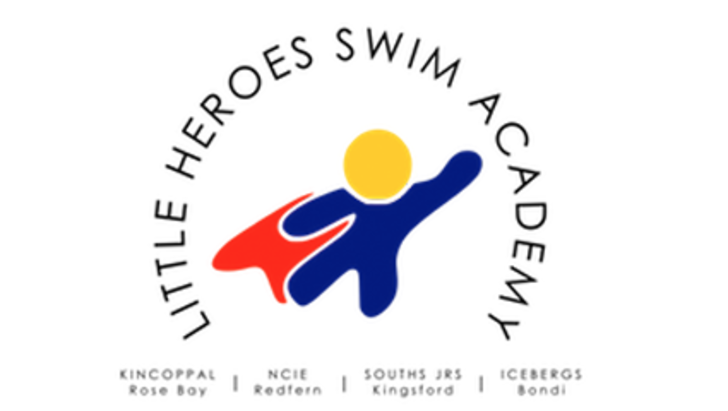 Little Heroes Swim Academy is a not for profit organisation dedicated to educating children and their
families about the aquatic environment. LHSA provides the complete aquatic education for children of all ages and abilities and with a number of sites over Sydney, have you got you covered from the bathtub, to the pool, to the beach. Classes are available for babies from 4 months, mainstream learn-to-swim  for 3 years +, subsidised special needs lessons and adult classes.
After partnering with Barney Quinlan's popular ocean water Surfsquad program, they also run excellent School Holiday Pool and Beach Camps approved by the Bondi Lifeguards.  The Surfsquad program teaches students an understanding of ocean water in a non-competitive environment, focusing on observational and practical skills and swimming.
School Term Sites & Schedule:
Kincoppal, Rose Bay: Lessons available Sun 8:30am-12:00pm
NCIE, Redfern: Lessons available Mon/Wed/Thu 9:30am-12:00pm, Thu 3:00pm-5:00pm
Souths Jrs, Kingsford: Lessons available Sun 12:00pm-5:00pm
Andrew Boy Charlton Pool, Domain: Lessons available Tue AM and PM Sessions
Bondi Icebergs/Beach: Lessons available Mon/Tue/Wed/Fri mornings and afternoons
Plus 4-hr Surfsquad Sessions run every Sat and Sun 8:00am-12:00pm and 1:30pm-5:30pm
School Holiday lessons are also on offer:
You can book a full week, Mon-Fri with a 30-minute lesson each day or pick and choose which days you would like to attend. Enquire above now!
 "Little Heroes Swim Academy is more than just a Swim School, we cover all aspects of aquatic safety from the bathtub to the pool to the beach".
Helping Kids with disabilities: By choosing 'Little Heroes' as your swim school you'll be helping this not for profit organisation subsidise and offer swim lessons to children with special needs and disabilities around the Eastern Suburbs.
Meet the team: Tracey Ayton, Shun Thangathurai and Chris Liu are well known, well-loved and experienced children's swimming instructors. Having taught kids in and around the Eastern Suburbs for over 30 years combined. They are qualified in all codes of Aquatic Education and are heavily involved and dedicated to Teacher Training.  Their holistic approach, catered to each individual student's needs, ultimately leads to more than just swimming strokes; they provide life skills and an understanding of the water.
"The education does not stop with our students, educating the family unit is just as important – the more informed our parents become, the safer their kids will be".
To book a lesson or make an enquiry please fill out this form or email [email protected].
You can also call LHSA HQ on 02 8084 8381 and find Little Heroes on Facebook.

Tell them ellaslist sent you!