Kids Aerial Academy: Aerial Gym Classes For Kids
Kids Aerial Academy: Aerial Gym Classes For Kids
Mums & Bubs
Kids
Teens
Parents Only
With over 14 years of experience helping children and adults achieve their fitness goals, Kids Aerial Academy is bringing an exciting new experience to the Miss Fit Dance Studio.
The Kids Aerial Gym program integrates aerial arts with gymnastics. Designed specifically for developing kids and teens, classes incorporate fun mindful movement up in the air on three main apparatus - Aerial Sling, Fitness Pole and Aerial Hoop - stimulating the sensory system, body awareness, social and emotional needs and self-regulation. Children will rise to the challenge of strengthening their core muscles to negotiate spins, tumbles and turns as they stay off the ground!

Each week, students will build their skills, learning new poses, mindfulness techniques, breathing tools and creative ways to practice gym. Small-group classes ensure they spend valuable one-on-one time with their instructors a committed, qualified and passionate team that provide quality aerial classes and work with students to help them be the best they can be.
Kids Aerial Academy runs both kids and teen Classes for a 10-week term in sync with the school calendar. However, don't worry if you've missed the start of a term - you can contact Kids Aerial Academy directly to confirm days and class availability.
Parents, you won't miss out on fun and fitness at Kids Aerial Academy! They give you the unique opportunity to share in their child's gymnastic journey, inviting you to be involved in Aerial Yoga, Pole Fitness and Aerial Hoop classes. They also run Aerial Fitness and Aerial Yoga Classes for adults plus Mums & Bubs Pole Fitness.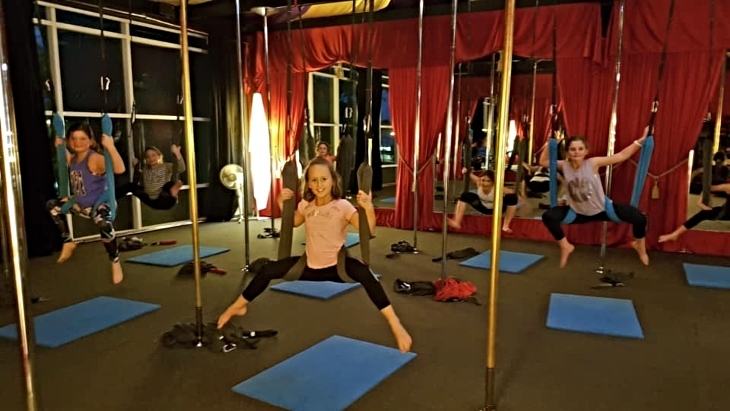 Kids Aerial Gym Classes
Kids Aerial Sling
Children aged 5-11 will learn and explore new poses in the aerial slings with sequences, tumbles and relaxation.
In this 45 minute class, your child will learn and explore new poses in the aerial slings including fundamental Aerial Yoga asanas and breathing exercises exploring the apparatus with sequences, tumbles and relaxation. They will also have time to explore, create and play in the hammocks, both structured and independently.
Kids Aerial Gym
Children aged 5-11 will be spinning and tumbling through three main apparatus - Aerial sling, Fitness pole and Aerial hoop.
In the 45 minute class, your child will learn poses, games and breathing exercises exploring the apparatus with activities and relaxation.
Teen Lyra
An Aerial fitness and flexibility class on the Aerial Hoop for teenage boys and girls aged 12-17.
In this 60 minute class, your teen will learn and explore new poses in the aerial hoop, providing an incredible fitness workout that will increase core and upper body strength, balance and self-confidence. Students will learn a range of climbs, inversions and artistic poses on the hoop, progressively learning sequences that will make their new moves flow seamlessly. Ongoing students also have the opportunity to learn a choreographed aerial routine to perform at the end of term Skills Showcase.
Teen Pole Fitness
A pole fitness and flexibility class for teenage boys and girls aged 12-17.
This 60-minute class is a structured programme designed for teens who want to tone up, get strong, learn some new skills and develop their confidence. Under the guidance of a qualified fitness instructor and teacher, they will be using a pole to perform resistance training exercises and improve their flexibility.
Find out more about Kids Aerial Academy Classes.
Parties With Kids Aerial Academy
If your child loves watching the death-defying feats of wondrous acrobats and aerialists at the circus or in the movies, then Kids Aerial Academy is the perfect place to celebrate their next birthday! They don't need any aerial experience to have a fantastic experience - they can just let their hair down, burn some energy and learn some cool tricks in the Lyra or Sling. A one hour party starts at $200 for up to 8 children and can be themed with your child favourite music!
For a Lyra Party, the Aerial Hoop is suspended from the ceiling but close to the floor so that kids can safely run through a range of movements while suspended in the Lyra.
A Sling Party will channel your child's inner yogi and introduce a range of exercises and games where the party-goers are partially or totally suspended by fabric slings suspended from the ceiling. Imagine a room full of hammocks!
Find out more about Parties with Kids Aerial Academy.
Use Your Active and Creative Kids
Kids Aerial Academy is registered with the NSW government as both Active and Creative Kids providers. They also offer a taster class for any of their aerial lessons at a cost of $10 which is refunded if you decide to stay for a full term.
With studios in Artarmon and Castle Hill, Kids Aerial Academy offer consistent kids aerial lessons where students are both challenged and nurtured as they learn new skills and achieve their goals in a non-competitive environment.
Get more information about Kids Aerial Academy.
Tell them ellaslist sent you!