Andy's Antics - Party Host
Andy❜s Antics - Party Host
Toddlers
Preschoolers
Kids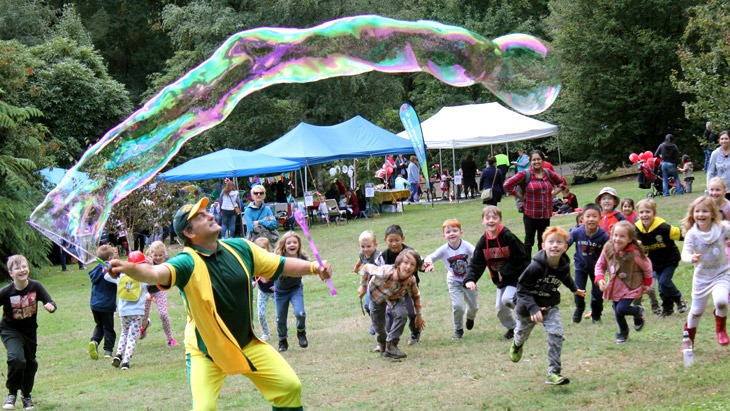 The energy of 3 entertainers in one!
If you've ever hosted or been at a party where the vibe is fantastic, and the kids are entertained and happy. You know the satisfaction parents feel. It's the best!

Luckily for us Melbournites, we have Andy of Andy's Antics to put a spring in everyone's step (and if you're not on your guard, probably a novelty one on your seat when you're not looking!). Super-high energy and a good time for both kids and adults, Andy aims to bring the party to you – and his partying skill is turned up to 11. The parties entertains boys and girls from 3-16 yrs at your home, park or venue.

The only downside of Andy as your entertainer is that the kids are likely to be devastated when the party's over, because time will fly at this place.

One of a kind, watch him keep your kids spellbound like no other party host you've ever seen! Andy is excellent at judging the size of the space you have and what kind of games he can safely manage to play within it.

His sporty show will have your family and friends involved and laughing along too.


Time will fly with non-stop games, singing, bubbles and the unexpected spray of water!

You organise the food and drinks, and Andy will take care of the rest, running the sugar out of the little ones, making them all feel they're at the best party ever.

Energise your childs next birthday with Andy's Antics, the entertainer who travels to you!

Each week Andy's Antics appears in 6 popular Hotels and can perform in your home or outdoors:

Monday: Skyways Tavern, 6pm, 113 Matthews Avenue, Airport West
Tuesday: Zagame's Caulfield, 6pm, 25 Derby Rd, Caulfield East
Thursday-Zagames Ballarat, 6pm, 639 main road Golden Point
Friday: Bayswater, 6.30pm, 780 Mountain Highway, Bayswater
Saturday: Waltzing Matilda, 6.30pm, 856 Heatherton Rd, Springvale
Sunday: Zagame's Boronia, 6pm, 112 Boronia Rd, Boronia

Party cost from $150.

For more information call 0402 091 965, send an email: [email protected] , or visit the website.

"My family and I attended a show at Skyways Hotel on a Monday night, and I was a big fan of the frisbee game which he made do-able for even the littlest spectators inside a small-ish playground room, and the remote-control car that could drive on the ceiling! My kids thought the practical jokes played on willing parents (one that involved a mini toilet) was a highlight. It was obvious Andy has never lost his ability to see life through a kid's eyes and what would get the biggest laughs from them."

Tell them ellaslist sent you!
Reviews
Just before Andy arrived, one of the parents asked if the entertainer was a "magician" The answer is yes! As soon as Andy entered the room, he captured the immediate attention of 30 excitable kids and held them all mesmerised for the next hour! We booked my boy/girl twins 6th Birthday at the DC Bricker pavilion in Princes Park, South Caulfield - a great inside space but Andy also took the kids outside to the oval for some serious running around. He was not short of great games, very cool toys and lots of age appropriate silliness! Andy also involved the parents which the kids obviously found hilarious! Andy is the real deal pied piper! Highly recommended!
I engaged the services of Andy to entertain a room full of people at an end of season netball presentation. The brief was ambiguous as I didn't know how many people would attend, what the ages of the majority of attendees would be, or how engaged everyone would be. I needn't have worried as Andy from the minute he stepped out of his car, had all the kids (and adults) eating out of his hand and laughing or smiling. Andy managed to get a room full of people aged from 4 - 54, to get up dancing, answering quiz questions, throwing a giant ball around, running around a room - its was pure escapism! Even the non dancing Dads were up and into it! All the kids loved Andy, and from all the comments Ive been getting I know all the parents did too! Thanks Andy - Job Well Done! See you next time!