Your Next Family Weekender Destination: We're Off To Orange!
Your Next Family Weekender Destination: We're Off To Orange!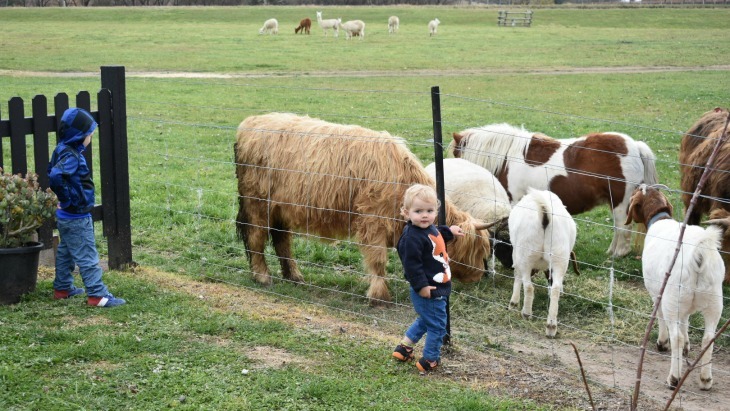 By: Natalie Stanley, ellaslist
DESTINATION: Orange, Central NSW
THE DRIVE: 3.5 hours, one way
The beautiful region of Orange is known as Australia's Colour City, just 3 ½ hours from Sydney and within easy reach of the Blue Mountains. When you visit the Orange Region you will discover a kid-friendly, welcoming city, rich in local history, a flourishing cultural scene, fruitful landscapes, historical buildings, art and culture to surprise you and some of the best food and wine in Australia. We've highlighted the best of the region of Orange and surrounds for a great Family NSW Weekender away!
Suggested Route
We love a scenic route, so the stunning detour via Mayfield Gardens in Oberon was the perfect lunch spot. Inspired by the grandeur of English country garden estates, Mayfield Garden is one of the world's largest cool-climate nurseries. Set on 5000 acres, there's plenty of space for the kids to run around, roaming chicks, a worm-farm and a Cafe & Produce Store with a paddock to plate menu.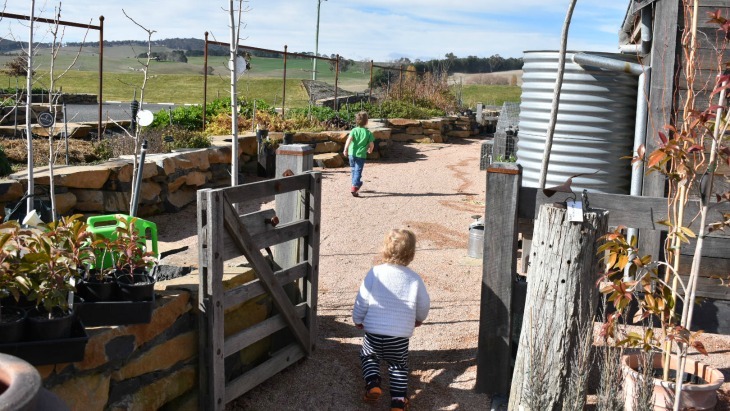 The coffee was top notch, and the hand-reared steak was cooked to perfection, in fact pretty much everything on our plate was grown or reared from the Mayfield property. The highlight for the kids was undoubtedly dessert where we got to enjoy toasting our own marshmallows on the outdoor fire in the stunning nursery.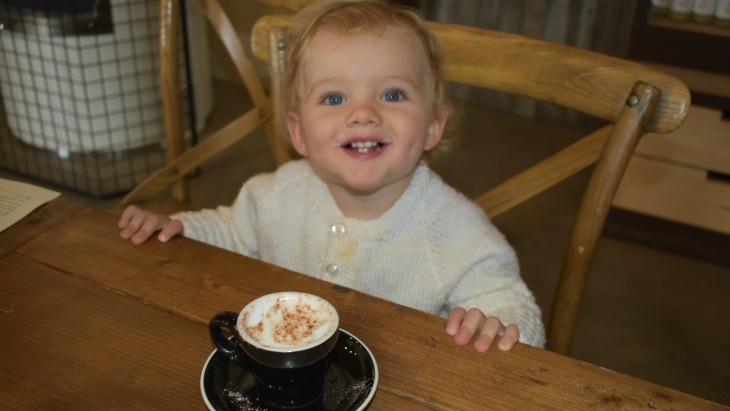 Following lunch, Mr 4 had an absolute ball finding all the 'treasure' spots on the Mayfield Gardens map which included a giant chess board, maze, man-made waterfalls and European inspired landscapes.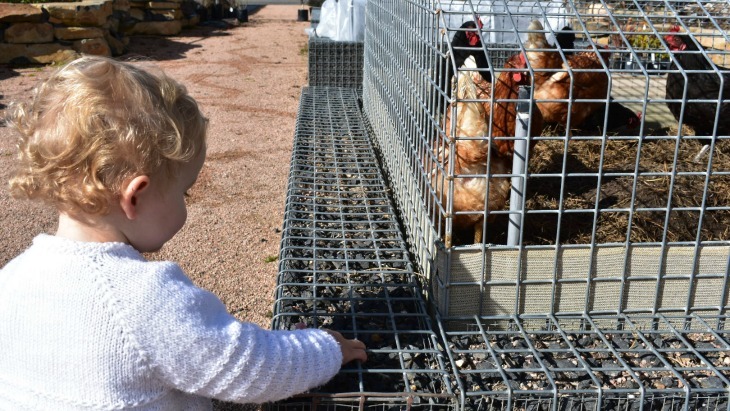 Why We Love Orange For Families
Everyone in Orange is so welcoming and friendly.
We loved the parks and slowly ambling around the town, checking out the local historical buildings and gorgeous old Federation homes. It's small, and unlike Sydney, it's flat, so it's really easy to get around the town by foot!
The region's commitment to locally sourced produce is incredible and everything we ate was to a really high standard!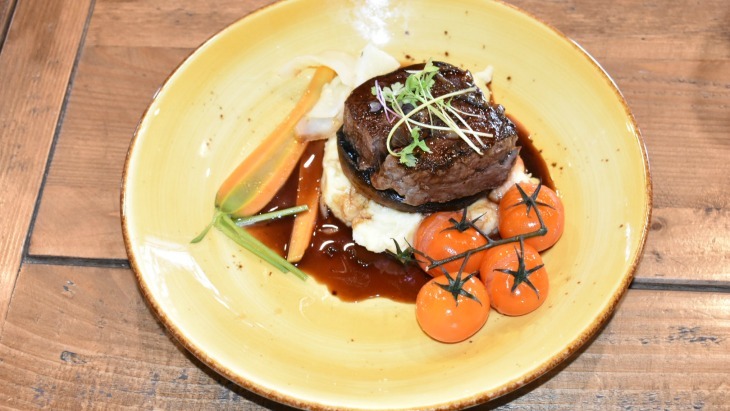 Things to Do
Stop and Smell the Flowers
The Orange Botanical Gardens is a natural undulating 17-hectare site which features an impressive native and exotic plant collection. The Country Walk offers a stunning stroll through varying landscapes including a homestead garden, exotic and indigenous woodlands, an apple orchard and a beautiful heritage rose garden. The kids loved kicking and running through the leaves and posing for pictures.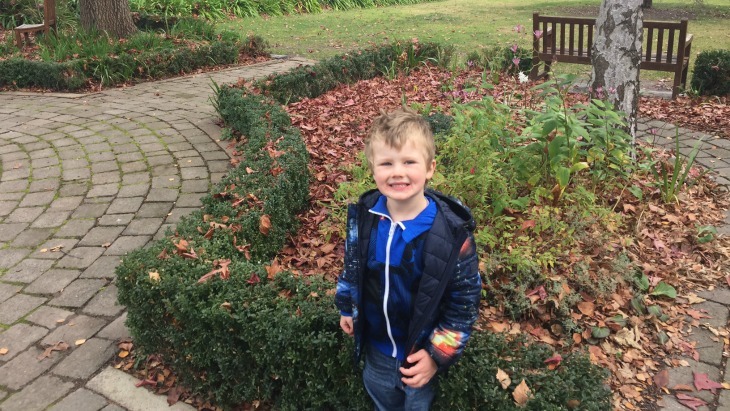 Play
The winner was undoubtedly the awesome Adventure Playground situated within the Orange Botanical Gardens!
The Adventure Playground built from timber has a range of modern play equipment suitable for toddlers to teens. Designed to encourage imaginative play, each area is built around different themes including castles, farms, tree houses, rockets and boats.
The Orange Botanic Gardens is currently hosting a virtual dinosaur hunt with the download of an app! The Magical Park app is free and is designed for school age kids, encouraging them to be physically active, running away from, and after mythical beasts, aliens and dinosaurs!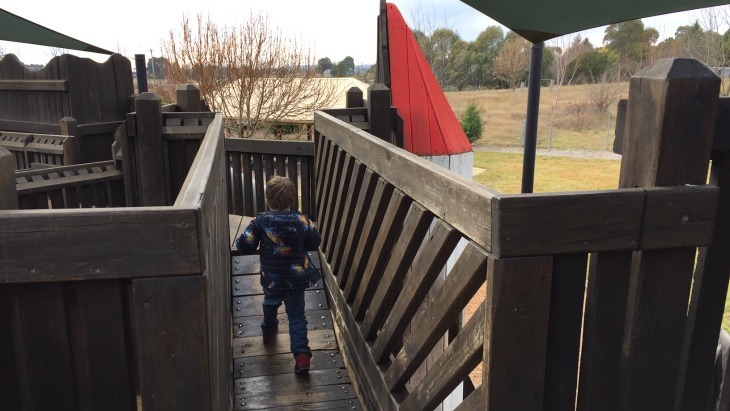 Explore
After lots of free play, it was time for a history lesson at the Orange Regional Museum, who are currently running an exhibition 'Villages of the Heart', aiming to capture village stories from the past to present through various themes.
Kids can learn all about the settlement of the region, the history of mining, agriculture, migration and significant events from the local area.
Mr 4 was fascinated by the old Royal Mail Horse and Cart, the Vintage Car, and most intrigued by the old night sheep watchman lying asleep in his box! It's a nice clean, compact museum so not too overwhelming for kids, especially the little ones.
Don't forget to check out what's on during school holidays when they'll be running a series of different workshops throughout school holidays. Tickets are $17 per child, accompanying adults free.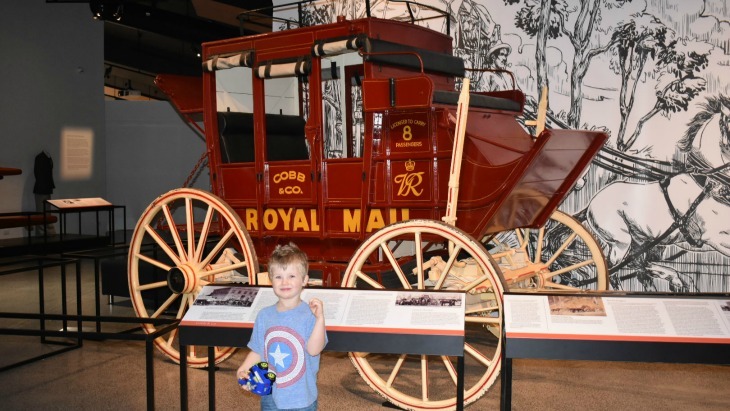 Animal Fun
Kids and big kids will love a visit to Heifer Station - a Petting Zoo, Farm and Winery rolled into one...need I say more!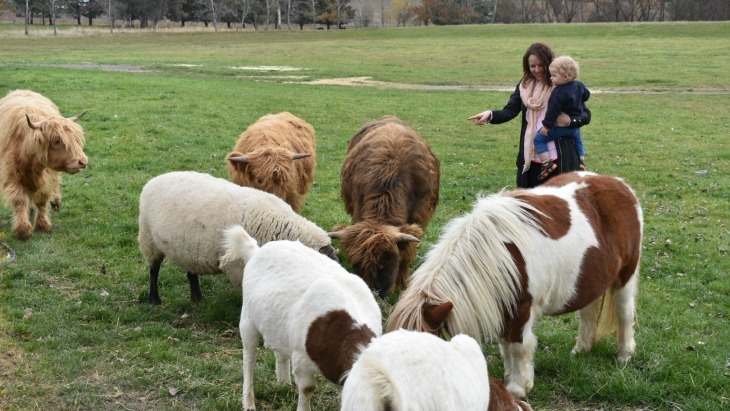 The petting zoo and farm is open every weekend and every day during the festivals and school holidays. Aptly named the Funny Farm, Heifer Station's petting zoo is home to a herd of alpacas, 3 Highland cattle, resident goats, black-faced Suffolk sheep and Tilly, their ridiculously cute Shetland "wine" Pony. Tiny kids get to feed the funky chickens and there's even a sand pit full of digging toys.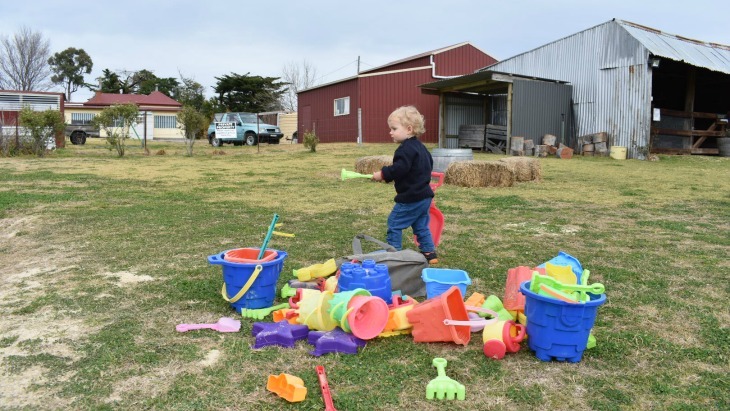 The kids loved getting involved as the farmer whistled and sang to call the animals in from the fields. Our toddler had the time of his life petting all the animals.
After a busy morning of adventures, we were well and truly ready to sample some local Heifer Station wines. The tasting included a low down on the history of the winery from James the winemaker and the Sparkling (made in the traditional méthode champenoise) and Pinot Noir was outstanding!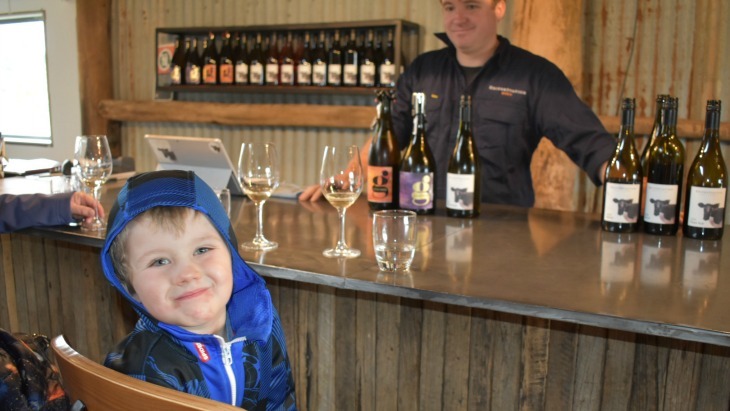 Where To Eat
Orange is a foodies paradise so you'll be spoilt for choice!
The Lakehouse at Lake Canobolas does a simple, tasty lunch menu. The backdrop is stunning, set amongst Lake Canobolas reserve with walking tracks, a historic pump house and a kids playground. The café itself has a friendly and relaxed, beach café vibe to it.
The Hotel Canobolas have a dedicated kids' area and is one of the Central Wests most iconic hotels. Situated in the heart of Orange NSW, it is a local institution! There is a magnificently renovated steakhouse, wood fire pizza restaurant and bistro and garden bar.
We really loved the rich and historical Union Bank who's history dates back to the mid-1850's. Food is fresh, local and ethically sourced. Our meals were outstanding, and the service friendly, warm and attentive. There's also a courtyard and small garden which is great for kids!
If you're lucky enough to visit Orange when the famous monthly farmer's market is in town, be sure to take the opportunity to stock up on local delights!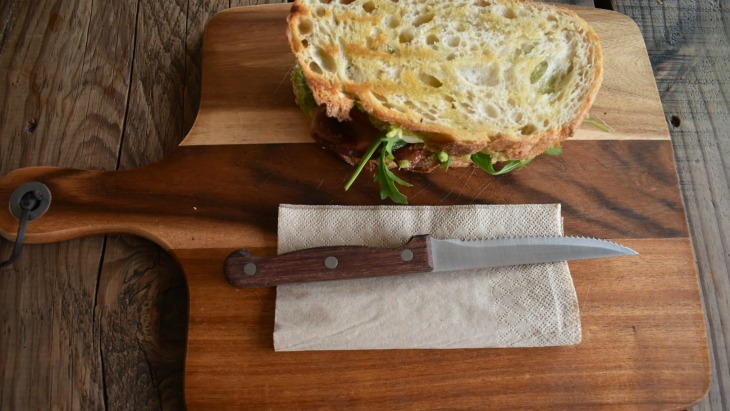 Where to Stay
If you're planning on making Orange a weekender, there are plenty of options. If you're looking for a family-friendly self-contained home, then check out Casa Dolce Cottage just a short stroll from the heart of Orange's bustling cafes and wine bars.
Hosted by the lovely Pamela, this clean, family-friendly, pet-friendly country style cottage has a huge backyard, 3 bedrooms and can comfortably accommodate a family with 3 kids. And, for the device-obsessed, there is free Wi-Fi!
Top Tips
The drive in via Mayfield Garden's is absolutely lovely, please be mindful, however, that this can add another 45-minutes to the journey so make sure you have plenty to keep the kids entertained in the car!
Go for self-contained accommodation so you can really take advantage of the local food delights on offer, and cook up a storm at home.
What makes a trip to Orange kid-friendly?
Just 3.5 hours drive from Sydney, Orange is the perfect weekender for families with kids. There's always something happening from Winter Festivals, Farmers markets and events at the local museums.
Kids can enjoy learning about Orange's heritage and history of gold mining or run wild in the beautiful countryside, awesome local parks and adventure playgrounds. In summer, there's a variety of great picnic spots and stunning swimming, canoeing and camping spots in Summer.
Only a short drive out of town, and you're in beautiful countryside where the kids can get up close and personal with animals and nature.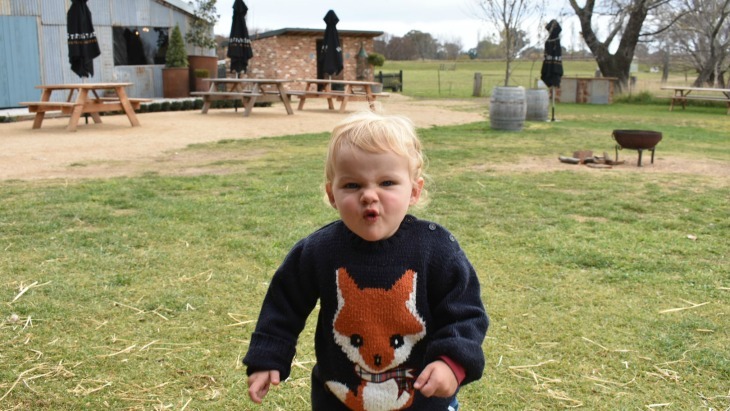 In A Nutshell
Food and coffee are top-rated. The countryside is stunning and the people of Orange seem to have thought of everything, great parks and playgrounds, kid-friendly wineries and restaurants. Life is 10 paces slower and the whole family really get the opportunity to relax and wind down.
For more information about places to go and things to do with families in Orange, click here.
Have you signed up to our newsletter? Join ellaslist to get the best family and kid-friendly events, venues, classes and things to do NEAR YOU!