What Makes Early Start Discovery Space Different To The Rest
What Makes Early Start Discovery Space Different To The Rest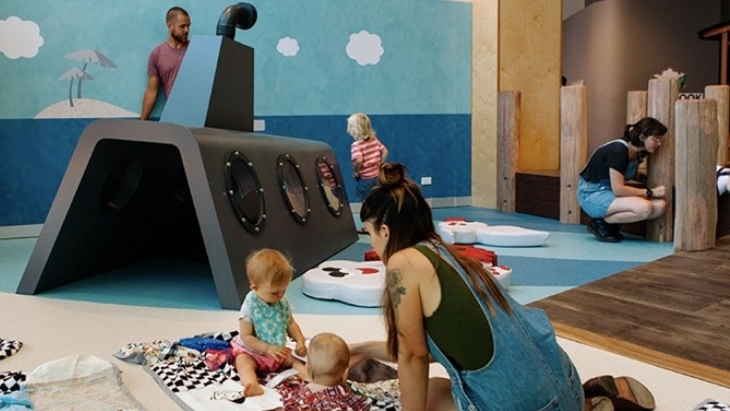 The Early Start Discovery Space is a play space that is completely different to every one you have been to before. In this play area, there are 14 interactive zones where kids can get into character and experience real life at their level. Parents and carers get involved with their kids, role-playing and making the experience so much more fun for everyone.
We visited the Early Start Discovery Space, in Wollongong, when it opened at the end of 2015 and returned one year later to see how it had changed. I was absolutely blown away during my first visit – super impressed with the interactive experiences and learning-by-fun opportunities on offer for kids. And this time was even better. There were new attractions and improvements as well as all the favourites from our previous visit. The only regret is that we don't live closer to the Space – I would be jumping at the chance to get a membership.
Wollongong is pretty close to Sydney – it's just over an hour's drive from the CBD and even closer if you live down South. It can easily be done as a day-trip but we enjoy turning it into a weekender as there is so much to do in this picturesque coastal city.
So What's New
The newest addition to Early Start Discovery Space is the Crawler's Beach which is perfect for 0-2-year-olds. This experience features a jetty (with glass peepholes), submarine (with two-way glass and a periscope), sensory beach towels, tummy time sea creature pillows and a treasure chest (full of books and games to play with). How lovely that bubs now have their own dedicated area to play.
We also loved all the interactive panels dotted around the area. Our favourite had to be Light Bright wall where the kids must have spent at least half an hour engrossed in creating coloured patterns by placing pegs into the light wall. They also enjoyed playing doctor and brushing the giant teeth at the Anatomy Corner. The Sensory Wall is fantastic fun for little ones and the Connection Corner has all sorts of games and tactile activities. There's also a Musical Instrument Wall, fish tank and other break-out activities.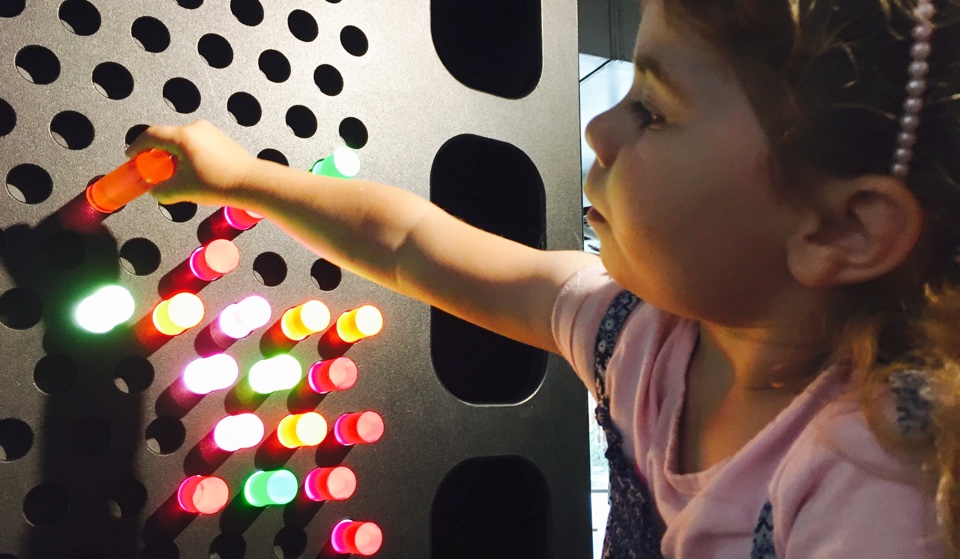 Favourite Experiences
Our kids' favourite experience was the Market Place which is equipped with mini shopping trolleys, toy food and a check-out area. The Critter's Cafe is a hit and the children adored putting on their aprons and making pizza with a variety of toppings. There are even a pizza oven and tables and chairs where mums and dads can enjoy their kids' delicious creations. For older kids, there are shopping lists, recipes and menus that they can follow.
They also love the Tummy Tour which makes for hilarious instagrammable photos of your kids crawling through a giant mouth and squeezing out of an inflatable butt. This is the perfect opportunity for older kids to gain an understanding of the process of digestion and what it feels like to be food.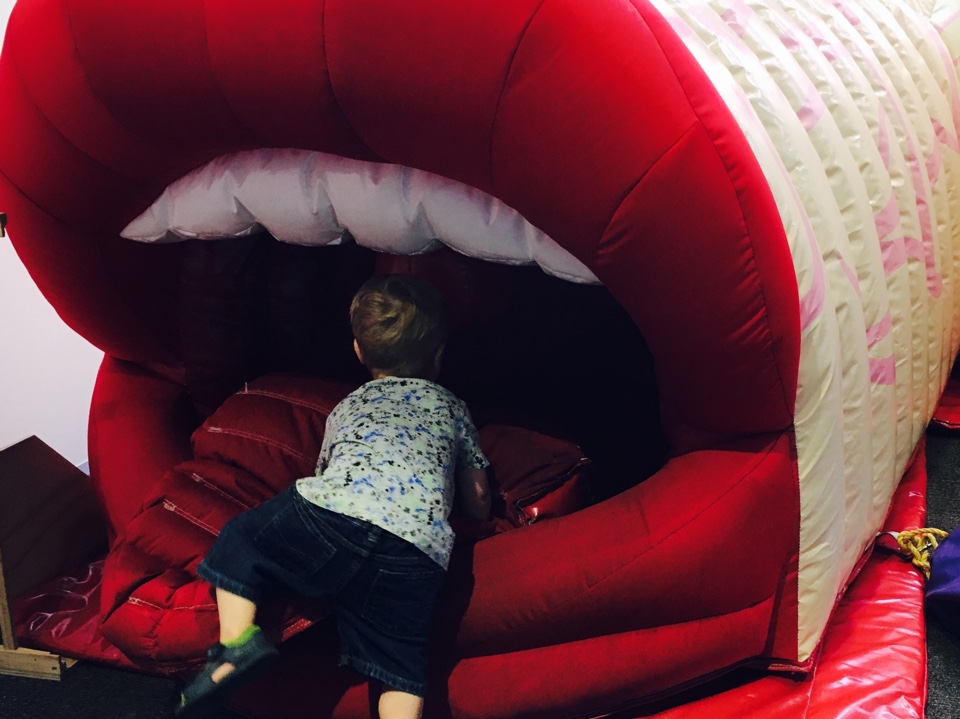 Grab your torches and explore the nooks and crannies of the Cave. It's really dark inside but that makes it all the more fun for brave little adventurers.
The Shipyard is a great spot for wannabee sailors or rogue pirates. Kids can climb up to the helm of the ship where they can steer or use a pulley system to haul up their bags of treasure.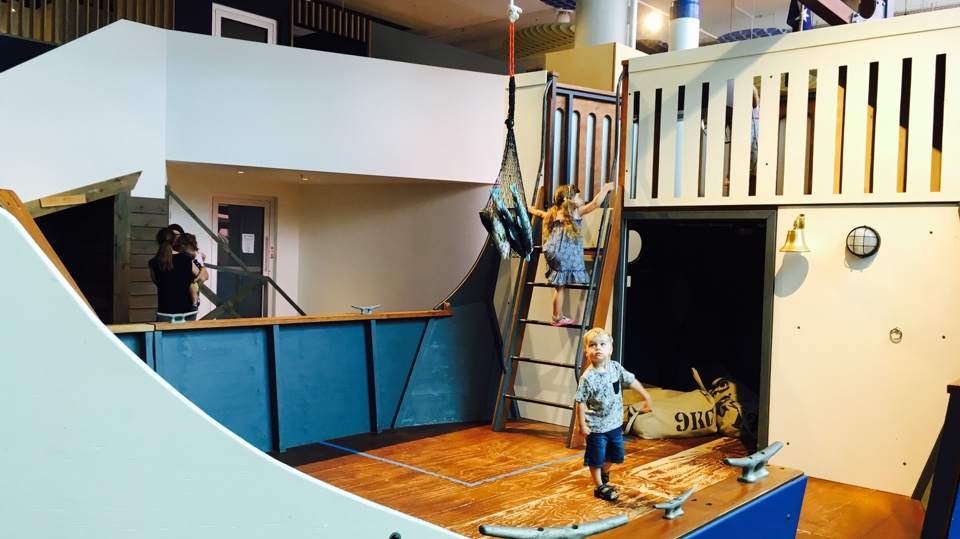 The Construction Site was another firm favourite where our kids donned hard hats, vests and goggles, grabbed tools and helped build walls out of foam bricks. This experience encouraged great teamwork as kids worked together (mostly harmoniously) to construct. The conveyor belt was very popular but parents do need to supervise as this was an exercise in turn-taking.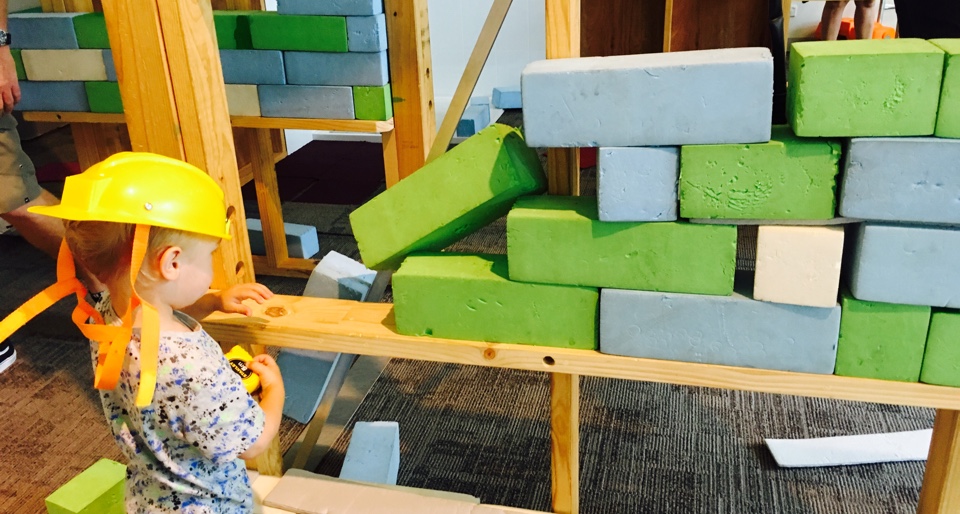 But Wait…There's More
We made a stop in the Pod which is a giant video projection wall where kids (and grown-ups) can interact with the action on the screen. The theme was underwater world and the kids could wave their arms to attract big colourful fish. There was a basic obstacle course set up which the kids loved and I thought it would be a good idea to add even more balancing challenges to keep the kids entertained here for longer.
The CreARTivity Space is set up with a variety of different craft materials and sessions are held regularly to guide the kids to make their own take-home creations. There's also the Book Nook for quiet play and Light Sound Action where children can play around with the light and music panels and dress up in style.
Upstairs, there's the Engine Room filled with big blue blocks for building and Rigamajig where kids can piece together wooden planks and wheels with nuts and bolts. Next door is Galileo's Study which is great for older kids and has experiments, magnifying glass and other fascinating contraptions.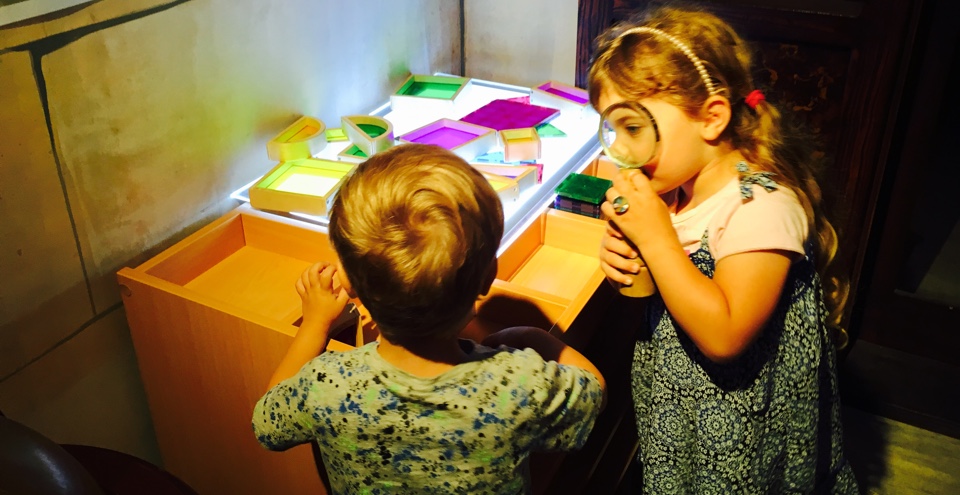 There are also two brilliant outdoor experiences. On one end there's the Dig, where kids can get into archaeological gear and search the sand pits for buried treasure with dusters and spades. Then there's a gorgeous Discovery Garden with a babbling brook, stepping stones, water pumps and grass. Such a beautiful, tranquil spot to explore. There's also a cafe here and some tables and chairs to sit and have snacks.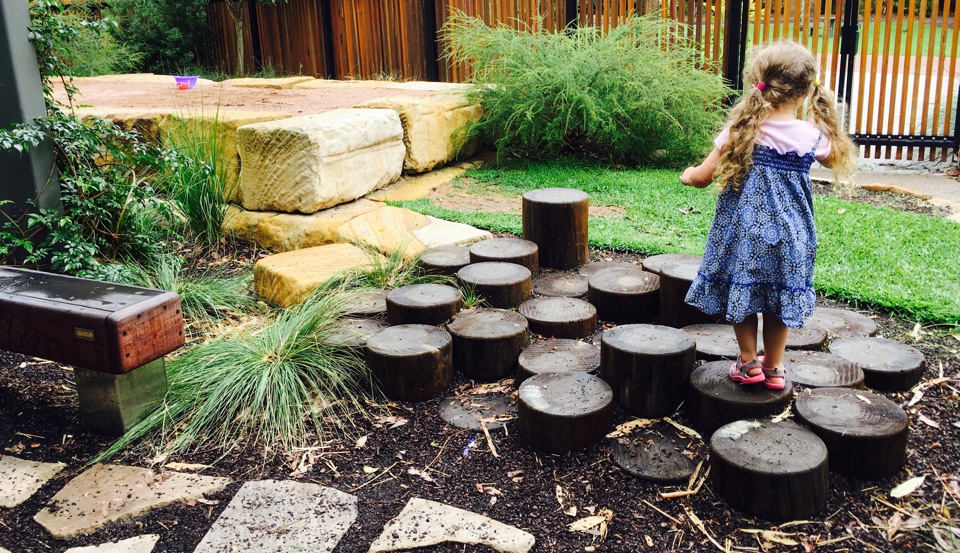 Wow, what an action-packed day! The kids loved every experience and so did the grown-ups. This is a very special place and one that we are very lucky to have so close to Sydney. We're counting down the days until our next visit.
What You Need to Know
All Ages:
The Early Start Discovery Space is designed for kids from 0 – 12 years, but I think kids ranging from infant to early primary school age will get the most out of it. For babies, there is the custom-built crawlers beach – a soft-play sensory adventure. The toddlers also have their own nook with games and fun interactive play.
Birthday Parties:
The Early Start Discovery Space is a fabulous spot for kids' parties. Starting at only $17.50 per child (non-member rate) or $24.50 per child for guided parties, this is such a fun venue for children and parents. Find out More.
Food:
Bring a picnic and munch on lunch on the benches in the shade of the Discovery Gardens. Or grab something to eat in the fabulous cafe – Espresso Warriors. Just note that you can't access the cafe tables from the gardens – you need to go through the front entrance of the centre. The cafe has a delicious kids' menu and the most decadent looking treats (buns oozing Nutella – yum!)

Opening Hours:
The Early Start Discover Space is open Tuesday – Sunday from 9am – 4pm. Closed on public holidays and Mondays.
Entry Fees:
Children and adults are $15.
Babies under 12 months are free and concessions available plus Annual Membership Packages are extremely good value
Off-Peak rate – Half price entry ($7.50pp) between 2pm and 4pm, Tuesday to Friday. Not valid during school holidays.
How to Get There:
The centre can be found within the campus of University of Wollongong
Where

To

Stay

:

There is no shortage of accommodation in Wollongong but our favourite is Novotel Wollongong Northbeach. It's very centrally situated across the road from the gorgeous North Beach. The hotel has recently been refurbished and the rooms are magnificent. We stayed in a beachfront suite which offered a separate bedroom for the kids, two bathrooms, an enormous bath and a balcony overlooking the ocean. During the school holidays, there's a kids corner with toys and an X-box and there were also children's activities such as cupcake decorating, movie and craft (which were free!) There is also a swimming pool, spa and gym. Book Your Weekender Now!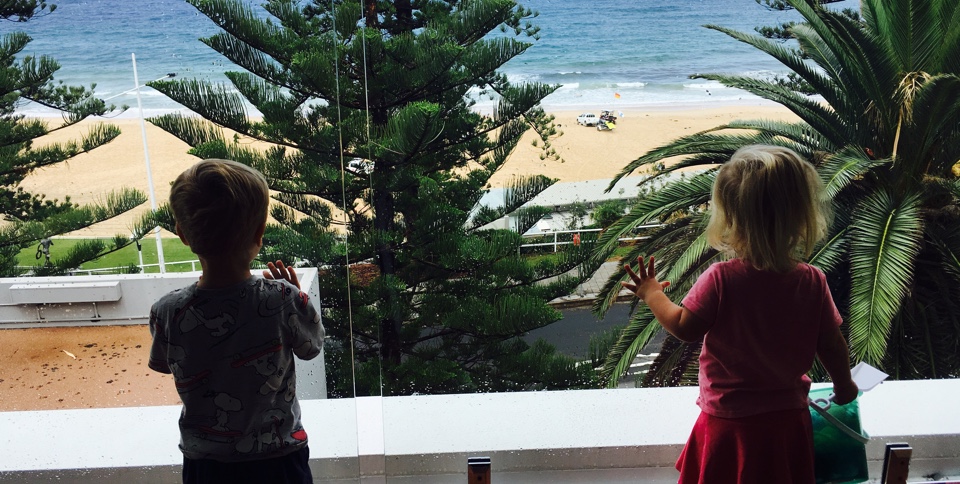 Have you signed up to our newsletter? Join ellaslist to get the best family and kid-friendly events, venues, classes and things to do NEAR YOU!