We Sail Away On An Eight Day Carnival Spirit Cruise Adventure
We Sail Away On An Eight Day Carnival Spirit Cruise Adventure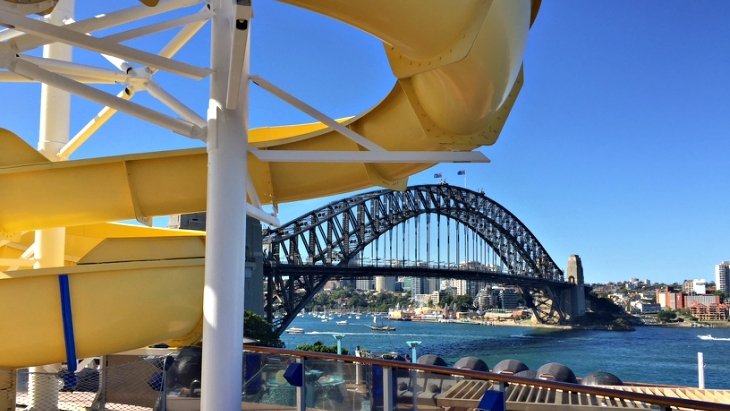 By: Suzanne Mitchell, ellaslist
Being first-time cruisers, our family of four including my two daughters (aged 4 and 8) were unsure of what to expect from our eight-day Carnival Spirit adventure around the South Pacific Islands, stopping at Isle of Pines, Lifou and Noumea.
On recap, I believe the magic of cruising is the lifelong memories that are created from amazing experiences that you can't have elsewhere. So, not to pass the buck, but I thought it would be great to directly share from our eight and four-year-old daughters their big moments on the Carnival Spirit cruise.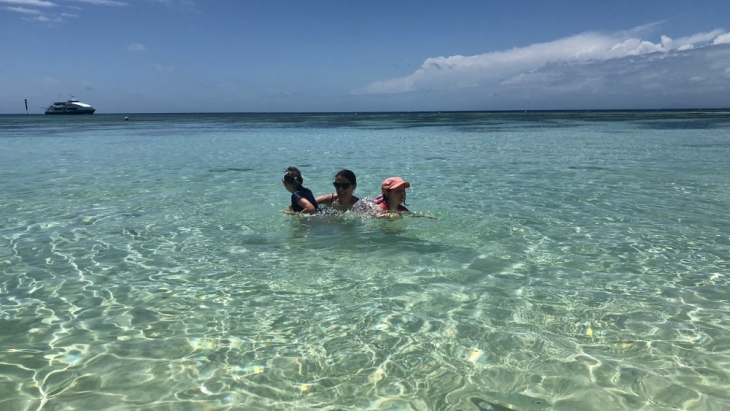 My eight-year-old daughter, Imogen, was wowed by her experiences, and as a result became more confident on our trip. Her top 3 moments were:
1. Swimming with Turtles
And checking out coral and colourful fish. Imogen says, "I liked swimming with the turtles because they don't swim fast away from us, and I like how graceful they are when they swim. I also liked the seagrass. I liked how colourful the coral is, I saw a creamy colour, red, blue yellow, pink, orange and white coral. It felt nice and calming, and the water was a good temperature. You can see lots of fish in the coral, eating the coral, burying for things under the sand... you can see fish above, below and beside you. When I was on the beach I loved the soft sand."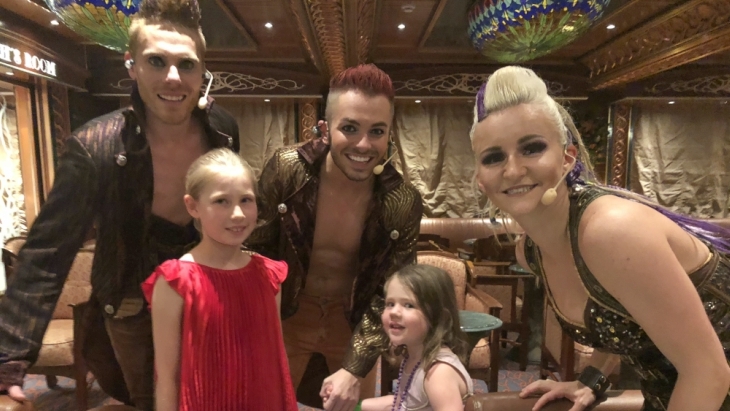 2. Spectacular Shows
And meeting the dancers after the show. Imogen says, "I like the shows at night time after dinner. I liked how they danced, however, sometimes it got a bit loud (& hurt my ears). But it's good dancing and singing. Backstage I liked the mirrors with lights around them and the costumes - I liked the design and that they have been worn."
3. Yellow Twister Water Slide
"You have to wait your turn, but that's fine….. when it's your turn the man up there tells you when to go. The man tells you when to not go. There are these bars and you push off the bars, and when you push off them water rushes onto you, and you have to have your shoulders back so you go fast, and you can push yourself when you are on the waterslide. When you are in the curvy bits, you need to lean back so your shoulders touch the water and lean left and right when going around the curves. When you are at the straight bottom part of the ride water goes up to your tummy."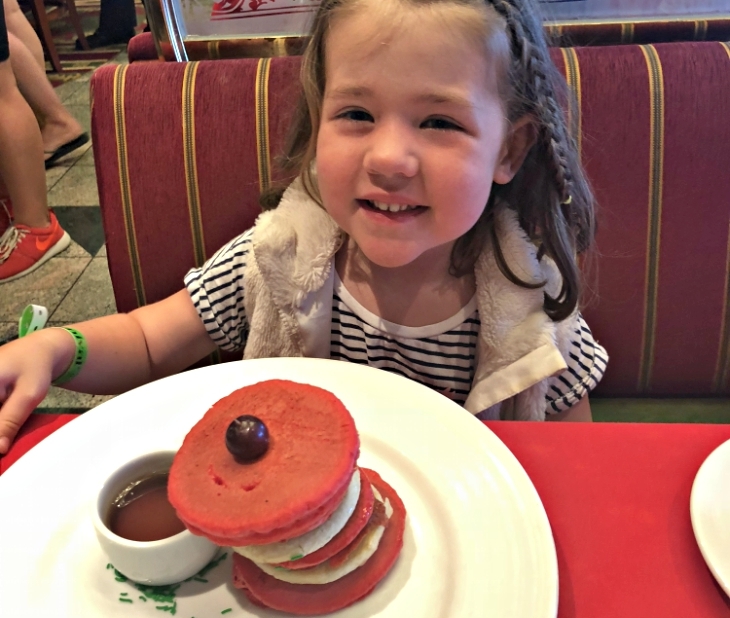 For my younger four-year-old daughter, the moments were as special, albeit food related. Mikayla's top 3 included:
1. Mad Hatters Tea Party
Mikayla says, "Eating all of the cakes, and Sergey (our waiter) getting sour lolly snakes from the lolly shop just for me."
2. Dr Seuss Morning Tea
"Hmmmm I loved the pancakes, they were red and white, and the red was best. I did a high five with Thing 1 and Thing 2."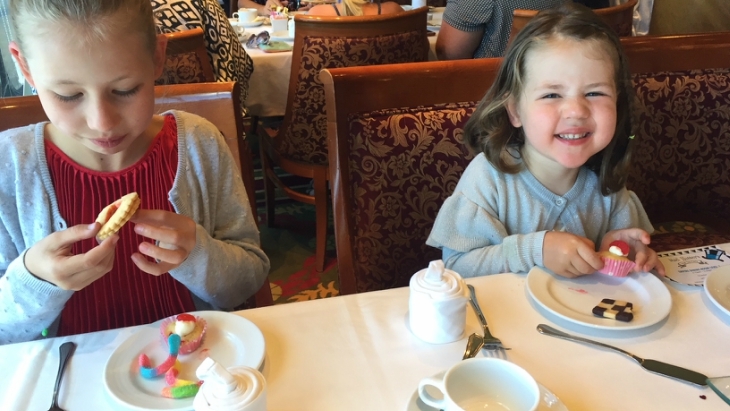 3. Unlimited ice-cream
If only she could reach it. "I like it. I like the vanilla best, but also the vanilla and chocolate swirl. I like it in the cone not the cup."
Quality Family Time
The trip was action packed as we chose to spend our time with the girls, rather than utilise the Camp Ocean facilities (which would have meant a lot more time in the adult serenity area). So for me, my highlights were watching the caring staff interact with my girls. All team members went above and beyond, including Rinia who made towel animals for the girls each night, Sergey who cut up our girls dinners (and saved me reaching across!!), Flower Bomb performers who allowed my girls to sit on the stage, as well as sing a song on the final night. When my girls did flower pictures for the performers, they returned the next day with a special note for our family (with pics). This level of authentic care is hard to find.
Meet Me At The Bar
Even without using Camp Ocean, my husband and I reclaimed our younger years, and met at the stylish Alchemy Bar each night for a pre and/or post dinner cocktail or bubbles. Alex the Bartender was always on hand to whip up a strawberry mocktail, which entertained the girls, while Brett and I enjoyed a piece of our pre baby life.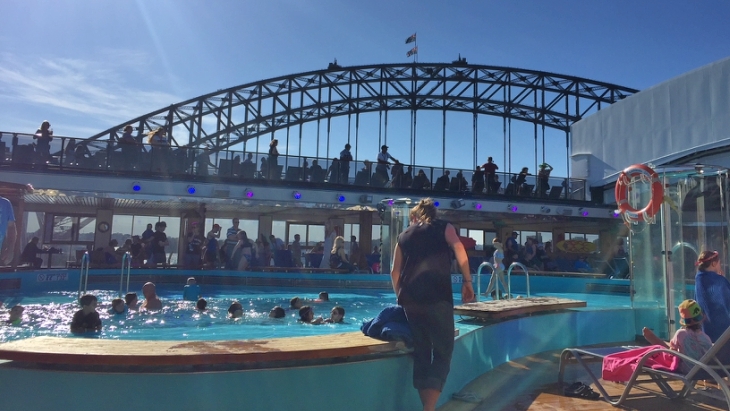 When we took off on our journey I was reminded again of how beautiful our harbour is, and it is amazing seeing it from the top deck of the Carnival Spirit…….. a new perspective for a born and raised Sydney girl. A must do for all.
Tips to make any first-timer a pro cruiser:
1. If you have an extended cruise longer than 6 nights, and the budget allows, I would suggest an adjoining cabin to ensure cabin fever and bickering doesn't kick in between siblings.
2. We didn't get seasick, as our pharmacist (who had just been cruising with his family) recommended we used a dab of 'Scopolamine HBR' cream which is easily applied to your child's wrist.
3. Camp Ocean (kids club) isn't 100% open to children under 2 years of age and is charged at $8 per hour during the limited hours. For example, sea days Camp Ocean accepts under 2-year-olds from 8-10am and port days from 4.15-5.15pm. If you accompany them then there is no charge.
4. You can rent a pram if you forget yours... especially good for around the ship as there is quite a distance for little legs to cover between pools, fun activities and restaurants.
5. Cruising is ideal for kids that can push out past their bedtime to say 8.30pm - so you get to enjoy some of the night events.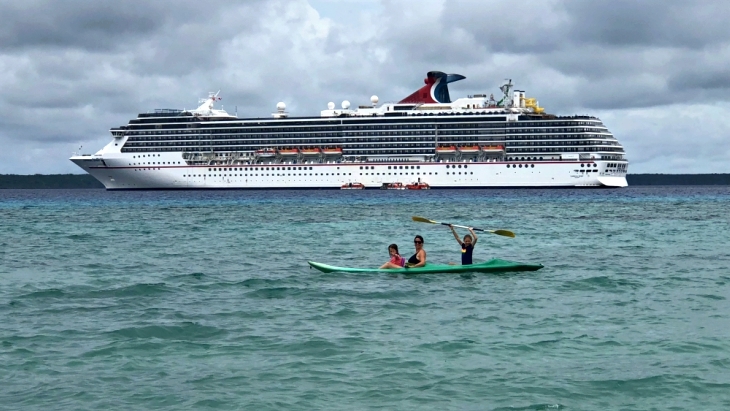 6. Think about and pre-book your shore adventures, as these make the holiday special. Our highlight was Amedee Island Marine Reserve (where Imogen swam with the turtles). It is an all-day tour and costs $200 per adult and $130 per child (well worth it to avoid Noumea central area).
7. Take your own snorkel sets so you get to keep them for life, or for the same price hire them from the Shore Excursion desk for $50 (adult) and $30 (kids). Also if you have one, take an underwater camera for the islands.
8. Before you board the ship download the Carnival Hub app from the app store. You can then check out what's happening across the ship on your mobile.
9. I noticed families with walkie-talkie devices that looked like an awesome (& cost effective way) to keep in touch while on the ship.
10. On Island days, take Turkish towels and your kid's water bottles to make life easier. To save money, you can carry on some purified water onto the ship - check allocations.
The Details
An 8-night cruise around the South Pacific will cost you from $1049pp. Find out more here.
Have you signed up to our newsletter? Join ellaslist to get the best family and kid-friendly events, venues, classes and things to do NEAR YOU!