The World's Most Insanely Creative Playgrounds
The World's Most Insanely Creative Playgrounds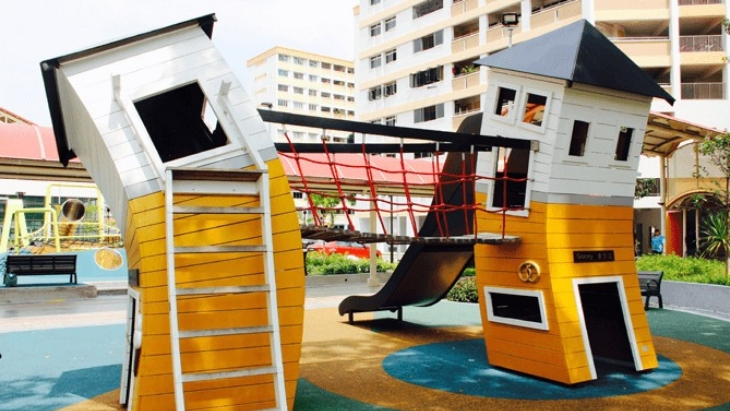 By: Phoebe Ackland, ellaslist
Warning: These super creative playgrounds will make you want to plan a holiday to Denmark!
The uber innovative construction company Monstrum makes wooden playgrounds for children that are seriously out of this world.
Daring But Safe
Their seemingly dangerous designs are actually really safe. They come in a variety of exciting shapes such as whales, giant spiders, spaceships, towers, castles and constructed to transport children to new worlds whilst they play. Not only are they super fun and creative, but the highly physical nature of the jungle gyms are actually tackling childhood obesity- encouraging kids to get active in the funnest possible way.
Fantasy Fun
These playgrounds, described as something out of a child's dream, are made entirely from sustainable wood. They have won multiple awards, this greatly attributed to the huge amount of thought put into each one. The designs read like stories- for example, the haunted house design with ghoulish characters within! Designers Ole Nielsen and Christian Jensen say they aim to create "playgrounds that don't shrink from challenging children either physically or mentally".
1. The Parrot in Copenhagen
This feathered friend is the playgrounds prime feature, with multiple levels inside to climb and explore! Super brave kids can climb the parrots exterior too, exiting via two slides attached to its side.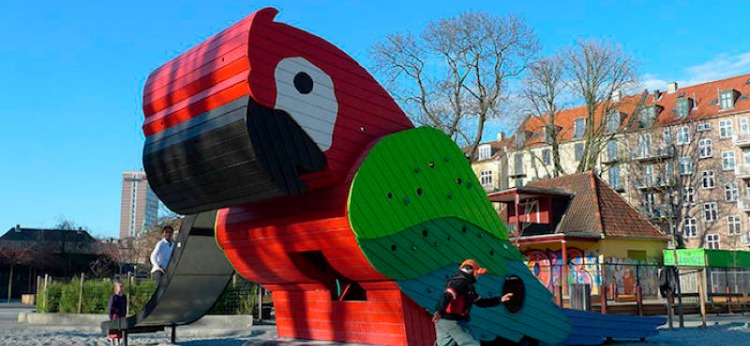 Source: Monstrum
2. The Towers of Copenhagen
This parks merges physical activity with technological activity! Full of historical facts, kids can play electronic 'catch' over the towers rooftops, solve a riddle in the Round Tower, or go to the lookout and enjoy the view at the small planetarium! This challenging park has it all.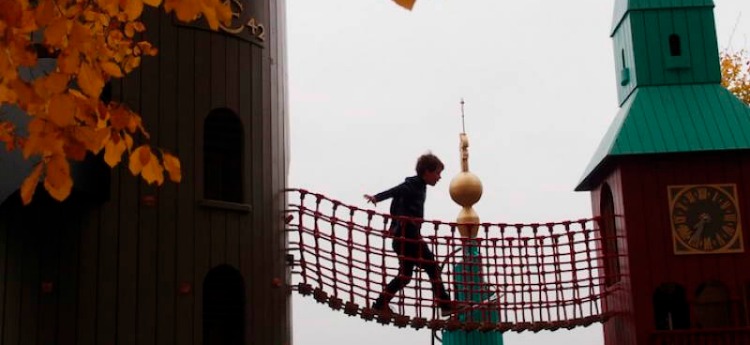 Source: Monstrum
3. The Monster in Bispeparken
The kids here asked for a monster, so they got one! Restrained on the ground with his legs tied in rope is this 10m long creature. The monster's head acts as a look out post for kids once they climb up, and the boxes scattered around monster are great to climb on.
Source: Monstrum
4. The Giant Spider and the Mushrooms
This spider is huge- 6.5m by 10.5m! There's LED lights in the spiders interior, creating an eery warm glow at night. After the climbing the spider via the web's steel ropes, slide back down on a fireman's pole!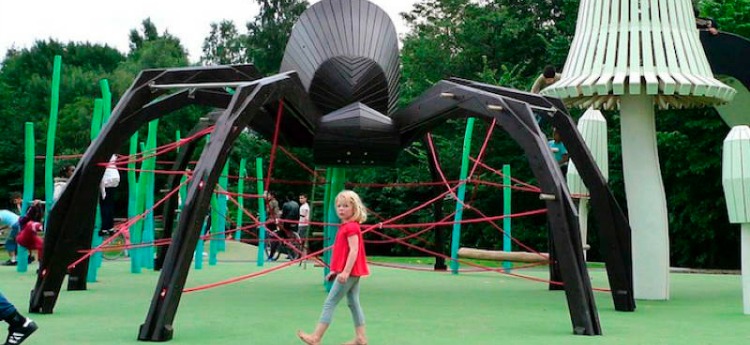 Source: Monstrum
5. Kristinebergs Slottspark
Two giant 5.5m owls wearing crowns are the king and queen of this playground. Inside the owls the real fun begins with stairs and ladders to climb and different levels to reach. At night, the owls eyes glow with LED lights. Hoot hoot!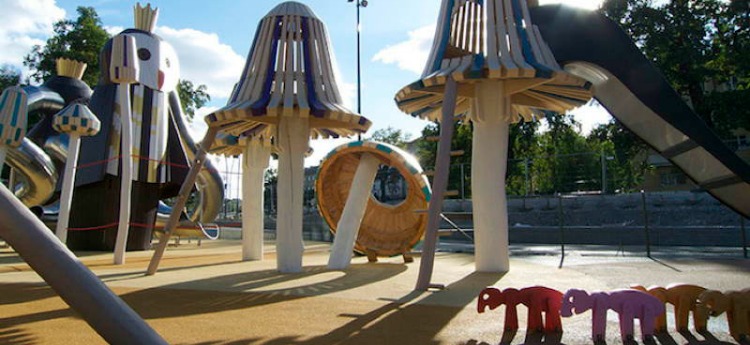 Source: Monstrum
6. Spööökitetsparken in Varberg
This playground sure is spooky with a big haunted house, 3 fluttering bats and a dark, ghost infested forest. The door of the haunted house is slightly ajar, so brave kids can enter…if they dare. Kids can jump on the bat's backs…but beware- they move!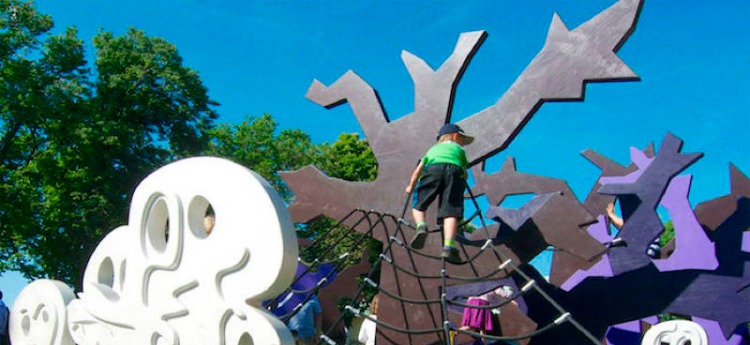 Source: Monstrum
7. The Dragon in Mulighedernes Park
Kids come play, if you dare! There are climbing knobs covering the dragons body, creating routes for children to clamber over, some more challenging than others. To get down, use one of the two slides from the dragon's back- one for big kids and the other suitable for small kids.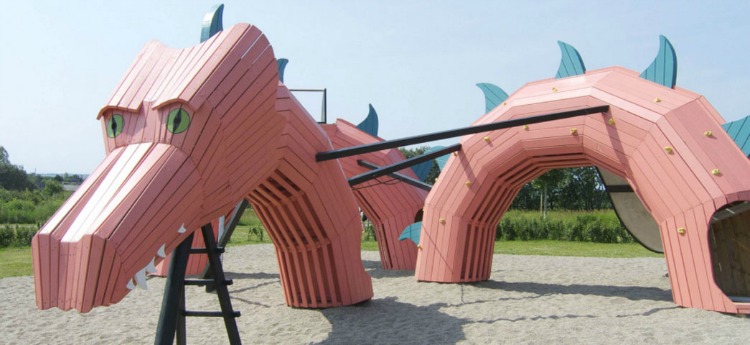 Source: Monstrum
8. The Cargo Ship in Höganäs
The story with this one is that the ship has sunk, resting on the ocean floor with fishy friends, a lighthouse, and loose cargo boxes. Children can explore and climb on the the wreckage debris in this chaotic playground.
\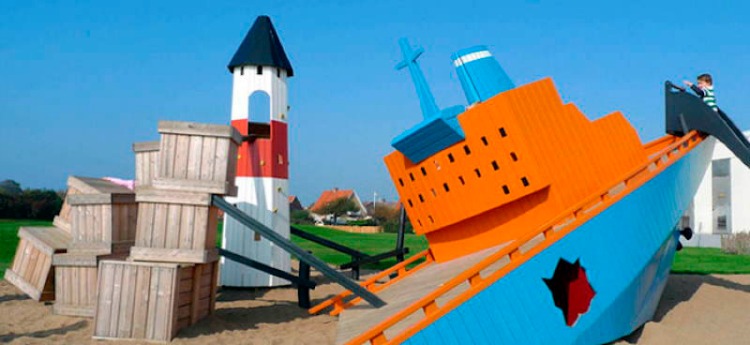 Source: Monstrum
Have you signed up to our newsletter? Join ellaslist to get the best family and kid-friendly events, venues, classes and things to do NEAR YOU!