The Perfect Weekend Escape Sailing Away On A Fun-Size Carnival Cruise
The Perfect Weekend Escape Sailing Away On A Fun-Size Carnival Cruise
Mums & Bubs
Toddlers
Preschoolers
Kids
Teens
Family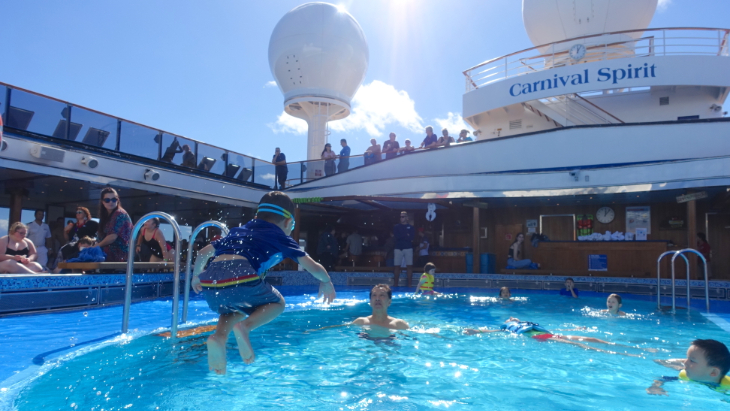 There isn't a day that goes by where I don't think about going on holiday. That's normal... right? Daydreaming about exploring a foreign country or getting out of the city to take in some fresh air. Ah, I can imagine the serenity.
But then reality kicks in. A long haul flight with a 14 month old and a 4 year old? No thanks. A family road trip when my 14 month old will only sit in the car with the promise of snacks (which gives us 40 minutes tops, just enough time for her to eat an Arrowroot, a packet of Veggie Straws and half a punnet of strawberries)? Yeah, I'll keep dreaming.
If only there's another option. One that doesn't involve the impossible task of keeping my children strapped to a seat for hours until the holiday actually begins. One that starts at our doorstep, offers endless entertainment for kids and the time-out time we dream about. Wouldn't that be the holy grail of travelling with kids?
Well, what do you know. We found it.
Sail The Holy Grail
You're either nodding along with me right now, or you're not. I feel like cruising divides a nation. You either love it, or you don't. And if you're the latter, I have just one question for you… Do you like pizza?
Now hold that thought. We'll come back to that in a moment.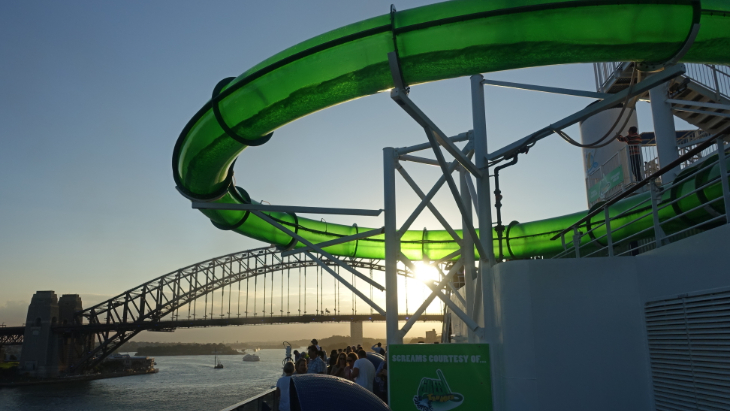 In need of a short break, we picked one of Carnival Cruise's Fun-Size cruises: 4 Nights Sydney to Moreton Island.
There are 3 reasons why we chose this cruise in particular:
1. It departs Sydney on Thursday afternoon and arrives back in Sydney early Monday morning. Minimum annual leave taken, long weekend time maximised.
2. It travels along the east coast, never going out to sea. For me that means, always seeing land, calmer waters and avoiding bad sea sickness.
3. My brother and his family live in Brisbane, so we all saved on airfares and got to spend a fun day together at Tangalooma Island Resort!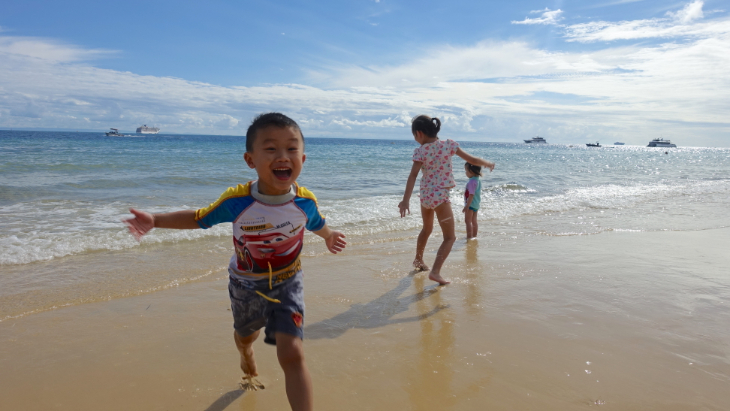 My 4 year old son was already having the best holiday ever when we jumped on the train to head to Circular Quay, but his jaw dropped to the floor as we approached our gigantic ship docked at the Overseas Passenger Terminal.
Considering we were amongst about 2,000 other cruisers, we pre-selected our boarding time via the online check-in system, making our bag-drop and final check-in process a breeze. Within minutes we were officially in 'holiday mode'. Crew staff welcomed us with big, friendly smiles and high fives for the kids. Cruise Photographers lined up ready to capture our first day moments.
Like A Kid In A Floating Candy Store
The first time you get on board, you feel like a kid walking into a candy store.
Our ship, the Carnival Spirit, has three pools and spas, two waterslides and a splash playground, 16 bars and lounges, a casino, an arcade, mini golf course, sports court, jogging track, two-deck fitness centre, spa and salon, duty free shops, poolside cinema and a dozen dining options, including 24-hour room service and free 24-hour pizza and ice-cream. That's right. All-you-can eat pizza. All day. Every day.
So we almost didn't know where to start, until someone said "pizza" and we headed straight to the international food plaza where the food was hot and ready for service.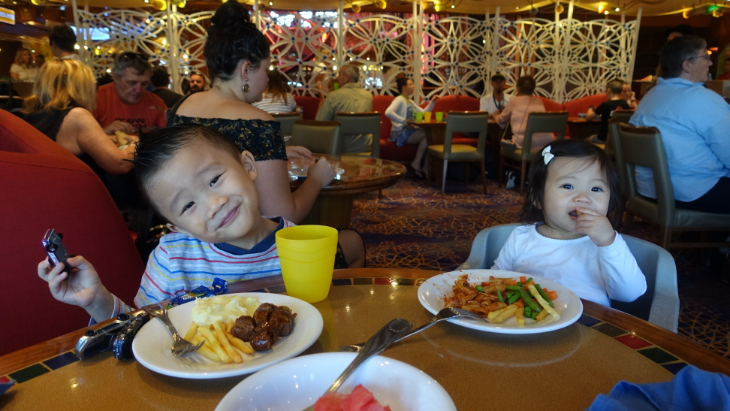 We were impressed with the vast selection of free (included as part of our cruise fare) food - from a Mexican cantina and made-to-order burger joint, to the buffet where you can have a little of everything and the dining room where I got my daily fix of smashed avo on toast!
One of our cruise highlights was dining at Nouveau. Imagine any fine dining steakhouse and seafood restaurant in Sydney and Nouveau is up there. There is only a one-off additional charge per person, and then you can enjoy their exquisite menu to your stomach's content.
Stretch Your Sea Legs
You might think being on a boat with two thousand odd people could get a bit cramped, but it's far from it. In general, the bars and poolside are always bustling, but turn the corner and you'll easily find a quiet lounge room or sun chair where you can read a book in peace or simply enjoy the ocean views.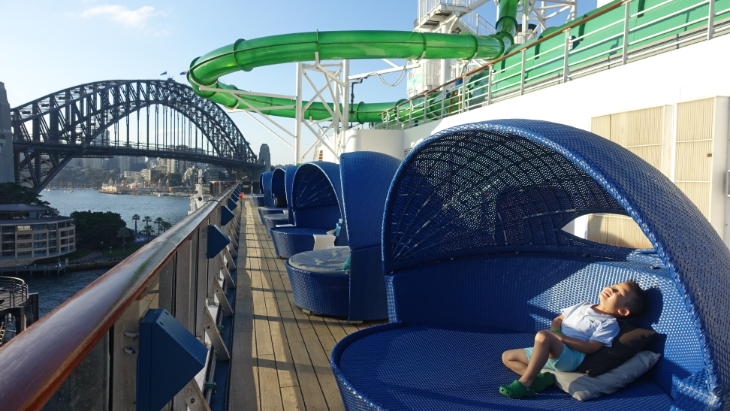 We didn't sign the kids up to the Camp Ocean Kids Club (although their facilities and program looked amazing, so when the kids are a bit older next time… see ya!). Instead, every day we made use of a large playroom called The Cove, which was filled with toys and games suitable for babies and pre-schoolers. It was also largely unused, so felt like our own private rumpus room most of the time!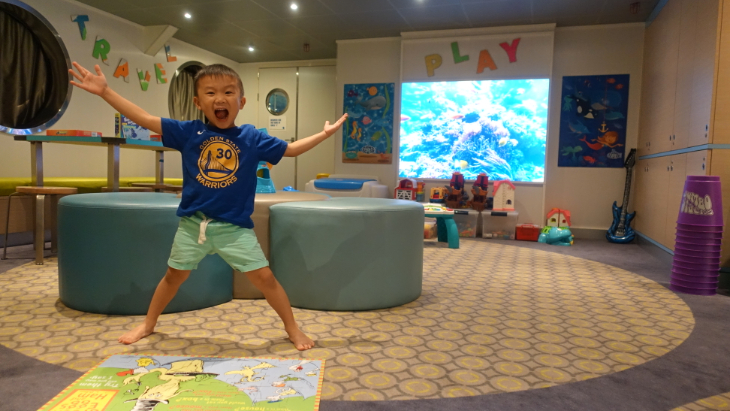 And when it was time for a nap, our balcony room was surprising spacious considering our room was converted to accommodate a family with bunk-style beds.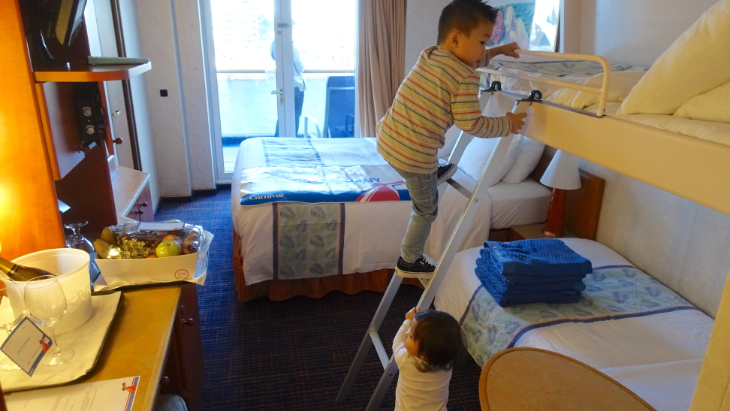 Let Them Entertain You
Everyday there were over 45 activities on the ship (plus, have I mentioned 24-hour free pizza?) making it pretty much impossible to get bored. You can mix-and-match how you fill your day, making no single person's cruise experience the same.
My husband barrelled down the Green Thunder waterslide, while my 4 year old son went on the other waterslide on repeat. And why wouldn't you, with this view.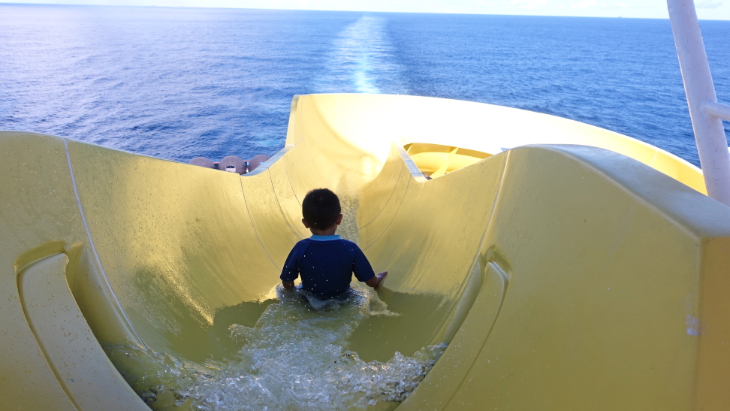 We joined a Camp Ocean scavenger hunt, watched Disney movies in our swimmers, laughed the loudest through the Hairiest Chest Awards, played 80s dress-up, gorged ourselves with every kind of chocolate known to man at the Chocolate Extravaganza, and danced at dinner every night with our amazing waiters who never failed to entertain us.
The cruise arrived back in Sydney at sunrise on Monday morning, docking back at the Overseas Passenger Terminal in Circular Quay. I'm not sure about you, but I always dread the journey home after a holiday, both excitement and tolerance levels are at a minimum. So having our holiday end literally at our doorstep, felt like we scored a lift home from school instead of cramming on the bus!
It was a blissful end to a super fun-sized weekend getaway. It was exactly what we needed, because it was what we made of it: the food, fun and freedom to decide between joining the festivities or simply enjoying our own time.
So if you're still sitting on the fence about cruising, a fun size cruise is the perfect way to test the waters. And the pizza.
Guaranteed food coma awaits…
Top Tips and Advice
Your bags get delivered to your cabin shortly after sail away, so wear your swimmers on board if your first plan of attack is to jump straight into one of the pools.

Carnival Cruises are safe! We explored the whole ship and there was no area I felt worried or concerned it was unsafe for my two toddlers. All balconies and railings around the ship tower over the little ones and at chest-height for the average adult.

You can barely feel the boat moving, so even my just-started-walking 14 month old could easily navigate her way around the ship on foot.

Keep in mind: only toilet-trained kids are allowed in the pool.

Skip lunch (and breakfast!) to make the most of the free food from day dot. The burgers, tacos, pizza, ice-cream and buffet is ready to go as soon as you walk on-board.

Book a balcony room if you're worried about getting sea sick. Even though there are plenty of areas to get fresh air around the ship, it's nice to have your own space.

Spoil yourself to a date night at Nouveau Restaurant. And if you don't have a sitter, make it a family date night. Kids are more than welcome and charged much less.

Travel with friends and take the grandparents (who double as sitters!). Cruising is even more fun when you've got your own squad.

Have your camera ready for sail away. Nothing beats that view of Sydney Harbour from the water at sunset.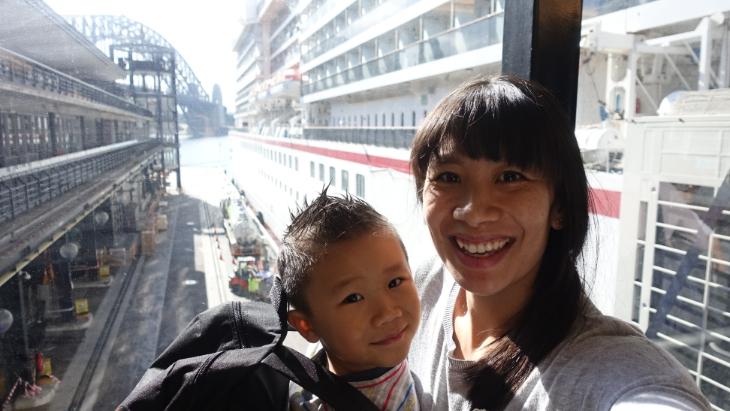 I highly recommend a Fun-Size Carnival Cruise for:
First-time cruisers who want a taste

A long weekend getaway (or a short weekend getaway!)

Group celebrations and occasions - nobody has to cook or clean-up!

Young families

Pizza-lovers :)