Driving The Back Roads Of Sydney To Melbourne
Driving The Back Roads Of Sydney To Melbourne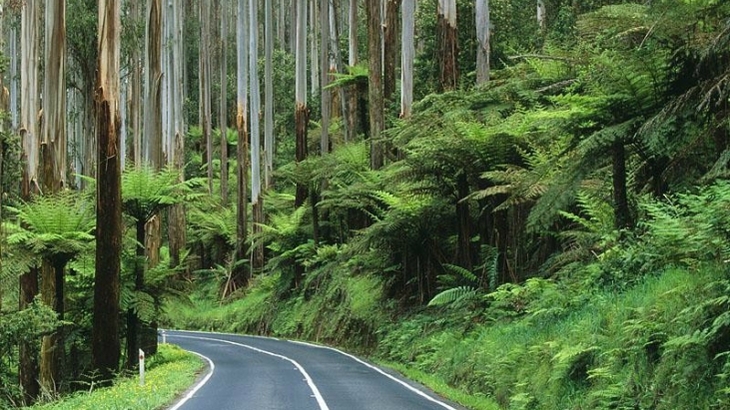 By Hayley Dean, ellaslist
We recently took the family on a little road trip from Sydney to Phillip Island. For anyone that is yet to visit Phillip Island, I highly recommend you go. It's rich with animals and outdoors, a dream holiday for families with small people. We decided to drive to Phillip Island from our home in Sydney's Inner West so we could make an adventure out of the journey itself plus have the added fun of staying at Big4 Holiday Parks (we are members) along with way.
Leaving home before dawn, we set off with the hope that our two young boys would stay asleep for the first leg of the journey. Our aim was to drive to at least Sutton Forest along the M5 for the first coffee or breakfast stop depending on sleep. Being just as excited as we were, the boys stayed wide-awake and chatty from the moment we left, so the break was well received all around.
Maccas are always great stops on road trips. Though you may not enjoy the food, they do generally offer clean toilets, hot coffee and play equipment for the kids. But then, "where is the adventure in that?" we thought. We can go to McDonalds any old time. We hopped back in the car and I began to play "We're on the road to Gundagai" on repeat. This, of course, is a requirement for all car trips to Melbourne.
Two or so hours later, we reached the famous "Dog on a Tuckerbox" stop at Gundagai or as my son calls it "The most beautiful dog statue in the world"….this is likely to be because it's the only dog statue he has seen to date but hey, lets not take that away from this iconic Aussie treasure.
Now if you haven't had the pleasure of stopping here before or it's been a number of years between visits, you will find that so much has changed (or has been left to rot really) and so much has stayed the same. The loo's (and dog wee lawn) are still here as is the gift shop but the service station and fast food places have moved up the road slightly. But the good news is that you are not stuck with only fried food options anymore. Oliver's Market (also found on route to the Central Coast) is open with a huge dining area and lovey fresh food options; soup, sushi, wraps, rolls and salads. There is also a random giant koala out the front for the kids to climb all over.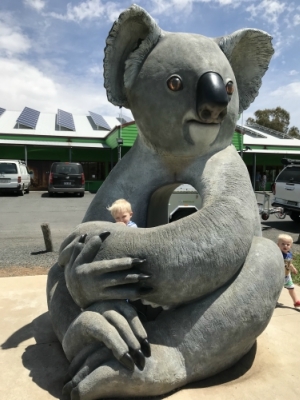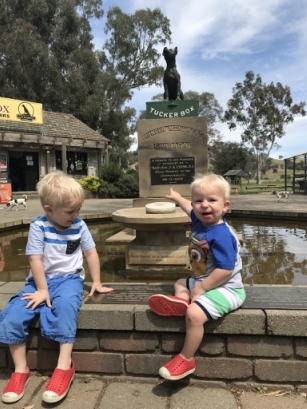 It was here we decided to start taking those magical brown sign roads, the tourist drives, to inject some Aussie history into the trip! We took the turnoff into Holbrook (another absolute must). I loved the look on our boys' faces when they first spotted it….a submarine in the middle of a park in the middle of rural NSW! Priceless.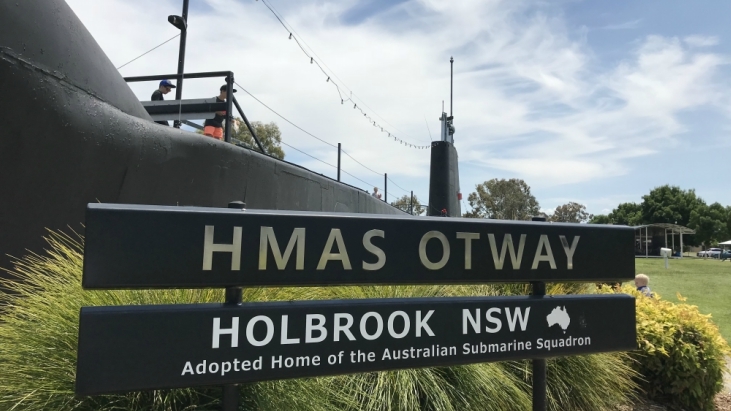 There are public toilets/showers opposite but the lady that runs the café next to HMAS Otway just such an absolute delight, I recommend you stop in there instead. She loves a chat and is happy to talk to you about the background of the café and the town itself. She makes yummy kids milkshakes and didn't bat a single eyelid when it ended up all over the floor. There is a nappy change table in the bathrooms too.
Next stop was Wodonga, just across the NSW/VIC border and our home for the night.
Come morning we once again took the roads less travelled, turned off the highway for coffee at one of Australia's infamous big things (in all sense of the phrase), the big Ned Kelly at Glenrowan. Glenrowan is of course where Ned Kelly took his last stand against authorities and wore this famous suit. The town is engulfed in his ledged.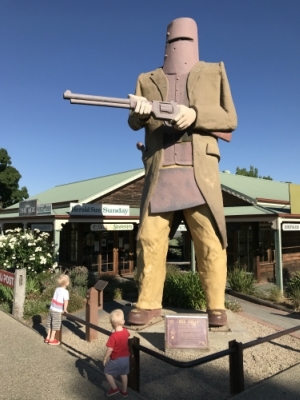 We off the highway and followed the back roads through the sweet town of Euroa. Stopped here for a look at their mini dam, got the scooters out at the skate park and took the historic walking path through town. Again chatted away to the locals whilst our kids bonded over scooter ramps and feeding the ducks.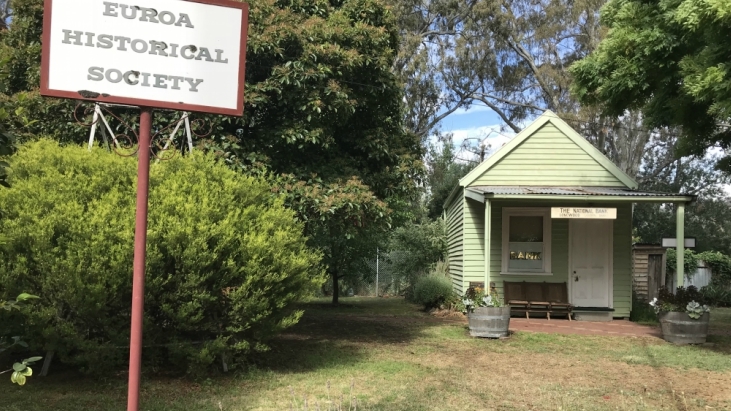 Alexandra was the next surprise town. Although we did not get out (one asleep in the back), we did quickly agree to come back one day and holiday in this gorgeous little place.
The 'Jack Sheil Gardens' in the centre of town is home to the roman (yes ROMAN) build Italian marble Princess Alexandra statue. Originally presented to the National Gallery of Victoria in 1878, this statue has a fascinating history of its own. Relocated to Alexandra in 1939 where she is surrounded by beds of roses, her favourite flower.
I adore finding secret gems like this. It's what makes road trips so enriching.
Continuing on we arrive in another sweet village, Buxton. In our ultimate road trip survival guide, I note how wonderful tourist trail towns are because they offer kids the ability to play in parks not truck stops. Buxton is the perfect example of this. The town park is enormous and very well maintained. Play equipment, Bike Mania track, toilets, tennis courts and a beautiful river running through it with trout jumping left, right and centre. We stayed here for hours!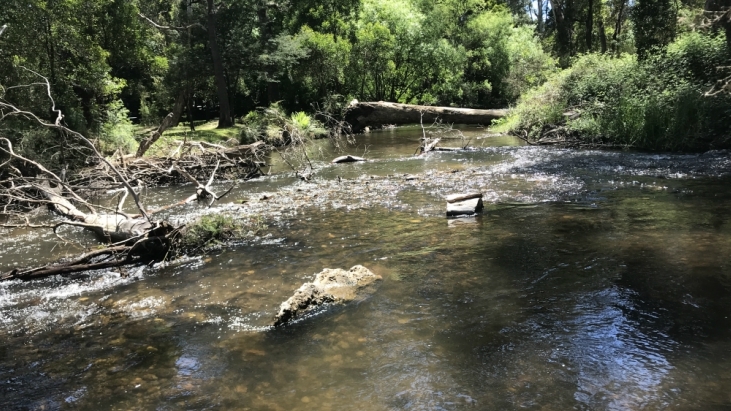 On a high from our find, we continue down the meandering roads to Phillip Island. Out of nowhere the trees suddenly seem ginormous and the ferns, bigger than my house – we have reached the Yarra Ranges National Park. WOW, I mean seriously WOW. I have never driven through anything like it. This place is STUNNING. The photos just don't do it any justice. Best of all, this place is only a little over 100km from Melbourne. You can do a "Big Tree" walk here, or even stay a while and camp. I need to go back here one day. I had no idea it even existed and I'm so glad we took the roads less travelled to find it.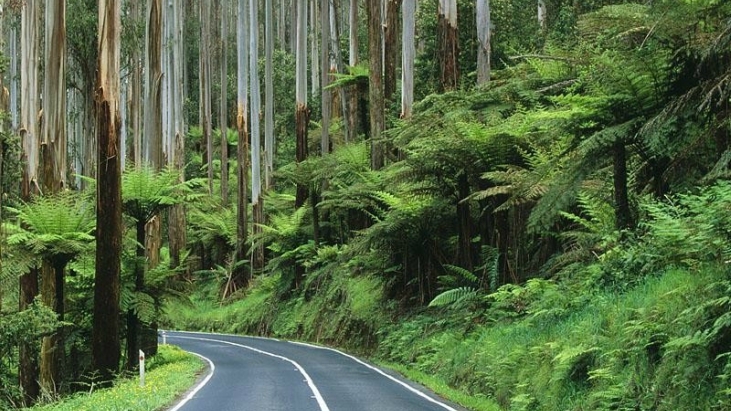 You can, of course, turn right from here and head back into Melbourne to enjoy the many spoils the city has to offer or, like us, continue on south to Phillip Island to visit the penguins.
We did go home via Melbourne to see my family in Kew and to visit a little store in Fitzroy I'd first read about on the Humans of Melbourne Facebook page, called the BeeKeeper Parade.
Whichever way you go, always remember the difference you will make to the lives of the people who live on the back roads and the things you can learn along the way!
Have you signed up to our newsletter? Join ellaslist to get the best family and kid-friendly events, venues, classes and things to do NEAR YOU!