Relax, Rewind and Rewild your Child at New Caledonia
Relax, Rewind and Rewild your Child at New Caledonia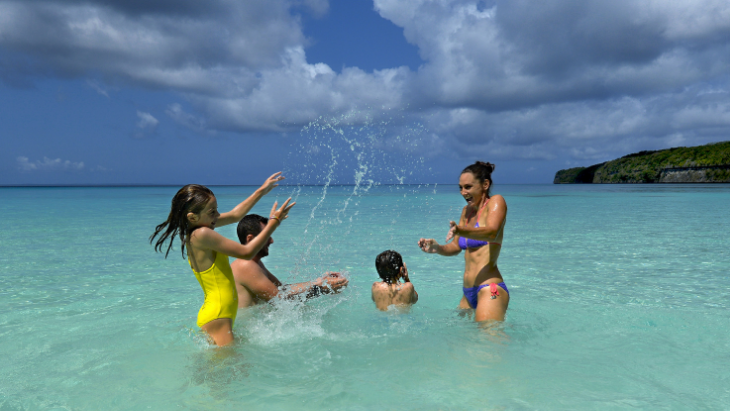 What if we told you you could relax in one of the most beautiful locations on Earth, all while your children are living their best outdoorsy lives - off their devices and out in nature?
Well, you can!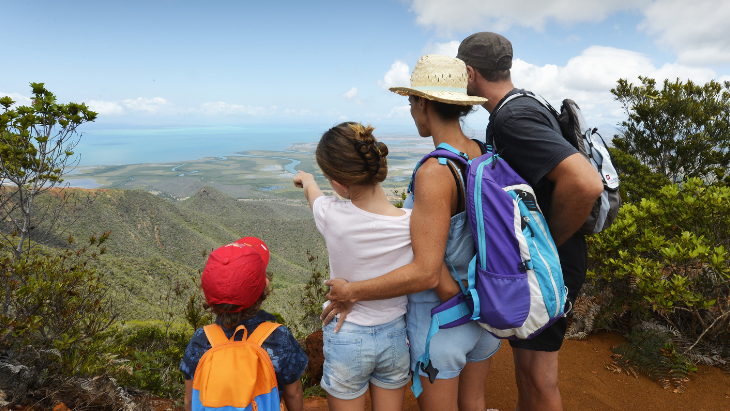 Heart of Voh, Voh, East Coast
New Caledonia, just under 3 hours away from Sydney, has the richest diversity in the world per square kilometre for your kids to explore everywhere from land to sea. Enjoy white coral beaches, impossibly blue ocean, scenic mountains and rich, dense forest in perfect weather, year-round. Paradise? You bet!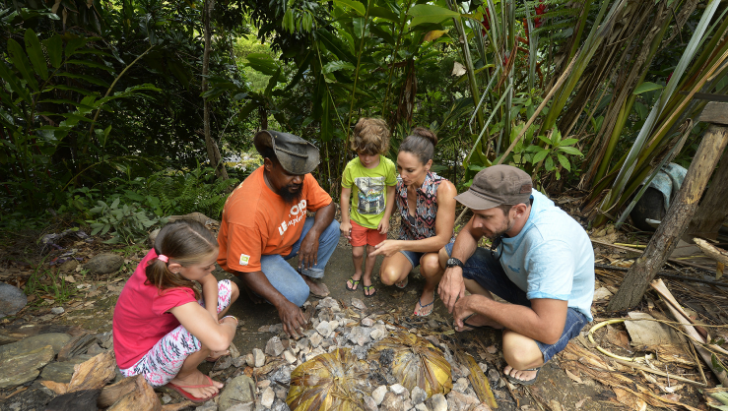 Bougna preparation, Poindimie, West Coast
Family frenzy
For adventurous families ready to take on a more physical holiday, welcome to one of the most uniquely biodiverse environments you can get. Thanks to the Grande Terre central mountain range, which creates multiple micro-climates across the island, you can find incredible species of flora and fauna only found on New Caledonia - very few places offer such an incredible opportunity to be surrounded by so much so close.
One of the easiest options to see New Caledonia up close in all its glory is to hire a car and drive yourself around the island. Starting at Noumea La Tontouta international airport and heading north, you can take in the most spectacular sights. Find the heart-shaped mangrove forest (aka New Caledonia's tourism symbol) from the top of a mountain, see giant fern forests, stunning rock structures, and the endless candy-coloured ocean.
If you're headed to Noumea, a fun and informative way to see the sights is to take the family on the famous Le Tchou Tchou Train. Traversing the city over two hours, you'll see all the landmarks and famous places in the most unusual way!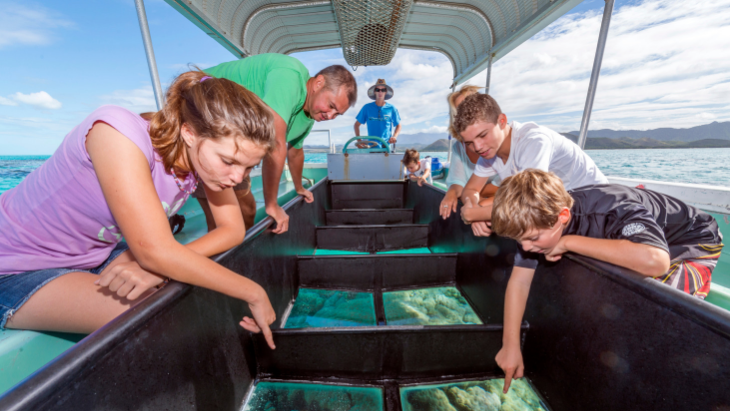 Glass bottom boat, Bourail
For immersing the kids in some culture, a visit to Port Moselle markets will show you just what island life is all about. French and local Kanak cultures meld together in a riotous display of fresh produce grown nearby, inquisitive tourists, island specialties, seafood and souvenirs. The earlier you go, the better!
For more food, check out Le Roof restaurant out on the pier in Anse Vata - fine dining for the adults and a sea life viewing area right in the middle of the restaurant for the kids so you can eat in peace! Dolphins are also often spotted to add to the spectacle.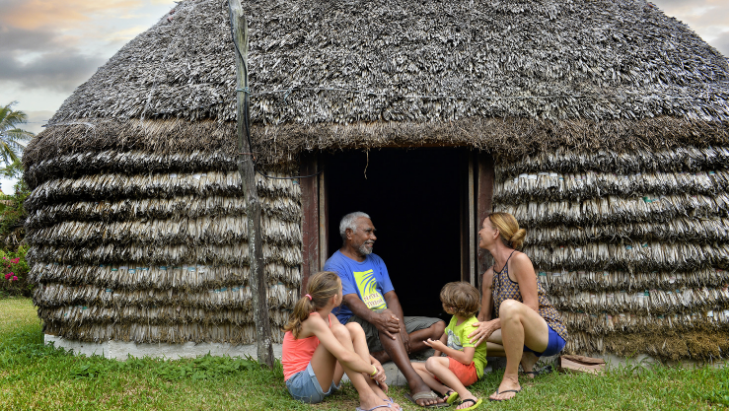 Tribal stay, Lifou, Loyalty Islands
The Aquarium des Lagons also offers incredible aquatic displays and makes a fun day out. Here you will see daily shark feeding, unique phosphorescent corals, turtle pool, freshwater tanks, deep-sea animals, and of course, their namesake lagoons filled with fish of every colour.
If you're in New Caledonia between July and September, you will also more than likely spot humpback whales as they swim back from the freezing waters of Antarctica. You can also take a catamaran to see them close up without disturbing them as they make space to have babies.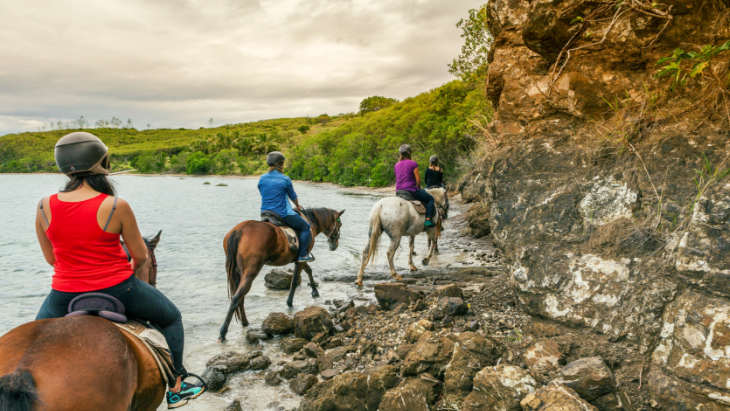 Activities on Land
There is so much to see and do on New Caledonia, from horseriding to hiking, biking to soaring through the jungle treetops on a flying fox.
Trails of all descriptions await, whether you're keen for the more adventurous climbs or a gentle stroll to take in the breathtaking landscapes. Wander the historic settlements and buildings left over from days gone by, walk through unspoiled nature a world away from your everyday commute, and cycle your way through incredibly scenery. The environment changes so drastically from one area to another - dense vegetation gives way to drier, wooded areas, which lead to coastal areas just begging for an amble.
For more contained roaming, set the kids loose in Park Zoologique Forestier, 34 hectares of peaceful haven, natural scenery, and an incredible concentration of New Caledonia's indigenous animals. See more than 600 animals including lizards, birds and even monkeys on your explorations.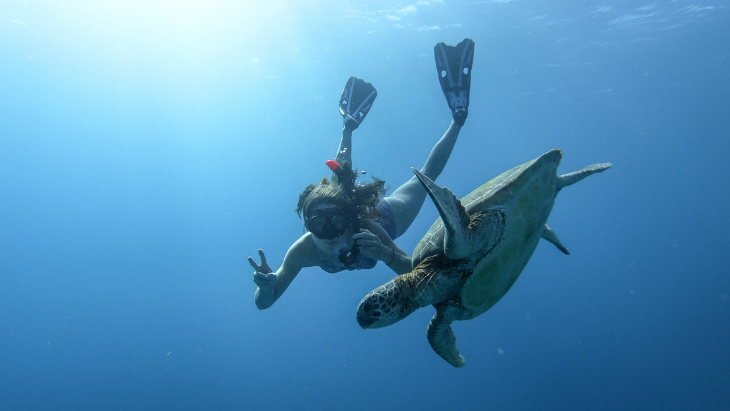 Snorkelling, New Caledonia Lagoon
Activities with Water
Ocean, waterfalls, freshwater lakes, pools, lagoons and calm bays await both on and around New Caledonia. Where better to indulge in some water sports?
Swim in her natural pools, Kayak through a drowned forest in the Blue River National Park (or even kayak on the sea!), snorkel the sparkling shallows, dive her deep blue depths, or windsurf as far as the eye can see.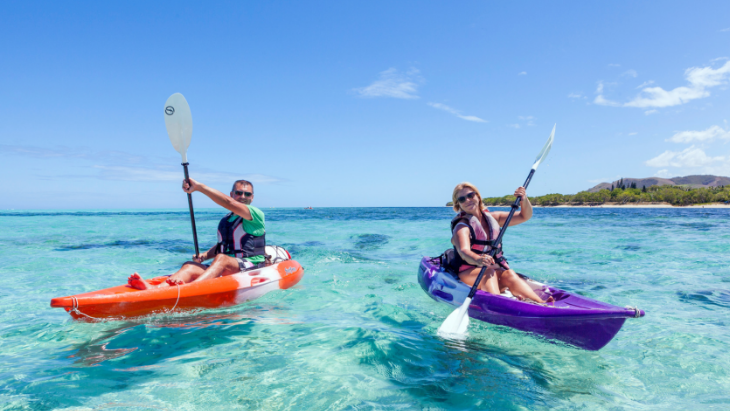 Kayak, New Caledonia Lagoon, East Coast
For the keen anglers, you can fish, fly-fish, deep-sea fish, go crab hunting, net casting or spear fishing - all have long been both a leisure activity, a means of subsistence and an integral part of the local heritage for NC's inhabitants.
New Caledonia is perfect for rewilding your kids along a spectrum of excitement. Gentle stand-up paddleboards? Perfect. Extreme wakeboarding? They've got that too!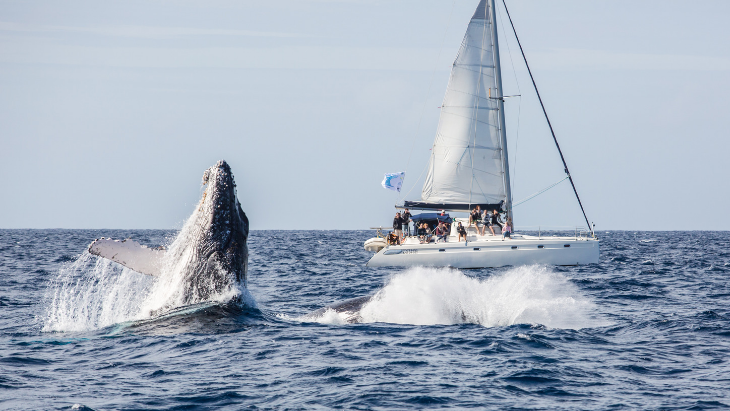 Whale watching, Great South
It's pretty hard to prefer a screen to wild and unspoiled nature just brimming with possibility.
Click here to check out the top experiences of New Caledonia.
Main image: Kiki beach, Lifou, Loyalty Islands. All images via New Caledonia Tourism.