Kids Eat Free, Prams Provided... Hamilton Island Has It All!
Kids Eat Free, Prams Provided... Hamilton Island Has It All!
Mums & Bubs
Toddlers
Preschoolers
Kids
Teens
Family
All Ages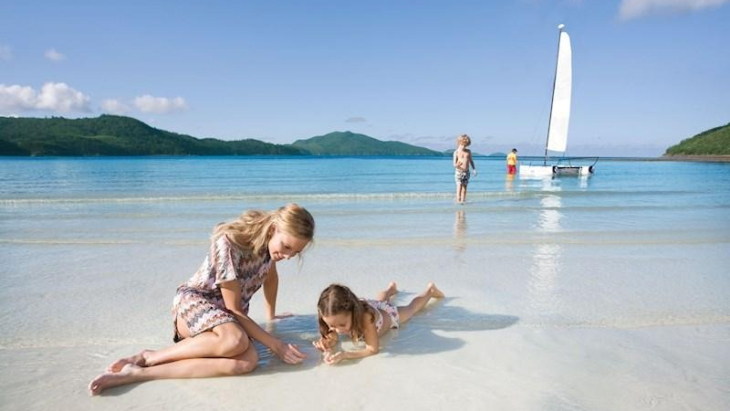 Sometimes even an idyllic tropical destination can turn into a parent's worst nightmare when tempers, tantrums and tears are thrown into the mix – and we're not just talking about the kids!
That relaxing family holiday that you've always dreamed of taking isn't just a pipe dream any more thanks to family-friendly accommodation, free meals, kids' attractions, and plenty more at Hamilton Island. We look into why this incredible island should be on every family's holiday bucket list.
Start packing!
Location, Location, Location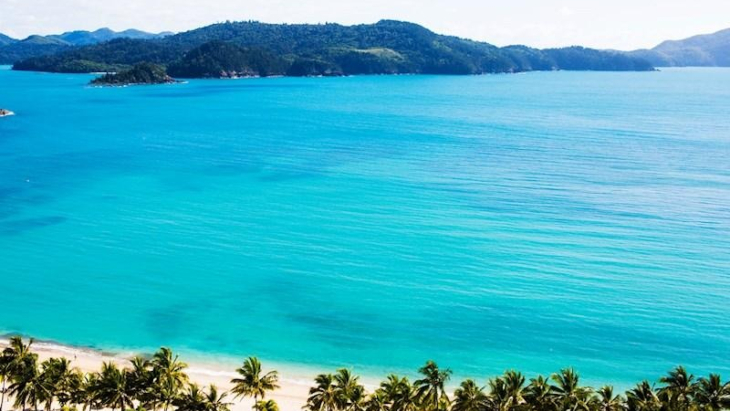 Hamilton Island offers direct flights from Sydney, Melbourne, Brisbane and other major airports, so already you've ticked short, easy flight off your list. As one of a handful of Whitsunday Islands dotted along the northeast coast of Queensland, Hamilton Island is considered one of the most tropical destinations in Australia (and the world really!). An unmatched playground for beachgoers, boat lovers, and family holidaymakers, Hamilton Island offers something for every family holiday preference. Whether you're a family who are desperate to soak up the sun, hit the water for some water sports, go hiking, or do some island hopping, Hamilton Island has an itinerary waiting for you.
Family Fun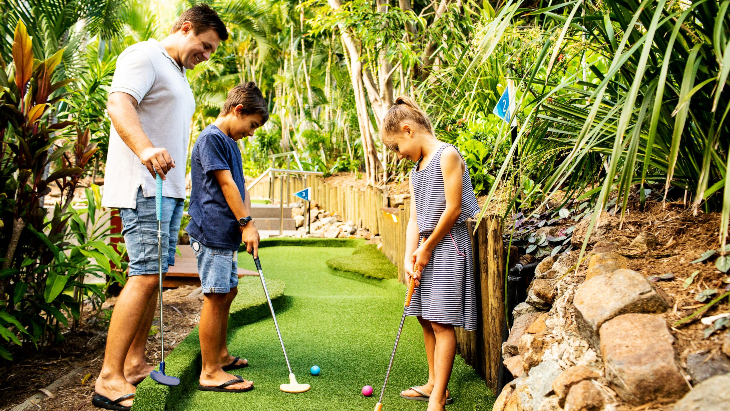 Hamilton Island stretches for 5 square kilometres, but don't let the size fool you - there is so much to see and do! Snorkelling, sailing, diving, kayaking, quad biking, tennis, go-karting, turtle discoveries, windsurfing, art classes… the list goes on, and on and on and on. Depending on how active your family is, Hamilton Island can fine-tune the adrenaline for you. If your ideal family holiday is watching your little ones enjoy some sailing while you relax on the beach, book the kids in for some catamaran sailing on Catseye Beach. Or get off the beaten track and explore secret coves and hidden inlets on your own hire boat. Keen to turn the adrenaline up a notch? Hit the go-karting track at Hamilton Island's Palm Valley and live in the fast lane for a few hours. Get up close and personal with Australian wildlife (including marsupials, snakes, lizards, koalas, kangaroos, and even a crocodile!) at the popular Hamilton Island Wildlife. Hamilton Island Wildlife is one of only a few places in the world where you can actually cuddle a koala.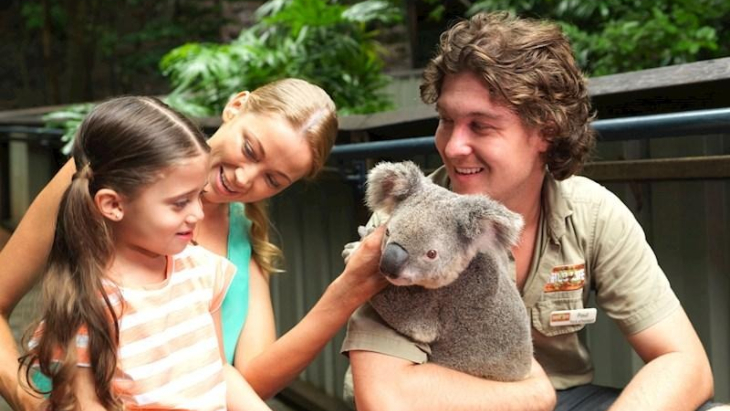 Desperate for some kid-free time? Hamilton Island's Clownfish Club is the perfect escape for kids (and parents!). While the kids get to enjoy a huge range of activities with the professional Clownfish Club staff, you can enjoy a massage, quiet meal or luxurious nap. Clownfish Club offers activities for kids from 6 weeks to 14 years old.
To really get in the know on all the kid-friendly happenings, Hamilton Island have a special Kids' App, which is easy to download and includes a daily activity guide on great kids activities in the kids' zone, sports games, movie nights and plenty more.
Island Hopping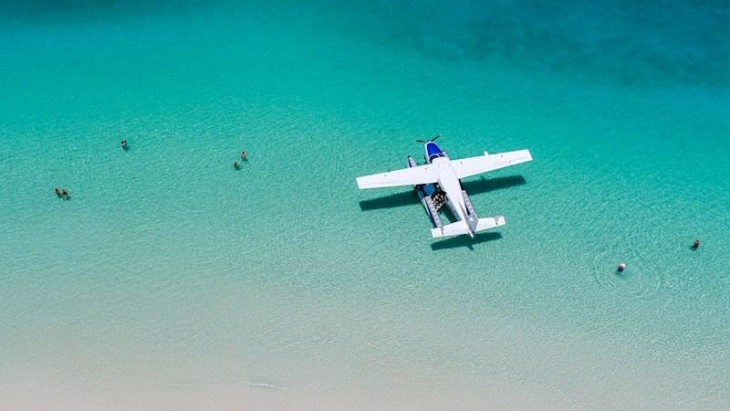 Hamilton Island's prime location amidst the Whitsunday Islands and the Great Barrier Reef makes it the perfect jumping-off point for some island hopping. Go for a snorkel atop the world's largest coral reef, or walk on one of the whitest beaches in the world – some of the world's iconic natural wonders are within just a few kilometres of Hamilton Island. Hamilton Island offers half-day cruises, full-day cruises, helicopter rides, and scenic flights of the Great Barrier Reef and neighbouring islands.
Living On Island Time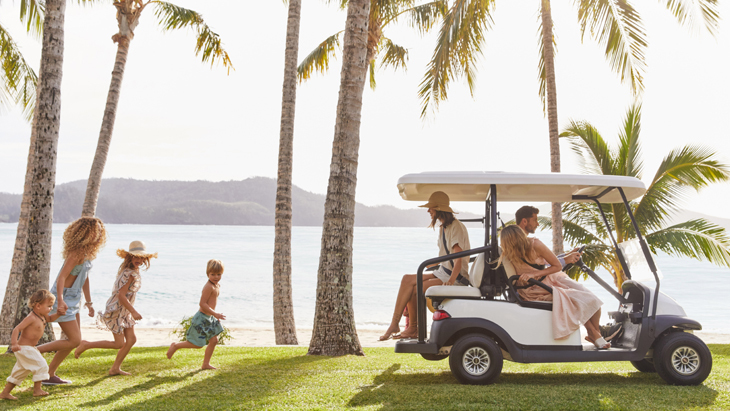 If you're envisioning sleeping in tropical bungalows nestled under swaying palm trees, you're 100% right. Island time begins as soon as you step off your flight, jump into your golf buggy and head across the island to your lush accommodation. Hamilton Island accommodation is as family-friendly as it gets – from self-catering holiday homes to family hotels, picturesque bungalows, Yacht Club Villas, and luxury resorts, you'll be amazed at the attention to every detail at all accommodations.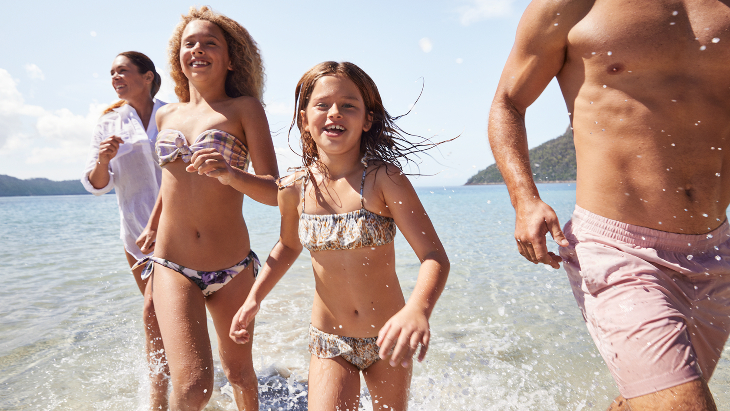 Is this your first family holiday with the baby? Hamilton Island have taken the stress out of holidaying with a newborn or baby with their Baby's First Holiday offer. Instead of bringing the whole kitchen sink with you, let Hamilton Island take care of all your baby essentials for you including prams, high chairs, cots, baby bouncers, baby baths, nappies, and even Bonjela! Hamilton Island also offer professional child-minding services to give you some much-needed downtime. To find out more about the Baby's First Holiday offer, visit the website.
Unbelievable Deals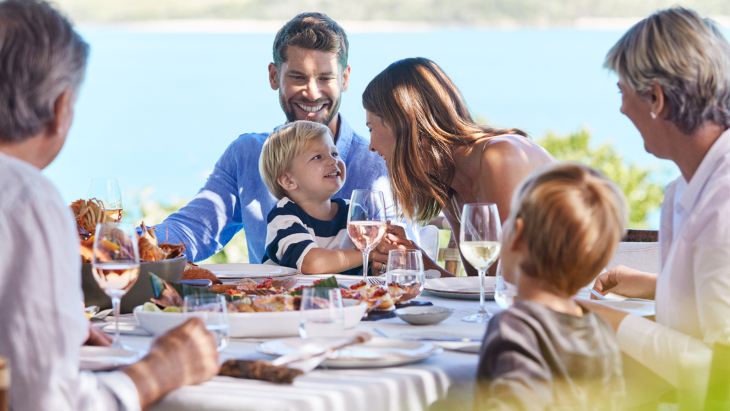 The cherry on the top of Hamilton Island's unbelievable attractions has got to be their unbelievable family holiday deals. From airfare and accommodation bundles to VIP treatments and complimentary inclusions, booking a holiday at Hamilton Island certainly doesn't have to break the bank. Families can save a bundle off their accommodation with Hamilton Island Deals And Packages, plus kids up to 12 years can stay and eat for FREE at selected Hamilton Island accommodations.
For more information, visit the website: Hamilton Island

Tell them ellaslist sent you!