How To Spend A Long Weekend in Jervis Bay With Kids
How To Spend A Long Weekend in Jervis Bay With Kids
Jervis Bay feels like a magical wonderland. If you're looking for a relaxing beach holiday with lots of outdoor time, this may be the ideal seaside escape for Sydneysiders. You'll love the crystal-blue waters, white sandy beaches and the plethora of water sports activities. There are also two national parks that border the land, Jervis Bay Marine Park, home of bottlenose dolphins, fur seals, little penguins and more.
Booderee National Park is beautiful and great for fishing, birdwatching, diving and whale watching. Or check out the views from Point Perpendicular Lighthouse (northern end) and from Cape St George Lighthouse (southern side).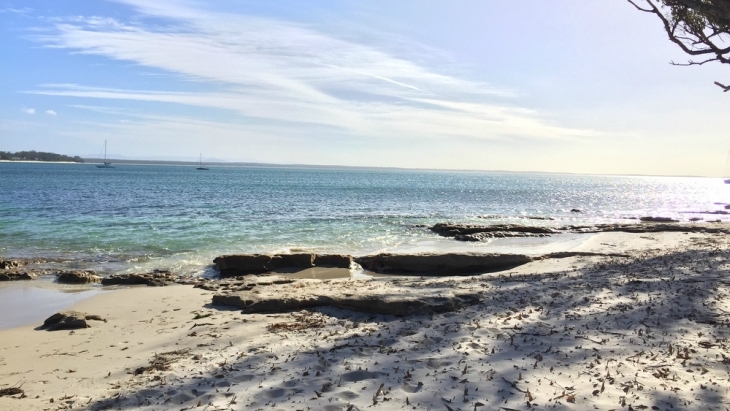 Comprised of seaside towns and villages, the Bay offers many places to stay. Callala Bay (northern shore), Huskisson, Vincentia and Hyams Beach (western shore) and Jervis Bay Village is the southern opening at Booderee National Park.
How to Get There
We took M1 to Princes Highway to get there. It took about 3 hours, but we stopped in Berry along the way for a coffee and snack. Berry is a sweet and cosy little town on the South Coast of NSW.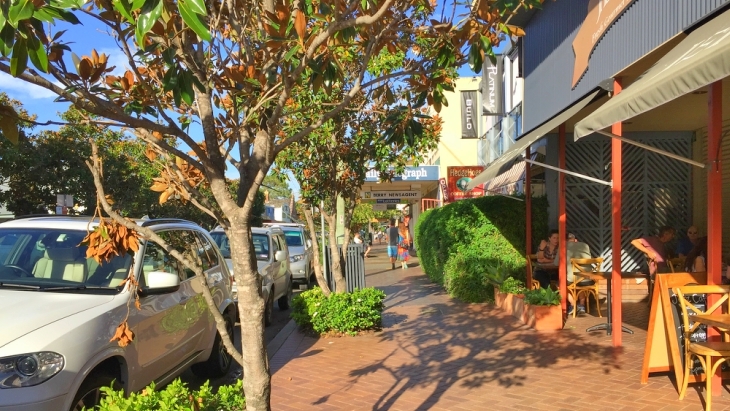 Where to Stay
For this trip, we booked an Airbnb in Vincentia. It was a short walk to the beach and to town, which was a win-win for us. We loved cooking breakfast and dinner in and then venturing out for lunch. We've found it's easier, cheaper and healthier if we do this and have a short list of things to buy when we're spending the weekend away. My daughter loves that we always get dessert on trips and I love that I only choose simple meals to make (or assemble).
A friend of mine camped when she went to Jervis Bay and highly recommended it. That could always be a fun option.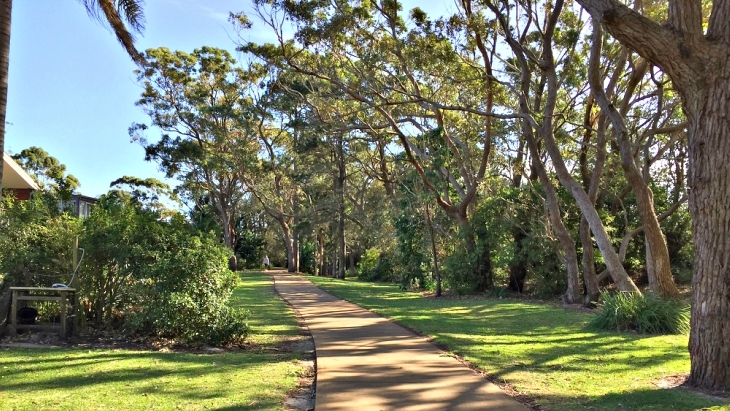 What To Do
Vincentia was great because it wasn't one of the busier Jervis Bay towns, yet it was close enough to all the good stuff and included a few restaurants. There is a long multi-use path that runs along the beaches. My husband would go for morning runs and then I'd head out for a walk when he came back. I saw many bikers and kiddos on scooters using the path like me. After morning tea, we'd head out of the day.
Booderee National Park
Booderee National Park is a must-see. It cost us $11 to get in and the pass was good for 2 days. Booderee is an Aboriginal word from the Dhurga language meaning 'bay of plenty' or 'plenty of fish' and the Park is owned by the Wreck Bay Aboriginal Community.
There are heaps of things to do at the Park. Walk through the Booderee Botanic Gardens or venture into the cave at Cave Beach. We looked for the Bay's resident dolphins at Greenpatch Beach and then took a snooze on the sand. The Botanic Gardens has lots of walking trails and we even saw some kangas bouncing around as we went along. That was fun! You could easily snorkel or just splash around in the water.
Murrays Beach is another nice one, but we found it to be more populated.
Other Activities
You can rent kayaks or boards at Jervis Bay Kayaks and Paddlesports. Of course, you can go to Hyams Beach, which is known for its white sand. In fact, all the beaches we saw were very beautiful and had white sand. We heard you could order a picnic hamper to be delivered to the beach via Hyams Beach Hampers. If we go back again, I'd be interested in checking it out. It sounds like a nice way to kick things up a notch. They can set up a beach hut for you and lay out a spread. Sounds like my kind of day-date if you ask me.

What The Kids Loved
My daughter has a mermaid tale and we had an impromptu photo session along the rocks. She absolutely loved it. My husband was close by helping her wiggle in and out of the tail without plopping into the water. She also loved the ease of a beach trip in general. We travel quite a bit, so this slower holiday pace was embraced by all. I highly recommend it for anyone looking to slow life down for a few days and indulge in the outdoors.
Tips & Tricks
Book early and keep an eye on the weather. We tried to just stick with one or two activities per day to keep it mellow. If you go the Airbnb route and book a house, you'll have more space to spread out. Ours also had a washer and dryer. It dawned on me that I could wash all the sandy laundry before we packed it up, and that made the day we returned a cinch.
The Details
Jervis Bay is approx 188km from Sydney. Approx. 3 hours via car.
For more information see Visit NSW