How Does The Airline Ban On Sleeping Devices Fly With You?
How Does The Airline Ban On Sleeping Devices Fly With You?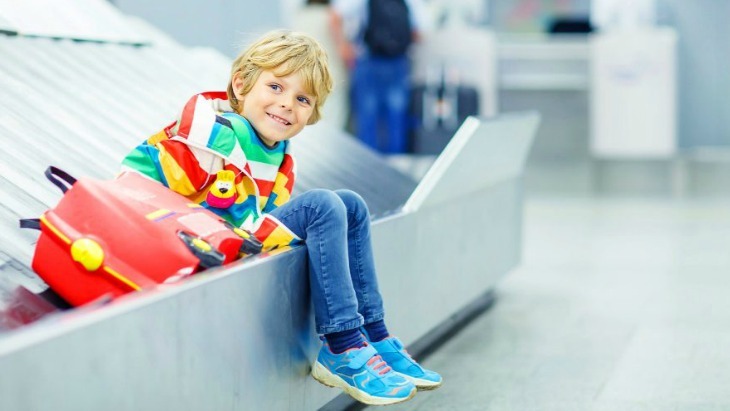 By: Alex Harmon, ellaslist
Long haul flights with kids are hard work! So imagine our despair when we heard the news that Jetstar and Qantas have banned popular sleep devices including Plane Pal, Jet Kids Bed Box, Flytot and FlyLegs Up.
Interestingly, Virgin Australia has recently come out in support of mummy's little sleeping helpers (no, we're not referring to Xanax!). The airline announced it has become the only major Australian airline to welcome kids' sleep devices on its aircraft. Following an extensive safety assessment process, Plane Pal, Fly Tot, and JetKids Bedbox will all be permitted on Virgin Australia's entire fleet of aircraft as of last week.
Virgin Australia General Manager Inflight Experience, Tash Tobias said: "We know that travelling with kids can be a stressful experience and we want to make it as smooth as possible for the families that fly with us.
"We recognise the importance of your kids getting some extra rest on a flight as it can make a world of difference when you arrive at your destination. These popular comfort items have been reviewed by our team of safety experts against our high safety standards and we're pleased to say that we've been able to give the seal of approval to three of the most popular models.
"Of course, these items aren't just for children, and the comfort of all of our guests is important. That's why the range we are welcoming on board caters to varying needs and can provide all guests with an enjoyable travel experience," Ms Tobias said.
There seems to be some confusion and conflicting advice - mostly anecdotal through Facebook forums - so we decided to enlist the help of travel expert and founder of baby equipment shareconomy site, Kindershare, Vanouhi Nazarian, to find out more.

Image: BedBox by JetKids
Which popular airlines allow kids sleeping devices and which ones don't?
The recent decision by Qantas and Jetstar to ban kids sleeping devices has let to a lot of confusion. The rules differ from airline to airline, and from device to device, sometimes even between different brands! Suffice to say it is all very confusing and Kindershare's customers have been directly impacted by the ambiguity, so we have been trying to get to the bottom of it. The general view is:
PlanePals & FlyTots are OK on Philippine Airlines, Cebu, Singapore Airlines, China Southern, Etihad, Air France, Alliance Air, Korean Air, Scoot and Air Asia; with anecdotal approval on JAL and Cathay.
BedBoxes are OK on Singapore Airlines, Virgin Australia, KLM, ANA, EVA Air, Lufthansa, and South west. They are not allowed on Qantas, Emirates, Air France and Thai.
Flyebaby are OK on Air Canada.
CoziGo (Flybabees) are OK on Qantas, Emirates, Singapore Airlines, Virgin and Etihad.
Even if the airline has 'approved' the item, the crew on the day can still say no. The items are never allowed to be used during taxi, take-off and landing. It's important to keep in mind that even though the item is allowed by the airline, if it causes an inconvenience to other passengers, you might be asked to pack it away. Anecdotally, the highest likelihood of success comes from using it in a window seat, where members of the same family are sitting together.
Ellaslist consulted JetKids to understand how the new rules affected their BedBox. Customer Service Manager Alice Parker explains, "With the overwhelming majority of airlines, BedBox users are likely to be left undisturbed. However, we strongly we strongly recommend customers to email [email protected] with the airlines they use so we can give them a detailed reply on our experiences on each airline. JetKids is currently working with IATA to develop new global guidelines on the BedBox so that more and more airlines will be able to understand the BedBox and how it fits into ICAO Standards and Recommended Practices."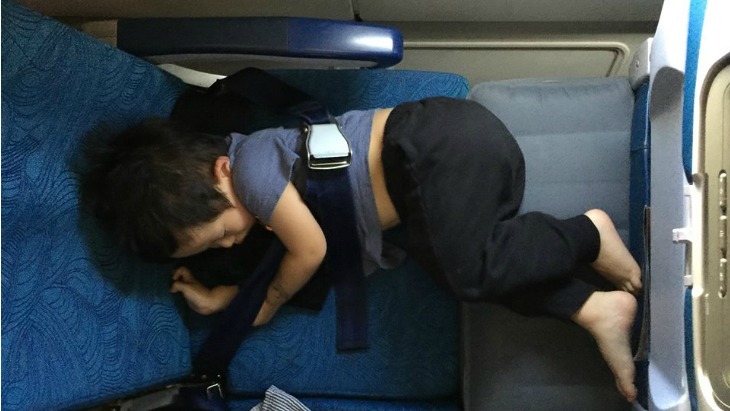 Are there rules about where the sleeping device can be used (eg window seat/aisle)?
Not currently - and this is the difficulty. For example, Anna, who rented a Plane Pal from one of our families, used it on a flight to Europe, and was allowed to use it for the first leg of the flight, but not the second flight. The best success seems to come when the devices are used after the initial meal service, on a window seat, after they are at cruising altitude.
Do you think the airlines will budge after scrutiny from parents?
I'm certainly hoping so! I have reached out to Alan Joyce from Qantas and am waiting on a response to some of the queries Kindershare's customers have raised. Safety is always the number one consideration, however there seems to be some inconsistencies - for example, there is a claim that the cushions block access to the aisle, however they are similar to a 2-2-2 business class layout. The formal guidelines from Qantas also say the final decision rests with the cabin crew. So I look forward to Qantas clarifying their policy. We will be updating our Facebook page with an updated response from Qantas once it becomes available.
What alternatives do we have when travelling with kids that may help them sleep?
The most important thing is the age of the child - be realistic with what to expect. Flying with a baby less than 6 months old can actually be quite easy because they will spend most of the flight in the bassinet. Something like a Cozi-Go will darken the bassinet, and the white noise from the plane will help them sleep too. As the child gets older, especially between walking and 24 months, if you can afford to, it's always best to buy them a separate seat and take a car seat with you - it helps keep them contained & you also have a seat to use on the other side (just make sure it meets local standards). If not, try to ask for an empty seat near you when you check into the flight - at all costs avoid asking for a basinet at this age as the armrests don't come up and you and your partner will be in for a very long flight! Where possible, try to get a window seat for your children. You can usually jam up a pillow against the window and it's a lot easier for them to sleep. Taking a dark coloured cloth with you (eg. a muslin cloth) to throw over your child's sleep will help them if they are used to sleeping in the dark. If your kids have ants in their pants, a CARES harness is really useful for keeping them in their seat, especially during take off and landing. We had one flight where my daughter refused to sit in the seat and so we had to use an infant seat belt - since then the CARES harness has been a staple for us! They are one of the most popular products on Kindershare. Finally, if you do travel for work frequently, be smart about registering for frequent flyer schemes - you may be able to use the extra points to get an upgrade or even book the family into a premium class.
Is it worth taking the risk of just bringing it on board?
Even where the airline has provided permission for use, the final decision always rests with the crew on the day. On a flight a few years ago, the crew didn't want me to use a CARES harness, however I pointed out it was specifically allowed in their manuals, and after checking the manuals, they allowed us to use it. Kindershare's customers have also told me that, despite the policy change last week, they were able to use them. One FlyTot user was allowed to use it on a Jetstar flight, and someone else said they used a Fly Legs up on a Qantas flight last week. In both cases, it was after 'lights out'.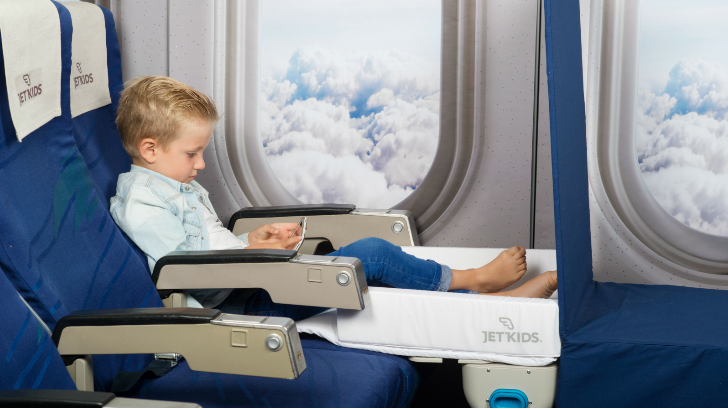 What are your top tips for air travel with kids?
If there are 2 of you travelling with kids, take turns (eg. 4 hour shifts). that way you don't both end up exhausted on the other side. If you are travelling by yourself with kids, pre-arrange special assistance with your ticket so that you have a spare pair of hands on either end.
What are the differences between the many sleeping devices that families rent out using Kindershare?
Each one is unique in its own way, but many are variations on a theme. Almost all of them allow a child to sleep on their own seat, instead of draping across mum & dad's laps. Some of those do it by extending the seat base (bed box), some by providing a cushion that fills the gap between seats (Plane Pal & Fly Tot) and others by providing a hammock for your legs to go in (Fly Legs Up in adult mode). The CoziGo is great for younger babies as it creates a dark zone around the bassinet and is perfect if your baby prefers to sleep in the dark - as a bonus you can also use it to cover your pram when you're out & about. If you're not sure about buying one given all of the ambiguity, take the low risk option of renting it from a local family through Kindershare.
To find out more about the many baby/toddler products you can rent on Kindershare, click here.
Have you signed up to our newsletter? Join ellaslist to get the best family and kid-friendly events, venues, classes and things to do NEAR YOU!