Feel A Million Miles Away With This Awesome Kid-Friendly Staycation in Sydney!
Feel A Million Miles Away With This Awesome Kid-Friendly Staycation in Sydney!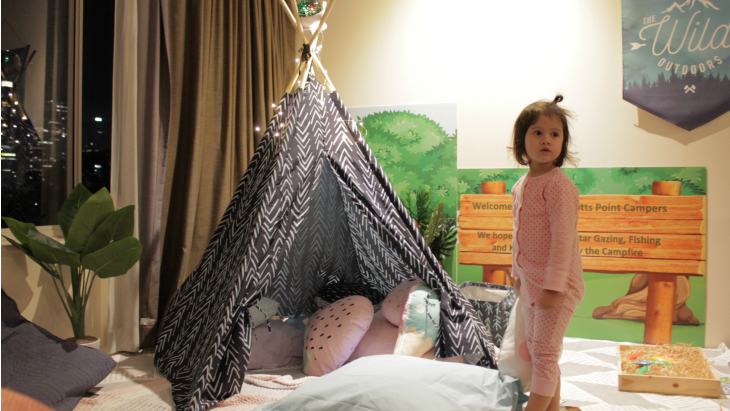 By: Susan Schwager, ellaslist
Staying in Sydney overnight was a novelty I've not ever experienced before. However, the opportunity to not have to venture too far from home but still get away for a night was a sure treat and something I will do more often when I need a quick break. You don't need to worry about plants and your mail or even the washing, just pack and go! Also as my husband reminded me as I was packing, we can just come back if we forgot something as we aren't very far!
Having spent many days and nights around Potts Point in my younger years it was great to spend a night away at the Holiday Inn in Potts Point with my family. The location is perfect for a weekend away. It is central to the CBD and to the Eastern Suburbs.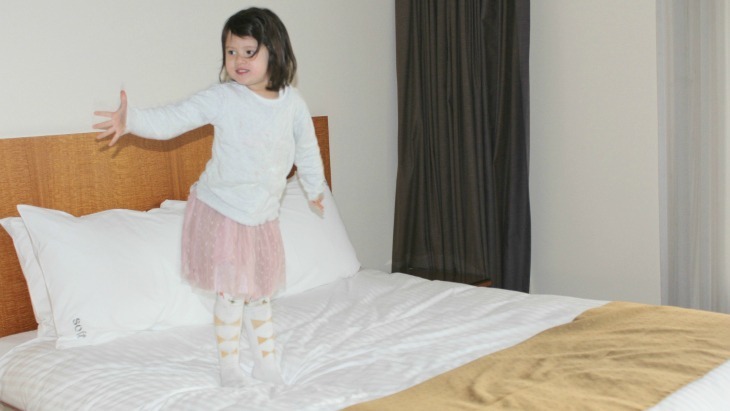 Check Out The Terrific Teepees!
We arrived at the room and Miss 3 who was all set for her holiday with her wheelie bag in tow, dropped it at the door and ran in squealing with excitement when she saw the Kids Camp Out set up. There was a large teepee with lots of comfy cushions, a fishing game, Uno cards on a small table and a telescope with an amazing view of the Harbour Bridge and City.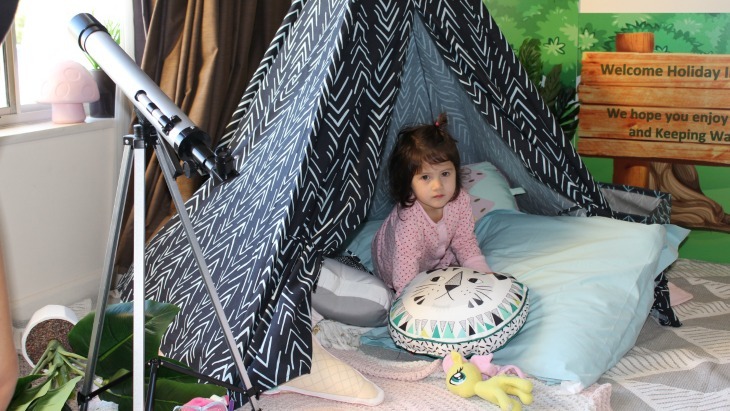 She crawled into the teepee and just loved throwing herself from one cushion to another. It was safe, there was plenty to play and spread out. The room was spacious with 2 queen size beds. Perfect as we are grooming her for a "big bed" and she loved having it on her own.
Kid-Friendly Dining, Delicious Food & Fresh Honey!
After much convincing that we would return to play, we headed downstairs for an early dinner at Sirocco. New menu items will surprise with the use of fresh seasonal ingredients. Service was prompt and friendly and they came with kids activities packs for her to play with. The kid's menu had a great selection of healthy options with beef burger, pumpkin and feta frittata, eggy pesto pasta, baked fish and chips and chicken with peas, mash and corn and lentil and pumpkin soup. We ordered her ham and pineapple pizza and we had lamb shanks and a steak. There was a great range of seasonal comfort food to chose from. The activity packs had colouring paper and pencils and lots of stickers to play with while we waited for our meal.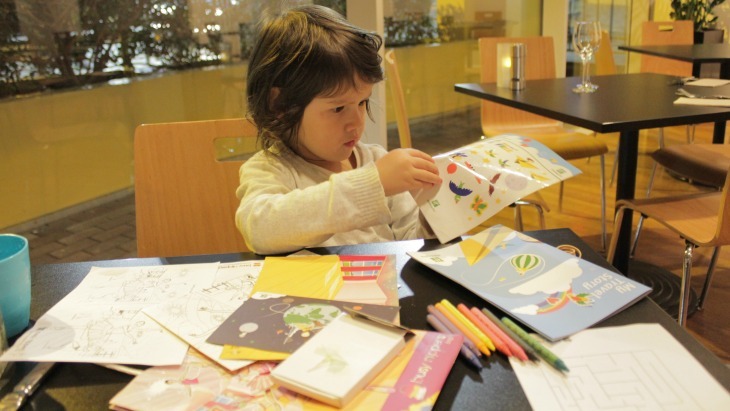 The food was served after a short wait. The steak was cooked as requested and the lamb shanks were amazing and falling off the bone. Shayla enjoyed her pizza and we ordered a banana split and we had to try the Rooftop-Honey Panacotta crafted from the hotel's very own rooftop beehives for dessert. The best part is that kids under 12 eat FREE off the kid's menu when dining with a paying adult.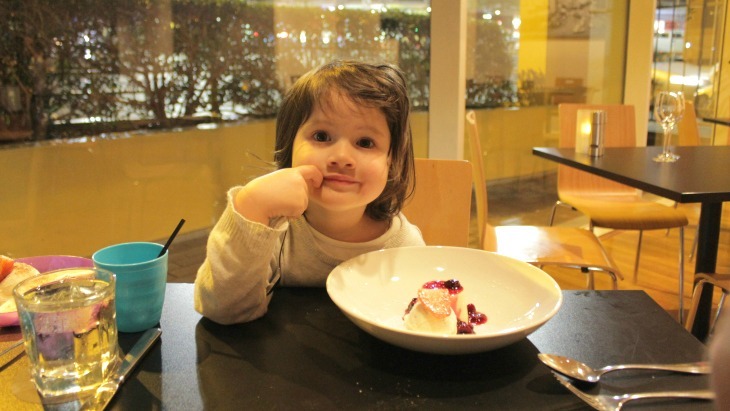 Enjoy The Sparkling City Nights
We then caught the train at Kings Cross Station, there is an entry on the same side of the road as the Holiday Inn. It was one stop to Martin Place and we had to change to Circular Quay to see the Vivid Light display. We hadn't planned on staying long so it was great we were able to get there and back with minimal fuss.
When we got back to the Holiday Inn we turned on rotating starlight projector attached to the top of the teepee. It was her own special glamping experience in the hotel room. We had a view of the city and with the Vivid light display, it was a spectacular sight.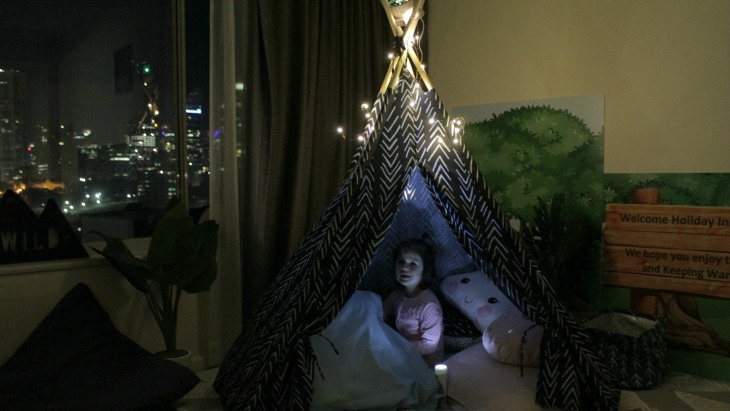 Be A Tourist In Your Own City
My little girl woke up in the morning and went straight into the teepee and played on her own happily while we packed. The best part about the teepee was although we brought her toys with us, we didn't have to unpack any of it and next time we know we don't need to bring it. She didn't ask to watch TV or play on the iPad she was very happy playing on her own.
The buffet breakfast downstairs at Sirocco had a great selection of hot and cold options - eggs, bacon, sausages, cereals, fruit, yoghurt and the crispiest hash browns! We could leave our car there and walk to the city which was a 15 minute downhill walk down William St. The Australian Museum is on the corner with great things for all aged kids, St Mary's Cathedral around the corner and Hyde Park across the road. We spent the day in the city and having spent the night away from home it was exciting to do as a family, it really felt like we had a break and a little getaway and we were exploring our city like a tourist.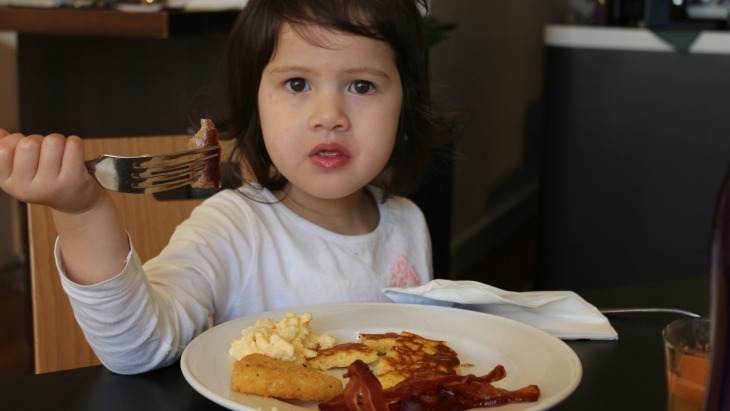 In a Nutshell
Supplied: Bedding for 2 adults and for 2 children. If you have a baby or toddler they will supply a cot or rollaway bed. Each room also has a bathtub.
Bring: They have a large fridge so bring snacks and drinks especially if you are staying for a couple of nights. The Holiday Inn offers a great selection of food and beverage via room service too. A couple of books and a torch for when the lights go down and so they can still play in the teepee. A bottle of wine for the adults (it is a holiday after all!)
What did we love: That we didn't need to bring any toys and that she didn't once ask to watch TV or play on the iPad!
Bonus: Kids stay and eat free! Up to four kids ages 12 and under eat free from the kid's menu at any time of the day with a paying adult.
Perfect for: Families with young to school-aged kids. Babysitting services available. Nanny services available. Children's activities available.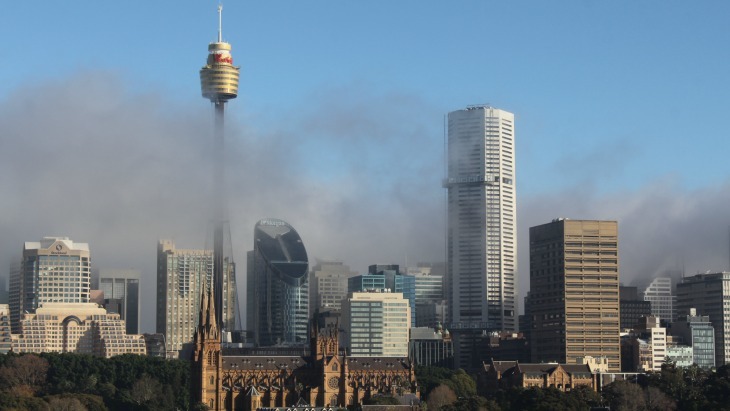 What You Need to Know
Check In and Check Out Times: After 3pm check out 11am
Onsite parking: Free parking with stay included for 1 car.
Is wifi free? It's free if you sign up to IHG rewards
Is it only offered at the Holiday Inn in Potts Point, is it offered at any other Holiday Inns? It is only offered at the Holiday Inn in Potts Point, however all Holiday Inns have great options for families and kids stay and eat free is across the whole brand.
What is the price range for the Kids Glamp Out Family Package? $150-$300.
Contact Information: Call 1800 593 932 or email [email protected]
Address: Holiday Inn Potts Point-Sydney, 203 Victoria Street, Potts Point, Sydney
More Info: Kids Glamp Out Package
Have you signed up to our newsletter? Join ellaslist to get the best family and kid-friendly events, venues, classes and things to do NEAR YOU!