Camping Storage: Five Ways to Save Space on a Family Holiday
Camping Storage: Five Ways to Save Space on a Family Holiday
Toddlers
Preschoolers
Kids
Teens
Family
All Ages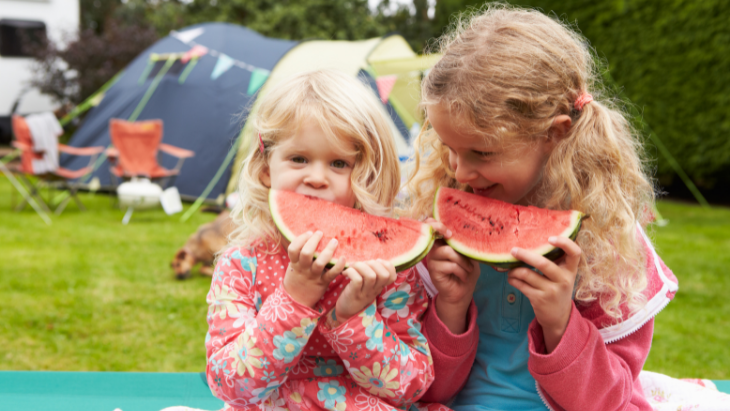 The great outdoors can be incredibly alluring, and there's nothing like stargazing next to a crackling campfire. But when the opportunity for family camping arises, the last thing anyone wants is disorganisation and chaos.
Camping storage can either amplify or minimise the quality of your family camping experience, so having proper camping storage plans in place will make exploring and soaking up the scenery in the great outdoors far more pleasant for everyone. That's why we've compiled a list of some of the simplest camping storage methods for camping items so you and your family can relish every moment outdoors and protect your camping gear.
The Best Camping Storage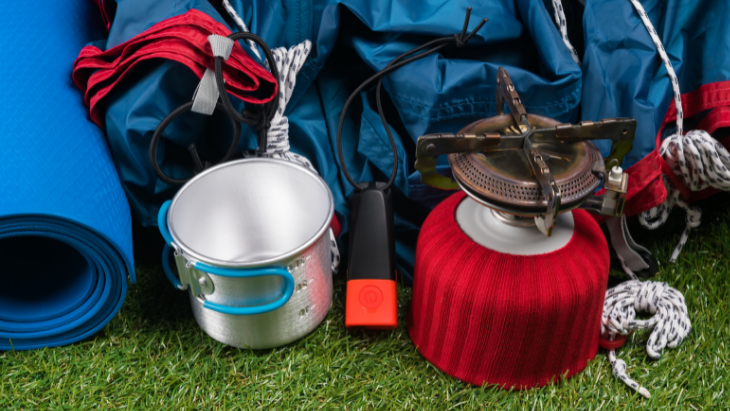 Although it's possible to toss everything in a rucksack and be on your way, this could result in tedious and problematic outcomes. To be the maestro of your family's camping game, here are the camping storage tips you'll need to consider:
How your packing protects your belongings
Ease of packing
The amount of space it takes
Practicality
How camping items are stored when they are not in use.
While at home, your camping items should be kept in a clean and dry location that is free from excess moisture or humidity and is sheltered very well, such as in garages and in cupboards. Being revved up and ready to pack only to discover rusted or tarnished camping gear can be disappointing. Those lacking suitable space could consider renting a storage unit where their camping equipment will be safe, dry and ready to go when it's time for adventure.
Before you put a storage plan into place, reflect on which items are useful at home and what will need sheltering until the next camping trip. You can use basic storage items like shelves, hanging rings, tarps, hooks, and other means to store items.
Here are five practical and simple camping storage ideas to use while camping with your family that will save you time and money.
1. Low-cost Baskets for Camping Storage
Plastic baskets are cheap, simple to use, and incredibly versatile. They also come in varying sizes providing customizability. You can use small baskets to store equipment such as a first aid kit, water bottles, or other portable cutlery on your camping trip. You can use larger baskets to store tents and sleeping bags in at home, so you don't have camping gear lying around the house!
They can be hung on walls and can be stacked when not in use, making them incredibly practical, convenient, and effective at saving space while storing your items easily.
2. Plastic Containers for Food Storage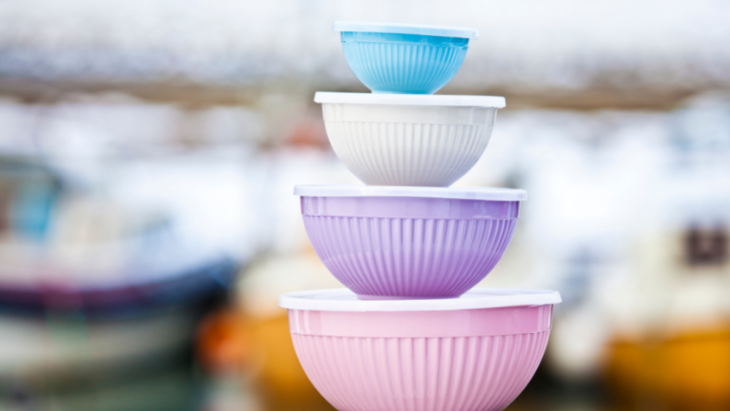 Plastic containers are great for storing items that need complete shielding from moisture and dust and can be found in various sizes and shapes to suit your space needs. They can be used to store all sorts of food, and their air-tight feature means that the food will remain in good condition.
Plastic containers should be labelled for best use, stackable when not in use, and stacked on racks against walls to save floor space.
3. Old Pillowcases or Compression Bags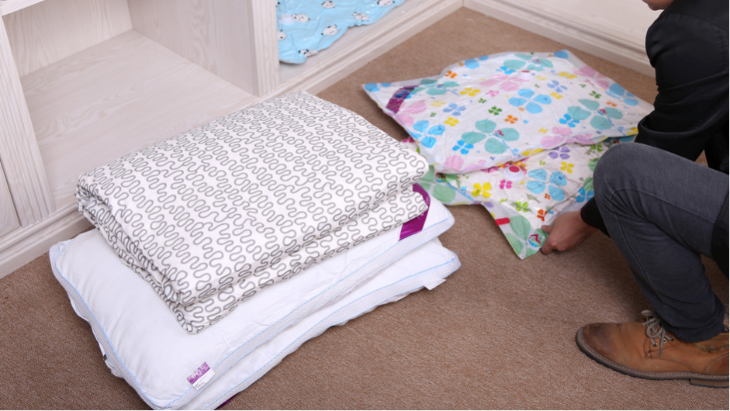 For delicate camping items like sleeping bags, blankets and clothes, you can use old pillowcases and compression bags.
Compression bags are great for saving a ton of space and shielding camping items from the elements, while old pillowcases can provide organisation and protection for these items too.
4. DIY Holders for Rubbish, Equipment & Food
No one likes a litterbug! When you're camping outdoors, it's hard to find places to properly dispose of your rubbish, so make use of any excess cupboard space that you have in your caravan to use as a temporary rubbish bin.
Depending on how much space you have, you can use things such as old magazine racks, old cereal boxes or empty drawers as temporary holders. Use them to sort your rubbish and protect the environment you are enjoying.
If you've already taken care of your rubbish, these holders can be used for small tools such as tent pegs and nails. You can also use these temporary holders to store food or other useful supplies you need during your camping trip. And why not include your kids in fun projects like making rubbish cans from old cardboard boxes?! They will have fun and learn about the importance of reusing and upcycling!
5. Pegboard Walls for Camping Tools
If your budget allows, you can line a free wall or modify existing shelves in your caravan with a pegboard for ample hanging storage space. This will allow you to hang up items such as raincoats or extra sleeping bags without taking up too much space.
If you've got space at home, a pegboard wall is an excellent way to store your camping equipment when not in use.
Thank you to Kirsty Morbidelli for this guest post.
Kirsty Morbidelli is the U-Store-It Facility Development Manager whose years of experience in the industry allow her to develop and design customised and tailored self-storage training platforms that U-Store-it's professional storage consultants use for better understanding their client's needs before providing solutions to suit residential, business and corporate customer's self-storage needs.
Plan Your Next Camping & Caravanning Holiday
Best Caravan Park Holidays in NSW
Glamping Near Sydney
Beach Camping Spots in NSW
Have you signed up to our newsletter? Join ellaslist to get the best family and kid-friendly events, venues, classes and things to do NEAR YOU!