Aussie World on the Sunshine Coast
Aussie World on the Sunshine Coast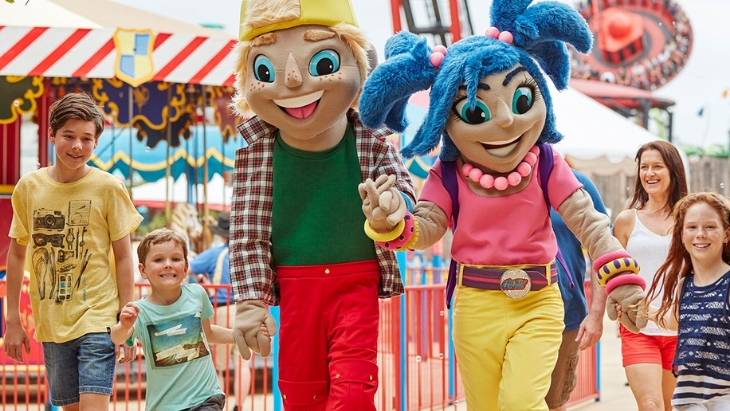 By: Amanda Lieber, ellaslist explorer
When you hear 'Sunshine Coast' the obvious images of sunshine, warmth and a gorgeous coastline are conjured up in ones mind's eye, and aptly so. We decided to go on a spontaneous weekend away to the Sunshine Coast, and while we were there we hit up the super fun Aussie World— an old style fair ground, perfectly suited for the whole family.
They measure height rather than age to have a go one of the 25 different rides, from under 100cm through to 130cm and over. They are very strict with measuring the correct height, and it all makes sense for safety reasons. On some rides younger children must be accompanied.
Our Day at Aussie World
We arrived early and were directed to the PLATYPUS Mini PONDS Golf. I was expecting more of a Putt Putt game, but it was a shrunken version of a golf course with 18 holes. I guess the 'Mini Golf' part was the clue there. The names of the holes made me giggle 'Lumpy Lane', 'You're Kiddin', 'Nottachance', 'Long Way to the Top' all representing the various lumps, bumps, and hills to get your "Hole in One".
Along the way there are amusing sculptures of life savers in the pond. We lost interest by Hole 6 or 8, so we skipped a few rounds to get to the Champion Hole and took the obligatory photo with the Platypus.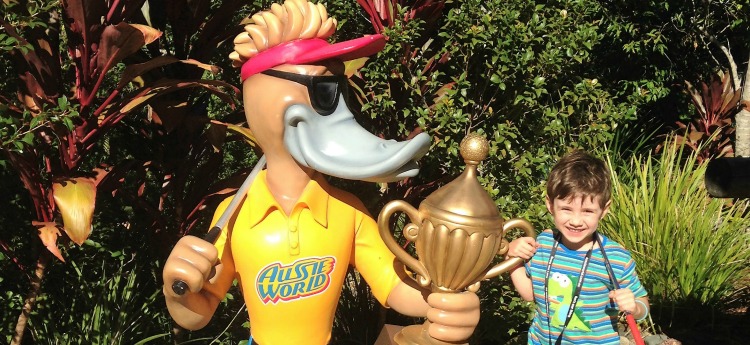 Arcade Games
There is a small strip of games where you win a prize with every play, which made you feel like a winner every time. The prizes ranged from a yoyo to a large stuffed toy.
Typical fairground games include Ping Pong Ball Clown Head, Duck in a Pond and Basketball in the Hoop.
Price: $15 for 3 games or pre purchased online for $12.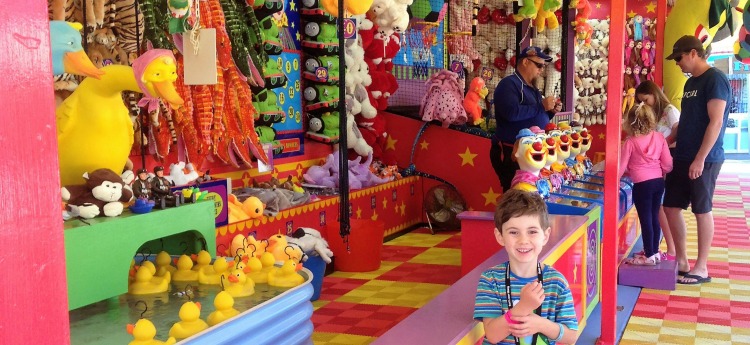 Rides For All Ages
For Older Kids:
Dodgems: I truly felt like I was 11 years old again, I had so much fun, I was actually crying with laughter!
Giant Slide: You had to walk up about 100 stairs and then you slide down on a mat!
Space Shaker: which was the one that tipped me over the edge! It looks like a massive silver banana that rocks slowly at first and then gets faster and higher and faster and higher until I was wishing I had never stepped on it.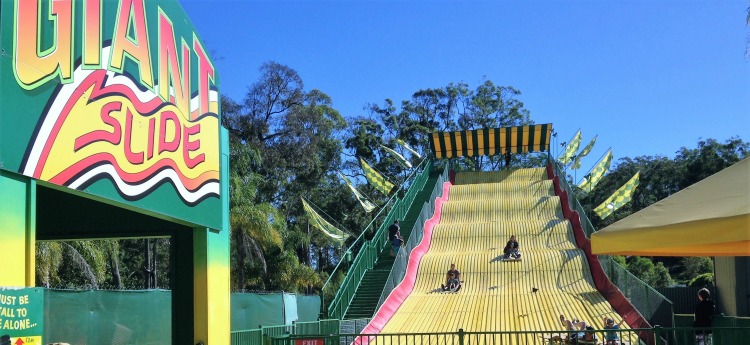 For Younger Kids:
Carousel: It had us all singing a tune from Mary Poppins
Tin Lids Tea Party: The traditional spinning tea cups favourite
Giggle Go Round: A fun merry-go-round with the chance to ride a rocket ship, a train or a car.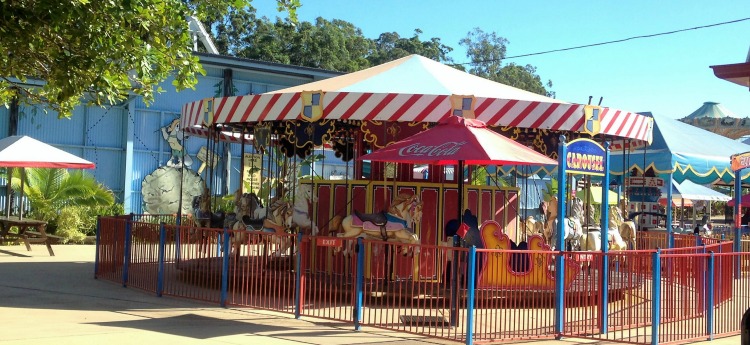 Show Time
Throughout the day the performers walk around the fairground in costume and character informing everyone they meet about the performances that will be shown. We managed to watch a couple of the shows and were very impressed by the talented musical performers, their energy and characterisations. The shows all included audience participation, and everyone joined in the fun.
Where To Grab a Bite
Aussie World Fun Café: hot dogs, nachos, burgers, fish & chips, and delicious range of ice creams.
Aussie World Pub: located just outside the entrance to Aussie World A little on the expensive side, delicious food and the most fantastic chips I have ever eaten.
The Village: offers a range of healthier food options, wraps, salads and pies, including gluten free. The Village is a cluster of shops on the same strip, we only managed to get to The Ole Lollie Shop as the young one had fallen asleep! Worth a look, and apparently not too expensive (a local told us that).

Useful Information
Cost: $40 per person (individual ticket) from $144 family passes. Discounts available online. A ticket covers unlimited rides. Children under 3 FREE.
Open: 9am-5pm every day, last entry 4pm (closed Anzac Day and Christmas Day). Rides start at 10am.
For more information, check out the website.
Have you signed up to our newsletter? Join ellaslist to get the best family and kid-friendly events, venues, classes and things to do NEAR YOU