ellaslist Reviews the Ultimate Family Friendly Holiday - Fairmont Resort Blue Mountains
ellaslist Reviews the Ultimate Family Friendly Holiday - Fairmont Resort Blue Mountains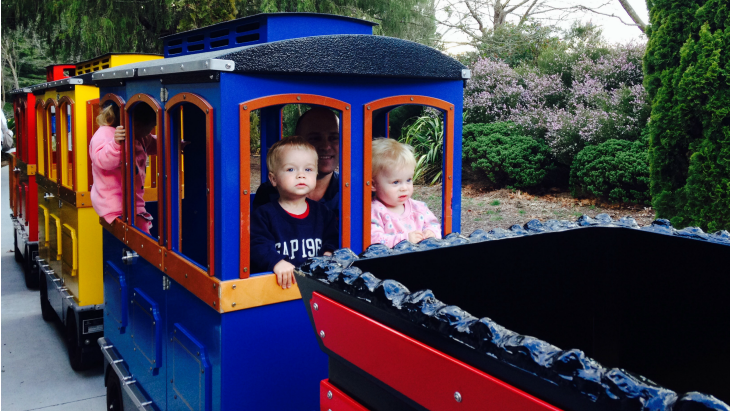 I have been dreaming about going on a family holiday since our twins (who are now 18 months) were born. Every time I entertained the thought, the fantasy was obliterated in a cloud of 'that sounds way too much of a mission'. Last year I actually booked us a short getaway but cancelled it as reality set in of all the equipment we'd have to lug along. Travelling with three kids under 3-and-a-half is no joke!
But I knew there was one place that would be perfect. We stayed at the Fairmont Resort in the Blue Mountains when my eldest was just over 1 so I already knew it would tick all the boxes:
It's close to Sydney – only an hour and a half drive away. That means a few episodes of Wiggles on the iPad and we're there already!
Fun side-trips. We stopped off at fun sports on the way. Going there, we made an animal-tastic trip to Featherdale Wildlife Park which is conveniently situated halfway between Sydney and the Fairmont. On the way back we had a playground pause at Penrith followed by the most delicious burgers at the kid-friendly Spur (this is a South African secret but every day I wish there was one nearby)
The Fairmont Resort has so much entertainment for children that you don't ever have to leave. Which is exactly what I was looking for.
There are

FIVE

dining options within the resort so there's plenty of delicious variety and of course a scrumptious kid's menu. And best of all I didn't have to cook for the entire holiday!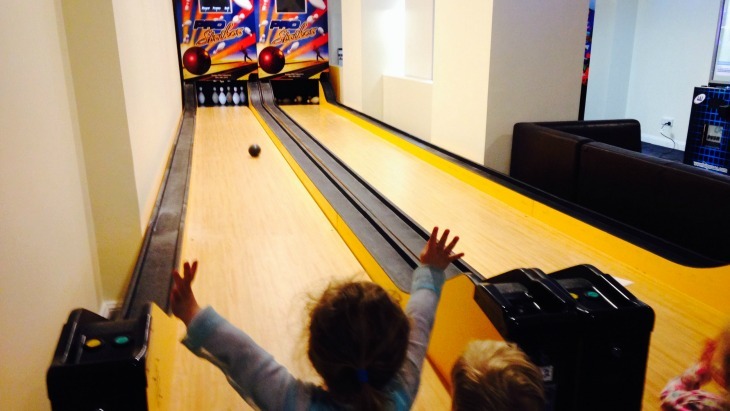 Family-Friendly Luxury at its Best
We arrived at the Fairmont Resort, just a minute or two from the centre of Leura, mostly unscathed from the drive (minus a few melt-downs, which is pretty standard in our household). The kids were instantly silent as we walked along the elegant pathway towards the luxurious high-ceilinged foyer of the Fairmont. I don't think they had ever been into a hotel before so they were in awe of the oversized leather couches and the massive feature fish tank on the wall. Despite the opulence, I was surprised to see some kids scootering around the lobby – this clearly is a very kid-friendly venue.
I had originally hoped we could stay in a family suite – which has a separate parent's room with the kid's beds in the lounge. But there are only two of these and they are usually booked out quite far in advance (I would suggest you call 02 4785 0000 now if you want to secure one. You can't book these rooms online). But we got something even better (in my opinion). Two adjoining courtyard rooms.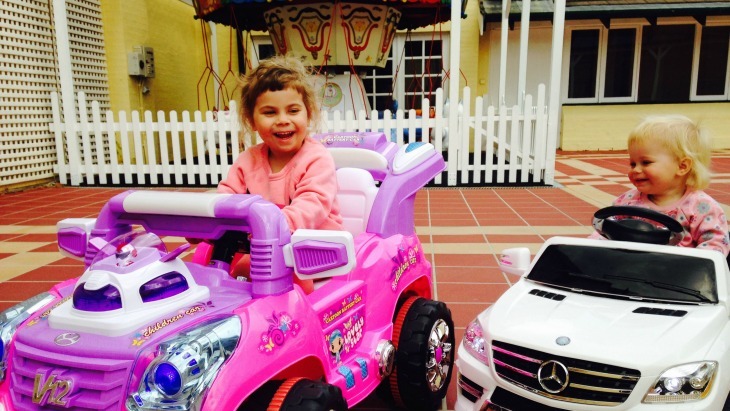 Our Home At The Fairmont
The 'parents' room was massive with a comfy king-sized bed, couch (which can be converted into a bed), desk and doors leading out into a large courtyard with outdoor dining furniture and sunbeds. The kids were in an adjacent room linked by an inter-leading door. The room easily accommodated two porta-cots provided by the resort, while my toddler slept on the sleeper couch. (the king bed in their room was a bit too grown-up for her liking).
After dancing around in the rooms in excitement (both kids and adults), we went to check out the Kidzone.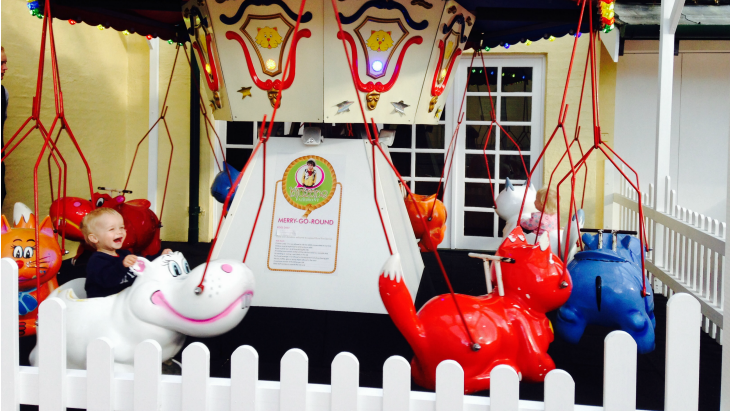 The AMAZING Kidzone
Fairmont Resort's Kidzone is one of the main reasons why this is the most family-friendly resort within a short driving distance of Sydney. I don't know any other place that offers so many varied activities specifically for children – especially a spot that is upmarket and enjoyable for grown-ups too.


The Fairmont Merry-go-round is a circus carousel with cute animals for the kids to ride on. The carousel is fully functional with fairground music and lights. The operator can control the speed so I requested slow for my little ones but it can also whizz around at a pretty brisk rotation for a bit of a thrill for the older kids. My three had the biggest grins riding the merry-go-round. In fact, I don't think I have ever seen them happier. Where can I buy one for our backyard?
The Fairmont Express is a charming mini-train, complete with a real 'choo-choo' sound, that takes kids (and parents) for a little ride around the resort grounds. It's the best way to check out the scenery and the kids didn't want to get off.
When I read that the Fairmont has ride-on cars for kids, I pictured little toy scooters or push-along cars. But no, these are the real deal. They have the coolest convertible mini-Merc and a flashy pink open-top mini-car and a few other similar models. They're all electrical and easy for the kids to drive around. What fun!
Back indoors, there are two huge play centres for the kids. The first is Dane's Room – named after the first born son of the owners of the resort, Jerry and Debbie Schwartz. This is the playroom for under 5's and is nicer than many of the purpose-built play centres back in Sydney. I love it that it's clean and tidy and all the toys and equipment are in excellent condition. There is a safe jungle gym with climbing obstacles and slippery dip, a pillow pool, ball pit, race cars on a track, rocking horses and lots more to keep the kids amused for hours. My only quibble was that there was only one ride-on car which of course every kid wanted to drive at the same time.
Magic Kingdom is the older kid's room (5 years plus) and has a humungous play structure with ball pool, slides, climbing obstacles and more. Plus Wii consoles and arcade games.
New to the Kidzone is the Mirror Maze Arcade. The mirror maze is dark and a little claustrophobic but the kids loved the challenge. In the same area is the fun mini-tenpin bowling alley which costs $2 for a game.
There is also a large indoor heated pool as well as an outdoor pool (unheated, so better for warmer weather). While we were visiting, a snazzy new spa was under construction (due to open in 2016) so the pool area wasn't as glamorous as during our last visit and the spa bath wasn't working. But that certainly didn't detract from the kids having fun in the water.
The resort also boasts its own 128-seat cinema and screens free kids movies on the weekends and school holidays. Cool!
Plus there is table tennis, Segways for kids, 9.5 hectares of grounds to explore, bushwalking trails, a library for board games, junior golf, tennis courts and an outdoor maze. And don't forget to take a look at the fascinating model toy train city being brought back to life as well as the Gasparini French Fairground Organ, which the owners rescued in Paris. Both of these can be found on the corridor leading towards The Jamison Wing.
Wow – yep, this is all at the Fairmont Resort! Now you can probably understand why you don't ever have to leave the resort and there is no chance of boredom. I told you this place is amazing for kids!
School Holidays at the Fairmont
Plus during School Holidays, there is a full activity schedule for the kids. I personally like visiting mid-week or on non-school holiday weekends where we can often get the playrooms to ourselves. But if you like a buzz of activity and lots to do to keep the kids busy, then school holidays stay will be perfect for you.
Keep in mind that there isn't a traditional Kid's Club so parents do need to supervise. But I personally enjoy spending our holidays with our kids – as long as there are fun things for us to do. But if you do need a breather, the friendly staff at Fairmont Resort will help you to organise a nanny.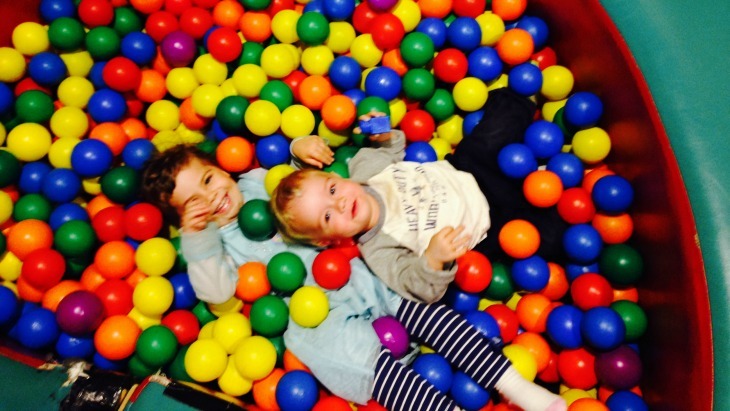 Where To Eat At The Fairmont
We loved that there is enough dining variety at the Resort that you don't ever have to stray. The first night, I was craving a good steak. The Terrace, with panoramic views through the floor to ceiling glass, offers delicious casual dining on Sunday – Friday nights from 6 pm. Since our kids go feral if they don't get their dinner at 5 pm on the dot, the gracious staff were happy for us to sit in the family-friendly Embers Bar but pick from The Terrace Menu.
My ribeye served on the bone was succulent and scrumptious (my mouth is watering as I think back) and hubbie's lamb rump served with crisp veggies was super-yummy! The kid's menu is fantastic and the food is top-notch. I find at many places, the children's meals are pretty dismal but here, the kids couldn't stop eating. We tried the crunchy home-made fish fingers, chicken tenderloins and pasta bolognese. I had to stop myself from picking off their plates. We finished off with a chocolate brownie to share which was ooey gooey and gone in a minute. Yum!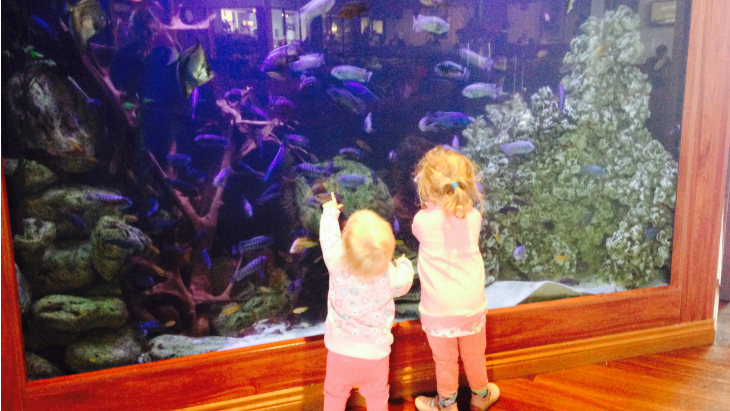 Other Dining Options
For a bit of variety, the Embers Bar offers a tapas menu and is open daily from 12 pm – late.
If you have more chilled out kids, there is also the Sublime Lounge for light snacks and decadent high-tea.
If you visit on the weekend, you can also try the sumptuous all-you-can-eat buffet on Saturday nights at Jamisons Restaurant. Children 12 years and under eat

FREE

with an accompanying full paying adult.
Eucalypt Restaurant is open Friday and Saturday nights for a gourmet Modern Australian dinner.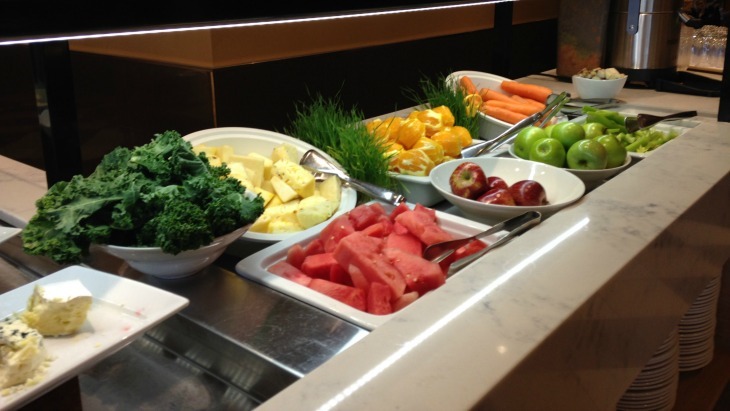 Don't Miss This Gourmet Brekkie
Breakfast deserves a paragraph all on its own. The all-you-can-eat buffet is one of the best I have seen. My kids are small but they sat and ate their weight in food. I have never seen my baby son so excited at the variety of breakfast before him. I'm afraid my daily offering of yoghurt and vegemite toast won't ever cut it again.
There was an extensive selection of hot brekkie items including large fluffy pancakes. There was a chef making eggs made to order, a huge selection of fruit, bircher muesli, cheeses, cold meats, smoked salmon, pastries, muffins, a variety of breads and condiments, cereals, make-your-own fresh juice, hot drinks and more.
We may have only been away for two nights but it felt like weeks. I was relieved that not only had we had survived our first holiday with three kids but thanks to the Fairmont Resort, it had been a huge success. The Fairmont Resort gets my vote for being the most family-friendly resort within driving distance of Sydney. I'm sure you will agree.
Have you signed up to our newsletter? Join ellaslist to get the best family and kid-friendly events, venues, classes and things to do NEAR YOU!