Barangaroo: Not So Family-Friendly
Family
Kids
Mums & Bubs
Teens
Preschoolers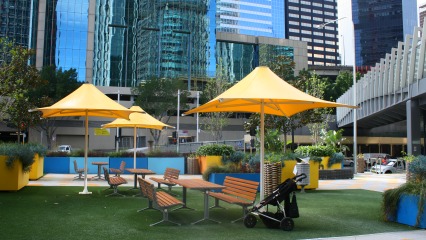 With the fancy new futuristic tunnel from Wynyard station that will get you there in 6 minutes, (I'd say possibly longer with little ones!) we thought it was time to re-visit the Barangaroo development complex.
It's been open to the public over two years now, (where did the time go?!) and while lots of new things have opened up, there's still a long way to go until it's completed. In other words, it's very much still a construction zone. If you go during the week, like we did, be prepared for lots of noise, heavy machinery and cranes in most of your photos. Of course this can add to the excitement for some toddlers. Mine loved seeing enormous pieces of metal swinging through the air. And the loud bangs, crashes and horns were like a symphony of modern machinery to his ears.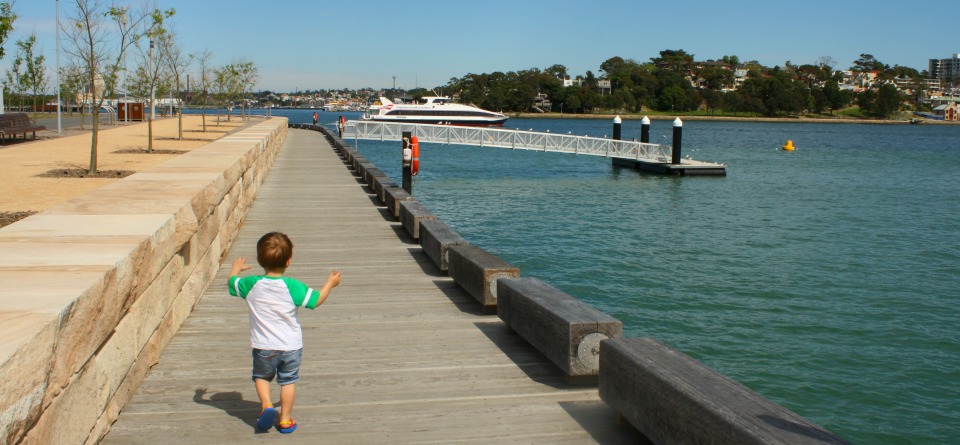 But the noise isn't the real hazard, that comes from the pedestrian pathways along the harbour – look out because there are no fences. While this is picturesque, it's just a sheer drop into the water. So if, like me, you have a toddler who likes to chase the seagulls, keep your eyes peeled at all times.
Where To Eat With Kids

While there are lots of fine dining options for when the sun goes down (and you've got a babysitter), during the day your cheap and family-friendly options are limited. This is very much a high-rollers place to eat. You can almost smell James Packer's casino on the way. Of course, where there's a toddler, there's a way, and they certainly won't go starving.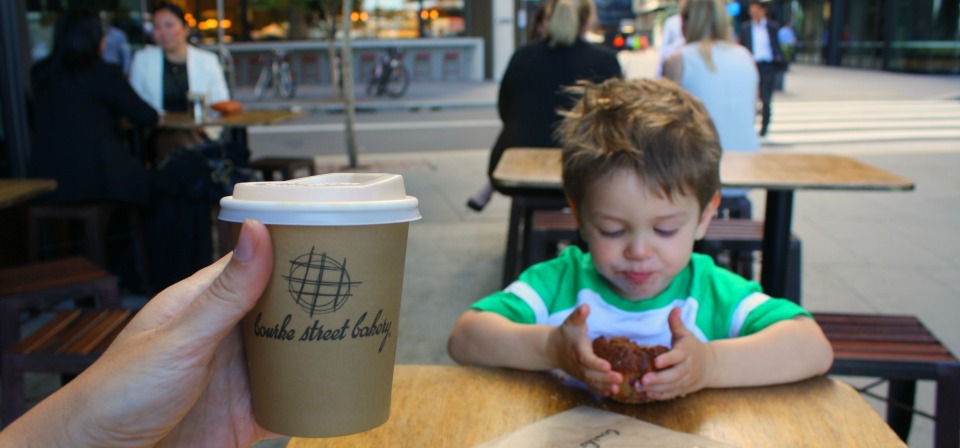 Bourke Street Bakery
Bourke Street Bakery: The Surry Hills-born bakery of dreams has expanded its empire to the harbour. While the hipsters might be rolling their eyes, for parents, this is a blessing. You can get great coffee here and indulge your children in a pastry that you know has been made with love. I don't know what their secret ingredient is, but all of their artisan baked goods simply taste amazing.
Phomo: Teach your kids about puns and acronyms (FOMO, get it?) as they eat the delicious and healthy Vietnamese soup, Pho. It's fresh, it's cheap, you can sit outside. You can't go wrong with this place.
Belles Hot Chicken: Don't take them for KFC, treat your kids to real fried chicken here. Choose your type of chicken, how hot you want your sauce, then your sides and chow down on this Melbourne-made-famous take-away joint as you watch the boats (or construction).
The Canteen: This is the fanciest food court you'll ever see. In here you can choose from pretty much every cuisine, from Middle Eastern to French pastries. However, the point of Barangaroo is to appreciate the harbour, which you can't really do from inside these bustling walls.

There's lots of hidden art if you look hard enough
What To Do With Kids

To be honest, there's not a whole lot going on down here for young kids. For older kids, they can enjoy a bike-ride around Wulugul Walk, the new foreshore promenade (remember to pack the sunscreen as it's completely unshaded). Or go on a hands-on educational tour by one of Barangaroo's Aboriginal Visitor Services Guides (you will need to book). There's lots of public art if you look hard enough and the buildings themselves are made up of weird and wacky architecture if you take the time to look up. When the Sydney Festival is on there is usually lots more on for kids, but right now it's a bit of a ghost town.

Things To Know


There is no shade and as yet, no trees that are big enough to provide shelter! Remember to take sunscreen and water (I couldn't find any water stations either)


While it is very pram friendly, with lifts and huge walkways, the precinct is still very much a maze! You cannot, at this stage, walk from one end to the other. Instead you find yourselves crossing roads, going up elevators, walking down dead-ends and generally feeling a bit lost.


As one of our readers pointed out, there is a playground but you have to walk around the headland to get there. You'll find Clyne Reserve at the end of Merriman Street under the watch tower. And it's shaded!


Getting there can be half the fun, whether it's catching a ferry to Circular Quay and walking around the foreshore. Or taking the train to Wynyard and walking through the new space-age tunnel.


It has a girl-power history! Barangaroo was a powerful Indigenous woman described by one early settler as having a "fierce and un-submissive character." She liked to get around with no clothes on, wearing nothing but a slim bone through her nose. What a legend!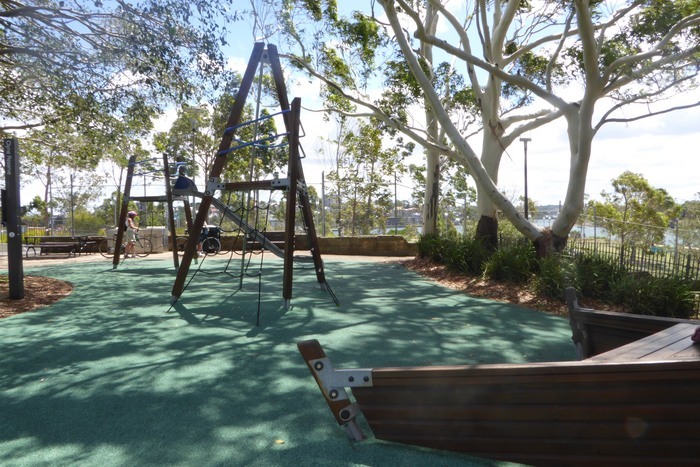 Image of Clyne Reserve via Playground Finder
More Sydney Adventures Here
Free Things To Do On The Northern Beaches
Rock Pools To Check Out With Kids
Best Trampoline Parks In Sydney
Have you signed up to our newsletter? Join ellaslist to get the best family and kid-friendly events, venues, classes and things to do NEAR YOU!
Reviews
There is a pre-existing playground that is lovely and shady and has great views of the harbour st the end of Merriman St, under the control tower!