You Can Make This Hot Cross Muffin In The Microwave!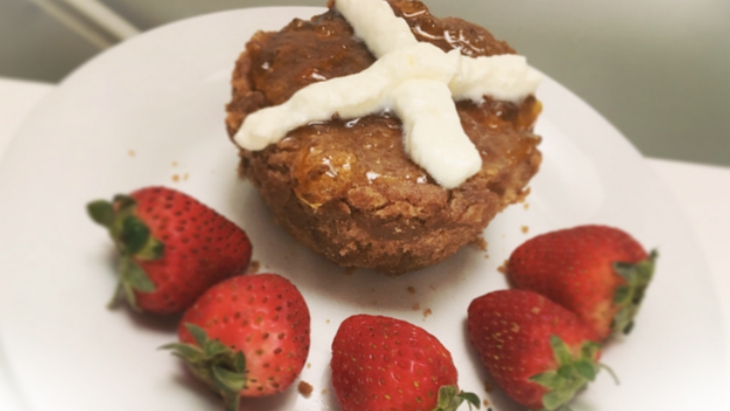 By Melissa Fine, ellaslist
This healthy Hot Cross Muffin takes just five minutes to make! Get the kids in the kitchen, or treat yourself to this mix-and-make recipe for breakkie, a snack, or dessert. Happy Easter from ellaslist!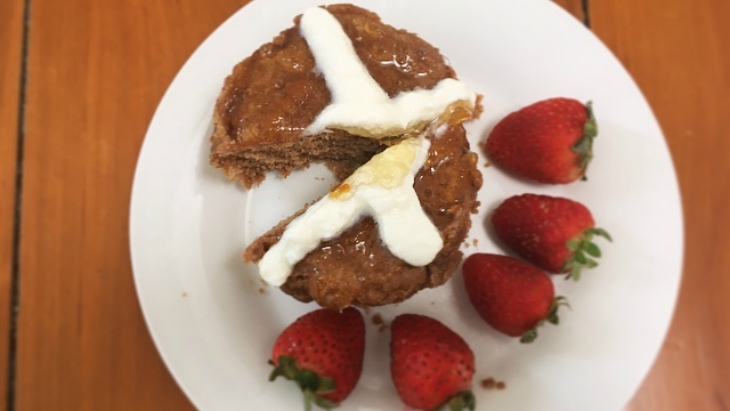 Ingredients
½ cup Wholemeal Flour or Gluten Free Flour
¼ teaspoon Baking Powder
½ teaspoon Cinnamon
Pinch each of Nutmeg and Allspice
1 tablespoon Odourless Coconut Oil, melted (you can use regular coconut oil, but it will give the muffin a coconutty flavour)
1 tablespoon milk
2 teaspoons Rice Malt Syrup or Honey
½ teaspoon Vanilla Essence
1 heaped teaspoon Raisins, optional
Marmalade/Apricot Jam and Unsweetened Yoghurt, to serve
Method
Add the dry ingredients to a small-medium mug, and mix with a fork to remove any lumps and combine.
Add the coconut oil, milk, rice malt and vanilla to the mug and mix again until just combined (don't overmix, or you'll get a tough muffin!). Fold in raisins if using.
Place the mug in the microwave, and microwave on high for one minute. If the top of the muffin appears cooked through and it bounces back when you press it gently, your muffin is ready! If not, microwave for another 30 seconds or so.
Allow to cool for a couple of minutes before tipping the mug upside down on a plate and tapping it lightly; if the muffin doesn't slide right out, run a dinner knife around the edges to help loosen it up, or you can eat it straight from the mug!
Top with marmalade or jam and a piped yoghurt cross. For the cross, simply spoon 1-2 tablespoons of yoghurt into a small ziploc bag and knead it down to one of the bottom corners. Cut a small hole across the corner with a scissors to create a thin frosting tip. So that the yoghurt doesn't melt, allow the muffin to completely cool before adding the yoghurt cross...if you can be patient! Although I personally prefer this muffin warm!