World❜s Heaviest Child Put On A Crash Diet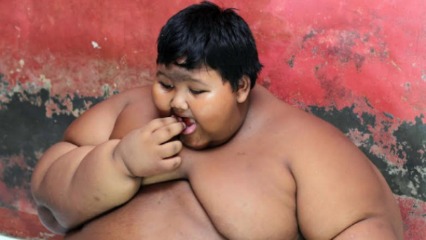 By: Phoebe Ackland, ellaslist
Arya Permana weighs a whopping 192 kg at just 10 years old, and after his parents' concerns that his morbid obesity could soon turn fatal, was put on a crash diet of brown rice only.
Arya's parents can not find clothes that fit him so spends his days in a sarong, and no longer attends school because his massive size has stopped him from even walking. Check out the video below and see how much of a struggle basic tasks are for Arya.

Source: New Buzz Pranks Youtube
As reported in The Daily Telegraph, his mother Rokayah Somantri who could think of no other solution than to cut down the amount of food he eats.
"He is perpetually hungry and has an enormous diet, and can actually eat meals of two adults at one time…He is always tired and complains of shortness of breath. He only eats and sleeps, and when he is not done with both, he jumps into the bathtub and stays there for hours," says Mrs Somantri.
Overwhelmed Parents
The boy's father Ade Somantri is a farmer who was told by doctors to take him to better hospitals if they really wanted Arya to receive further medical attention, after assessing that there was nothing abnormal with his weight gain. Ade has already spent more money than he has on his son's medical needs and the large amount of food he needs to be satisfied. "I borrow money so that he can eat. Of course, I cannot keep him starving," he says in The Daily Telegraph.
Unknown Cause
Arya was born weighing a healthy 3.2 kg, but after the age of 2 years old, started putting on weight at a rapid rate and his parents became alarmed that it may be due to some kind of disorder. He is now in need of constant assistance and is becoming too much for his family to cope with.
The Crash Diet
"No mother wants to stop feeding her children but I am unfortunate and helpless," says Rokayah, who has now resorted to feeding Arya brown rice only. This, they say, is the only thing they can think of to stop him growing any bigger, and hope to see him live a normal life one day playing with other kids in the neighbourhood, and attending school.