Which are Sydney's Top High Schools and Primary Schools?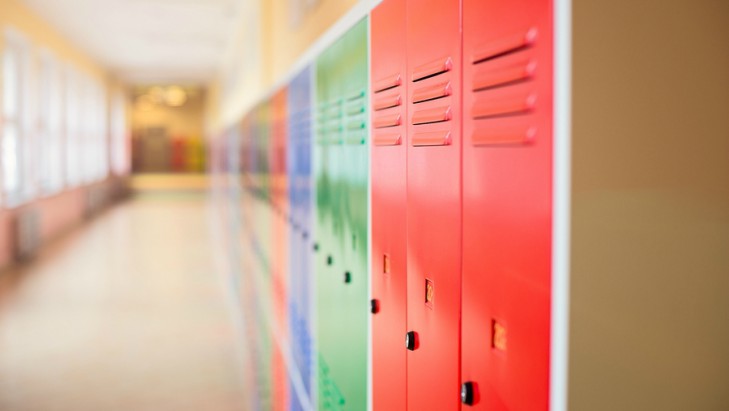 By Hayley Dean, ellaslist
A while back we published a great article about which are Sydney's top (high) schools, based on the 2016 HSC results. We received lots of positive feedback about this article and we thought we would publish a similar-but-not-the-same article – this time, looking at both primary and high-schools, based on the 2017 HSC and NAPLAN results.
Sydney's top High Schools (based on 2017 HSC Results)
The 2017 NSW HSC School Ranking Results show that Selective Schools come out on top, with star performers James Ruse Agricultural High School (1st), Baulkham Hills High School (2nd) and North Sydney Boys High School (3rd).
In terms of non-government (private) schools, Sydney Grammar School (6th) (an academically selective, private school) was the highest ranking private school, followed closely by Ascham School (9th) and Abbotsleigh (14th).
The top comprehensive high schools for 2017 were Cheltenham Girls High School (53rd), Willoughby Girls High School (61st) and Cherrybrook Technology High School (68th).
Perhaps the most interesting things to note about the 2017 NSW HSC School Rankings are:
9 of the top-10 ranked schools for 2017 were selective schools. Ascham School was the only non-selective school to achieve a top 10 ranking in 2017;
The top 50 ranked schools for 2017 are exclusively made up of selective schools and non-government (private) schools;
there is relatively low movement in the top school rankings year-on-year; 8 of the top 10 ranked schools in 2017 were ranked in the top 10 in 2016. There's slightly more movement when you look at the top 20 ranked schools, but these movements are not significant.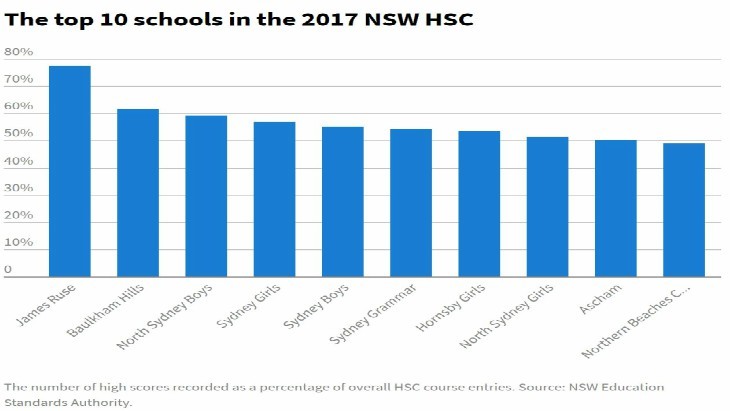 Sydney's top Primary schools (based on NAPLAN results)
At the time of writing this article, a comparison of the 2017 NAPLAN results by school was not readilty available. If the Year 3 and Year 5 results of prior years are used as a guide, the top performing government (public) schools include: Artarmon Public School, Eastwood Public School, Woollahra Public School and Northbridge Public School. Top performing non-government (private) schools include: Sydney Grammar School (St. Ives and Edgecliff), Ascham School (Edgecliff), SCEGGS Darlinghurst and St. Aloysius College (Milsons Point).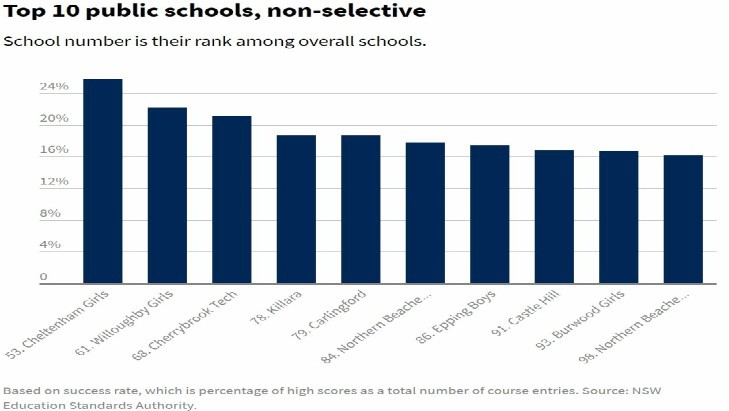 Key take-aways and things to remember
Choosing a school for your child is one of the most important decisions we make as parents.
Schools that rank highly like NAPLAN and the NSW HSC are almost always the schools that do well in English and Maths. NAPLAN does not measure how well a school is doing in other areas like music, sport, or art, or with important life skills like socialisation (playing and interacting with others), managing conflict, and resilience. So, whilst NAPLAN and HSC results are an important measure, they should not the be-all-and-end-all when it comes to determining whether a school is the right school for your child. Ultimately, the right school for your child will probably be one where the school's philosophy and approach is in line with yours, and where your child feels happy and is encouraged always try to their best. Read our tips on selecting the best school for your child.
To find out where a particular NSW High School placed, use The Daily Telegraph's school ranking calculator.
Image ref: The Daily Telegraph.