Where to Take the Kids to Learn to Surf Near Melbourne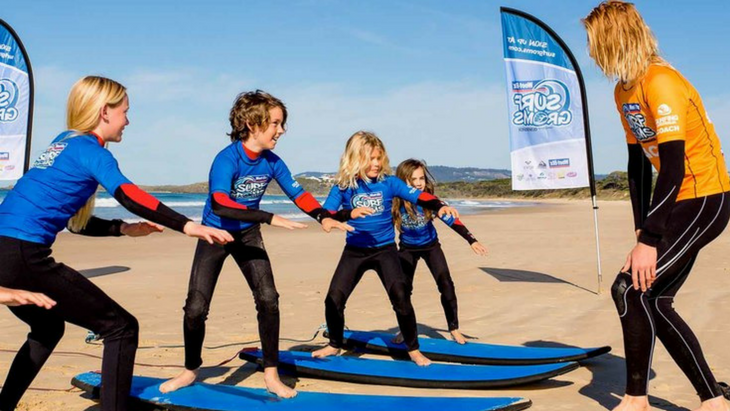 Victoria's beaches are epic (if a little chilly) and we are blessed with an abundance of surf schools that focus on the younger set. From Weetbix Surf Groms programs to unique in-house lessons, here are just a handful of what's out there to choose from.
Sunscreen on and suit up - it's surf time!
Island Surfboards and Surf School
You'll find some sweet beginner waves at Smiths Beach, Phillip Island, which is why Island Surfboards started a surf school there, now one of the most established in Australia.
Choose from group or private lessons, which follow the Surfing Australia guidelines closely.
With group, private, school and corporate rates available, Island Surfboard's Surf School is home to the ultimate learning environment.
Choose your surfboard and your wetsuit (sizes start from kids size 4), which you'll definitely need - Philip Island waters are pretty icy!
We have more than 300 full wetsuits (3'2 & 4'3 Steamers) ranging from kids (size 4) to adults (up to 125kgs).
Find it: 225 Smiths Beach Road, Smiths Beach, Phillip Island, Victoria, 3922
To book: Head here, or call call the Smiths Beach store on 03 5952 3443 for bookings and session times.
For more information: islandsurfboards.com.au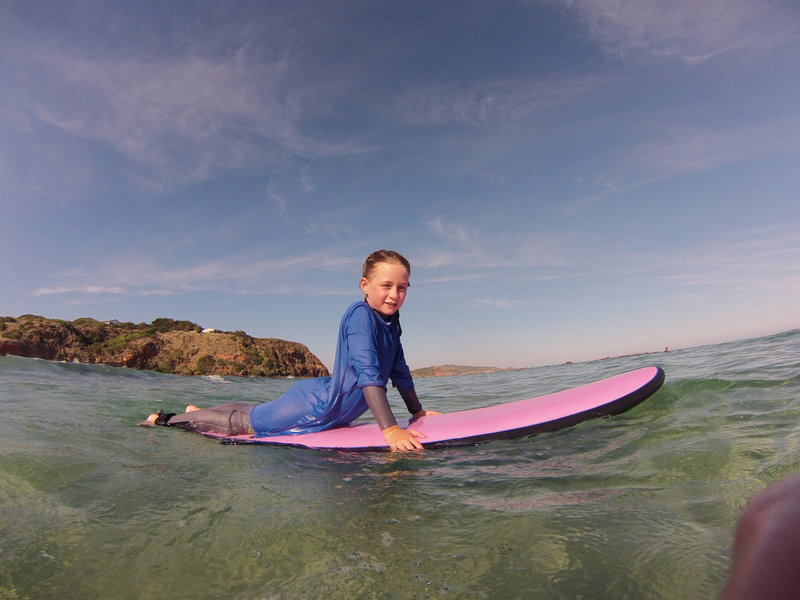 Girls on Board
At Girls on Board group lessons are perfect for beginners, which are purposely kept small - only 8 participants or fewer to ensure maximum coaching time for participants.
Included in the 1.5hr lesson is surf safety and awareness tuition, the basics of surfing and correct technique to get you started, and use of beginner foam boards. BYO surfboard (or hire one from a local surf shop on Phillip Island) and a can-do attitude!
Lessons start from 9 years old, and private lessons are available for younger surfers.
For the after-school crowd, A 6 week program is available for primary school students above the age of 8. The aim is to teach participants how to be safe in the surf as well as the correct surfing technique from a young age.
Find it: YCW BEACH, Beachcomber Avenue, Smiths Beach, Phillip Island.
To book: Fill in the online form here or email [email protected]
For more information: girlsonboard.com.au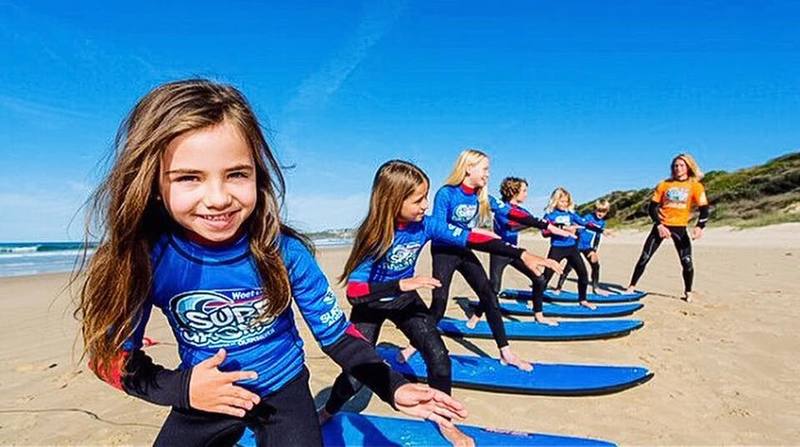 Great Ocean Road Surf Tours
Weet-Bix SurfGroms is a national learn-to-surf program for 5 - 16yr olds to help build their surfing and safety skills around the ocean.
​
Weet-Bix SurfGroms and Junior Development lessons are available at the Great Ocean Road Surf Tours, which allow children to learn, develop and progress with their surfing whether is it just for fun and personal gain or for competitions.
Find it: 106 Surf Coast Hwy, Torquay VIC 3228
To book: Phone +61 3 5261 3730 or email [email protected]
For more information: gorsurftours.com.au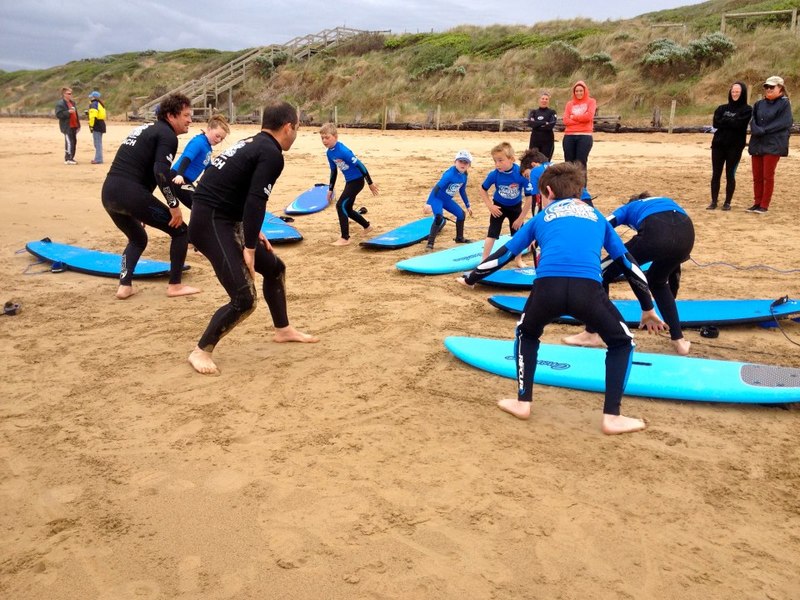 Surf Sessions
Weet-Bix SurfGroms is also available at Surf Sessions, at various locations.
The program is focused on the development of kids surfing and covers all aspects from Ocean Water Safety through to Performance development. Surf Sessions has a regular coaching team on hand as well as guest mentor coaches and local elite surfers to give their support for kids ages 5 - 12.
Every participant receives a free backpack containing a rashie, logbook, certificate, and a Weet-Bix SurfGroms membership card.
Find it: Barwon Heads-Ocean Grove Rd, Barwon Heads VIC 3227
To book: Head here.
For more information: surfsessions.com.au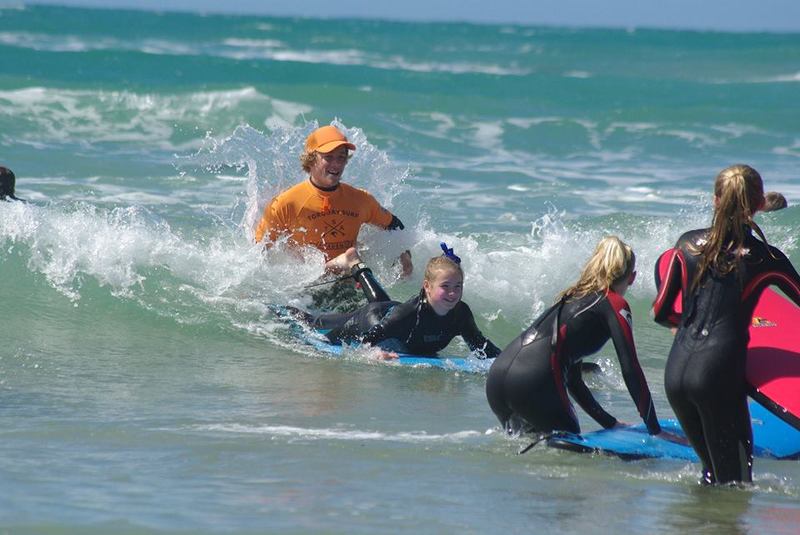 Torquay Surf Academy
Torquay Surf Academy offers group and individual sessions that ocus on teaching the skills of surfing and how to handle yourself and your surfboard in the ocean.
Private surf lessons suit all levels of surfing as coaches are able to tailor the lesson to specific skill levels.
SurfGroms is available for 6 to 16 year olds, and lessons (for up to 8 participants) run for 1.5 hours. Sessions run in the early morning on school hoildays only. Groms will learn ocean awareness and sun smart behavior but most importantly foundation surf skills, such as catching waves, standing correctly and riding waves into the beach.
Find it: 34A Bell Street Torquay 3228
To book: Phone (03) 5261 2022, email: [email protected]
For more information: torquaysurf.com.au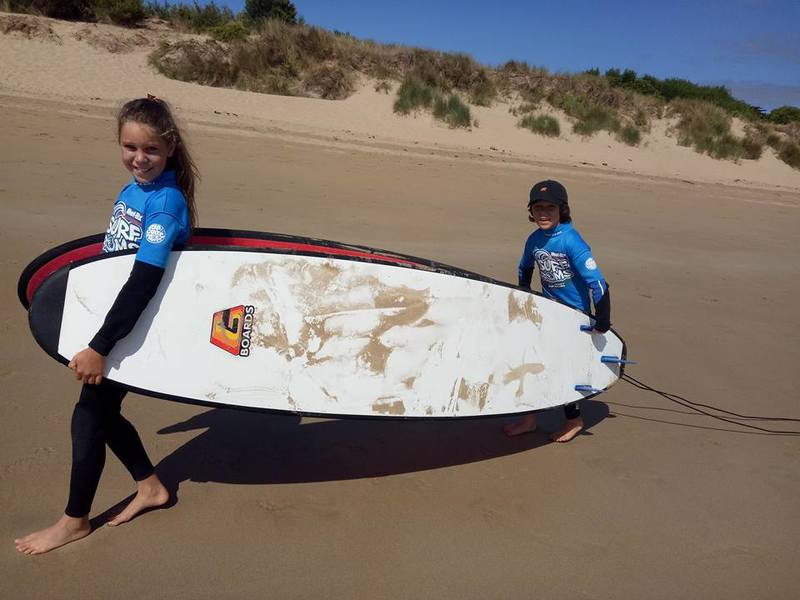 Apollo Bay Surf and Kayak
Two-hour lessons learning to surf with qualified coaches who teach in the water are available at Apollo Bay Surf and Kayak.
Learn in waist deep water with easy to ride waves, with full-length wetsuits and safe soft 'G'-Boards with no sharp edges available. The aim to get kids standing first lesson!
Lessons also include instruction in Surf Safety and Ocean Awareness, how to carry the boards safely, and how to be respectful of other surfers, all in Apollo Bay's safe surf beach.
Please meet in our shop before the lesson begins. Our shop is the first shop as you drive into Apollo Bay, opposite the Information Centre.
Find it: 157-159 Great Ocean Road, Apollo Bay VIC 3233, Australia
To book: call 0405 495 909 or email [email protected] for availability, and you can also book online.
For more information: apollobaysurfkayak.com.au
Main Image Credit: Island Surfboards