Where to Get the Best Peanut Butter Treats in Melbourne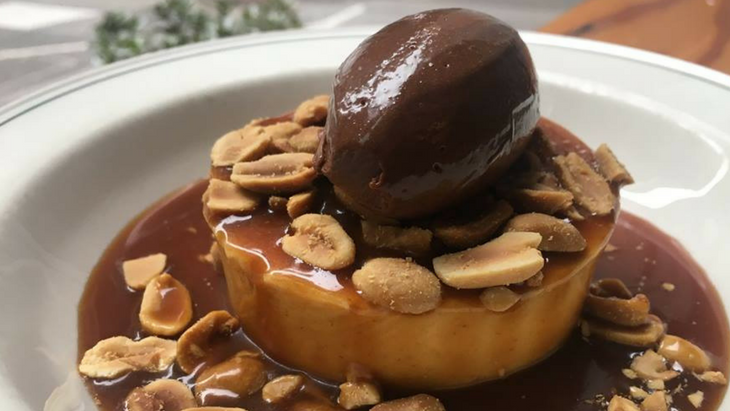 "I'll sing you a poem of a silly young king
Who played with the world at the end of a string,
But he only loved one single thing—
And that was just a peanut-butter sandwich."
Said Shel Silverstein of a man on the contstant hunt for a peanut butter sandwich, to the exclusion of all else, and we know how that feels. Sometimes there is just nothing better than that salty-sweet peanut paste - especially when married with chocolate!
When you've got a hankering for peanut butter treats and a sandwich just ain't cutting it, check out these hot spots across Melbourne who will make your PB dreams come true.
Peanut Butter Parfait at Supernormal
We absolutely cannot have an article about peanut butter desserts in Melbourne without mentioning the cream of the crop at Supernormal.
Grab their dessert menu and tell the wait staff you want the Peanut Butter Parfait: a smooth peanut butter cake covered in decadent salted caramel and topped with a quenelle of the softest chocolate. It's famous for a reason - true peanut butter lovers will be in heaven!
Can't wait? Make your own! Find Supernormal's Peanut Butter Parfait recipe here
Get it: Supernormal, 180 Flinders Lane, Melbourne
When: 11am - 11pm Sunday - Thursday, 11am - midnight Friday + Saturday.
Salted Caramel & Peanut Butter Crepe at Carte Crepes
For $6.50, you too can have a crepe someone else has made and covered in peanut butter and salted caramel. Created from high quality, locally-sourced products and served in packaging that is either biodegradable or recyclable, you're also doing the Earth a favour!
Get it: Behind the John Medley West Building, University of Melbourne, Parkville
When: 7.30am – 5.30pm, Monday – Friday (5.00pm on Fridays), but may close early if the weather is especially poor.
Reeces Shake at the Grand Trailer Park Taverna
Maybe it's the thought of a milkshake that's got your stomach rumbling, and if so, head over to the Grand Trailer Park for their utterly divine Reeces shake, made to taste just like the real candy thing.
But get this - in amongst the peanut butter and chocolate syrup is the kicker - Captain Morgan Rum.
Get it: 87 Bourke St, Melbourne
When: 11:30am til 10:00pm Tuesday, Wednesday, Thursday and Sunday; 11:30am til 11:00pm Friday and Saturday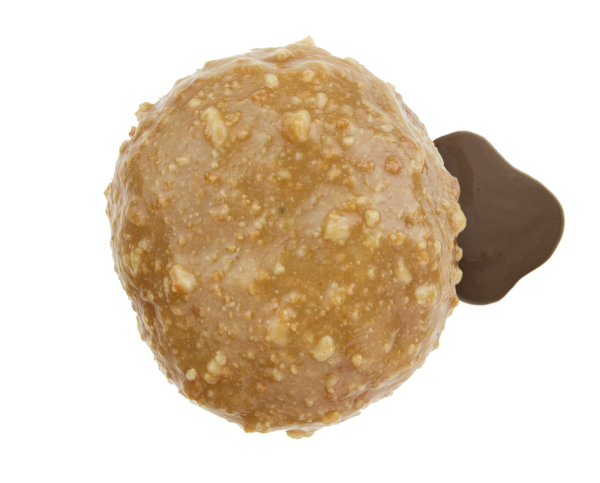 Peanut Butter & Chocolate Cream Filled donut at Shortstop Coffee and Donuts
They tell us it's "a fluffy ball of fried dough filled with a milk chocolate pastry cream and then dipped in a salty peanut butter glaze," and we call it YUM.
Also: when they created the Peanut Butter & Jam Filled donut, they couldn't find the peanut butter that was perfect enough for their needs... so they made their own. Which you can buy. Do so here.
Get it: 12 Sutherland St, Melbourne
When: 7.30 - 5.30pm weekdays, 8.30 - 5.30pm weekends.
Peanut Butter and Berries Macaron from Mini Indulgences
Having a party? Wanting a Macaron? Mini Indulgences has got you covered with 22 flavours of macaron, one of which is the fantastic combo of peanut butter and berries.
Grab one for $2.30, or choose from a 4, 7, 8 or 10-tier macaron tower and really get the party started!
Get it: Avondale Heights
Phone: 0402 528 291
Peanut Butter Butterbing at Wherever Butterbing is Sold
These cookie sandwiches have absolutely taken over Melbourne with their crisp-but soft outsides and their luxurious buttery sweet fillings, and are basically impossible to stop at one. The entire company started with the production of the peanut butter flavour (inspired by Reece's Peanut Butter Cups), and they remain a firm fan favourite.
Find your closest stockist here.
Obamarama Gelato at Jock's
Peanut Butter and Jelly flavoured gelato - all-American just like Barack! Created by owner Jock Main off the back of Obama's election victory, and flavour that we are truly grateful for.
Get it: 83 Victoria Ave, Albert Park
When: Noon til late every day.