When Should My Child Start To Learn A Musical Instrument?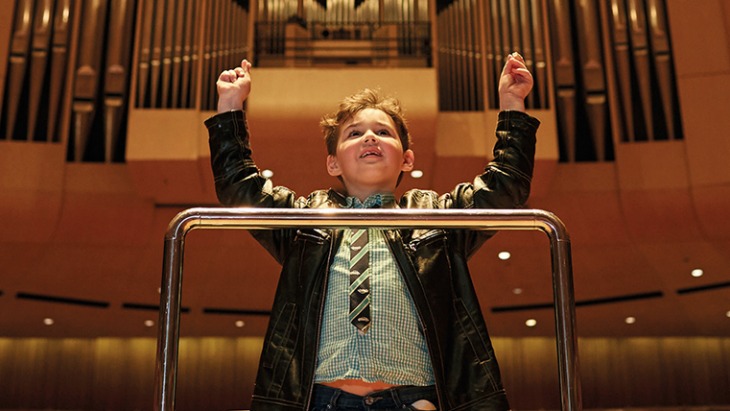 So your child has expressed an interest in music but you don't know if you're ready to fork out for an expensive instrument and lessons... will they enjoy it? Will they keep it up? Before you dismiss their interest, heed this advice from music education expert Linda Lorenza who believes you should nurture their passion.
"As soon as a child has interest and wants to play with sound sources they find around them and has the dexterity in their fingers, I think it's worth letting them go there," says Ms Lorenza, Sydney Symphony Orchestra Director of Learning and Engagement. "If you have a school that has instruments then let them go and discover."
Explore Instruments You Have At Home
Ms Lorenza says that children tend to respond to learning in three main ways: aurally, visually or kinaesthetically. And when it comes to music, kids respond through moving and making sounds.

"They like to mimic, to bang and tap things and are curious as to how sound is made," she explains. "Children may progress very quickly from the saucepan cupboard to an instrument. For children the exploration of making sound is fun, it is 'play'. Listening, pitch recognition and hand-eye coordination combine as they explore an instrument."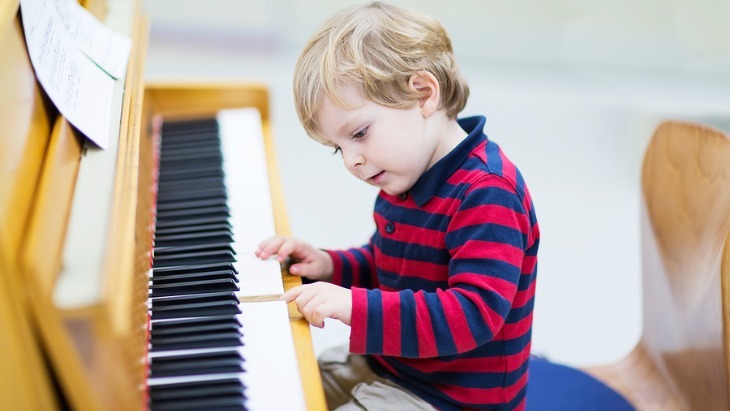 At What Age Should They Start?
Almost all children love music and the benefits that come with it are astounding. Studies have shown that music education enhances a child's comprehension abilities, helps them with math concepts, assists in the development of fine motor skills, and helps to build self-confidence.

When Ms Lorenza was a child she recalls having a big piano in the home. She was always fascinated by sound and as soon as she could say the word 'piano' she was pestering her mother for lessons.

"I didn't start learning properly until I was seven because I had very small hands. But in my own teaching I have taught children as young as three and a half or four."
First Violin Léone Ziegler, whose now adult sons both played instruments at an early age, says finding the right teacher is important, as is the right level of parental support.

"You need to find a teacher who can relate well to little kids," she says. "When you're little you need a parent there to encourage your practise. It then becomes something you share with someone else. If they can read a few letters of the alphabet it can also help them read notes."

Ms Ziegler's eldest son Douglas started piano and cello lessons on Saturday mornings when he was four and a half.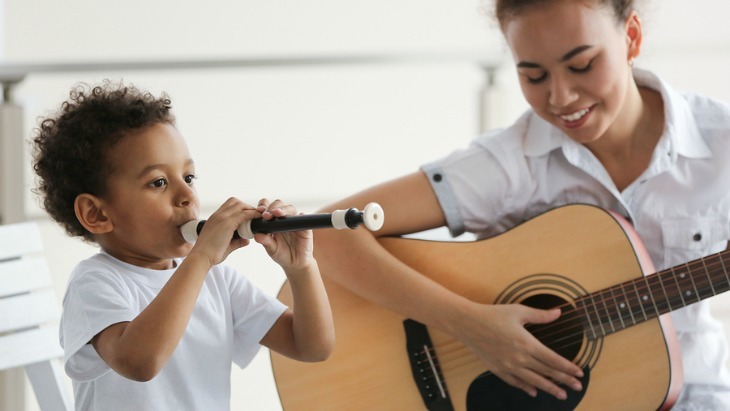 The Best Instruments For Little Hands
According to Ms Lorenza there is no age too young for children to begin learning instruments however there are some that are more suitable for tiny fingers.
Piano, keyboard or strings like the violin are easier to handle, while instruments like operatic voice or brass instruments like the trumpet, which rely on strong mouth muscles to form notes, are only possible to play as the child physically matures.
"Particularly with wind instruments, they're not going to develop their embouchure or their lung capacity until they're towards the end of their teens," Ms Lorenza told ABC News.
"You aren't going to get a four-year-old playing the double bass ... but if they are interested in the sound or the timbre of stringed instruments, they could start with a baby violin and as they grow they might eventually want to play the cello or the double bass."
And we can't believe we are encouraging this, but experts say the recorder is a very common first instrument and good for progression to other wind instruments. Children can start as soon as their fingers are big enough to cover the holes.
The most important tip is to expose your child to as many different styles of music and types of instruments that you can. Let your child take the lead. Although you might dream of them up on stage playing a piano concerto, there's no use forcing them into something they don't enjoy.
Want More Musical Stuff? Find It Here:
Have you signed up to our newsletter? Join ellaslist to get the best family and kid-friendly events, venues, classes and things to do NEAR YOU!
This article originally appeared on the Sydney Symphony Orchestra's news site Backstage News.