Watch What Happened When Crying Babies Were Welcomed On A Flight
Family
Mums & Bubs
Parents Only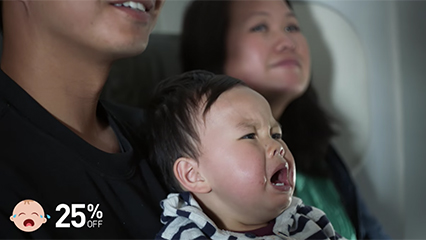 By: Marie Ashworth, ellaslist
As many of us Mums have experienced, flying with a baby is a whole lot more stressful than pre-kids days. There's the meticulous planning, packing and re-packing to ensure you have EVERYTHING for any possible scenario. Then there's the PRESSURE to keep your little one, and all those other passengers around you, happy.
If only more airlines followed the example of JetBlue, an American airline, who recently hosted a 'Fly Babies' flight to try and shift passengers perceptions about babies on flights. Their brilliant idea involved rewarding all passengers onboard with a 25% percentage discount every time a baby cried.
JetBlue we salute you! Watch their feel-good video which captures the before, during and after for several Mums and babies, and their fellow passengers.
ellaslist would love to hear about your best flight experiences. Do you have any top travelling tips to share with other readers?