What The Average House Price In Sydney Will Buy You Around Australia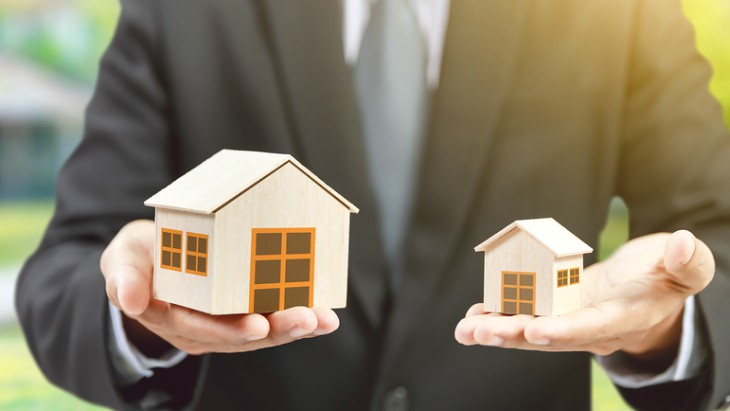 It's not uncommon to hear of Sydneysiders complaining about the cost of housing, we have been doing it for years, but lately, there does seem to be a real, actual sea change movement happening. No longer are people just talking about it. Fed up with exorbitant living costs and perhaps, and after having read popular books like The Barefoot Investor, Sydney families are packing their wagons and rolling out of town.
Can't say we blame them. Have you seen what the average house price in Sydney gets you around the country?
Overall, median property prices have dropped compared to recent years - hooray! - and the downturn has seen a decreased number of Aussie suburbs in the Million-Dollar Club. Despite the good news, the most recent figures still show a whopping 649 suburbs across the country have a median house or unit price on or above $1 million. This is five times the number of million-dollar suburbs on record a decade ago!

While average property prices fluctuated last year, the market is looking up and prices in capital cities are on a steady climb. Even areas once considered average and middle-class are joining the coveted seven-figure list.
Let's take a little $1.1million dollar road trip around Australia with the 2019 Domain House Price Report. You might still want to sit down for this - and get the tissues ready!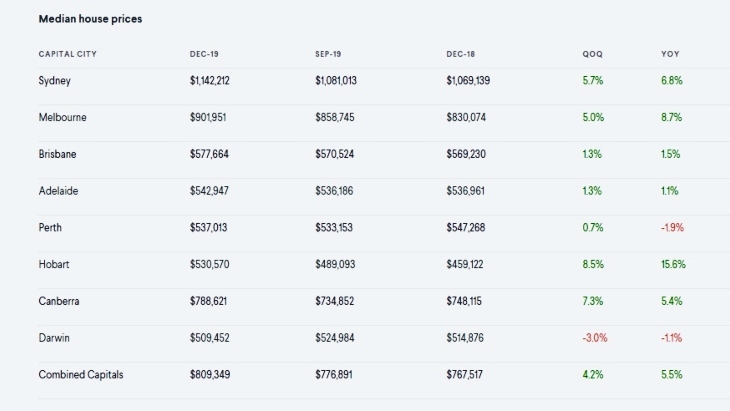 Sydney
With a median house price of $1,142,212 in December 2019, Sydney remains the nation's most expensive market, and out of reach for many first-home buyers. $1.1m in Sydney can buy a few different things, including this gorgeous award-winning sandstone cottage in Newtown - one of Sydney's most vibrant suburbs. This one-bedroom, one-bathroom dwelling, even has a car space!
Wollongong
The Gong has recorded a whopping 37.3% growth over the last 5 years due to an influx of Sydneysiders moving south, however, it suffered a 3.4% downturn in 2019 with a median house price of $700K. For around the same Sydney median price of $1.1m you could snap up something like this renovated, freestanding residence right in Wollongong CBD, with three bedrooms, two bathrooms and parking.
Newcastle
Down the North Coast, Newcastle has long been a place for Sydneysiders to escape to and has developed into a thriving area with many city seachangers now calling this coastal paradise home. Following a slight downturn in its median house price, it now sits around $600,000. However, for close to $1.1m you can pick up renovated three-bedroom, two-bathroom, tri-level Victorian terrace in the coveted east end.
Darwin
Around five years ago, Darwin had unprecedented price growth, largely fuelled by the resources boom. Back then, Darwin's house prices only trailed those of Sydney and Melbourne. But times have changed and Darwin now has the lowest median house price of all capital cities in the country at $509,452.
So what does $1.1m buy you in Darwin today? A bargain! It can buy you this stunning two-storey, four-bedroom, four-bathroom family home in Stuart Park - with a pool!
Hobart
Hobart has been the star performer of Australia's 2019 property market with a whopping 15.6% growth rate in house prices - the biggest last year. Mainland Australians are realising what a wonderful place Hobart is to live in, with prices only a fraction of what they pay elsewhere. As a result, they're buying up big time will potentially boost price growth well into the future.
The strong inter-state migration to Hobart for both lifestyle reasons and the affordability of homes is driving up prices steadily to today's record Hobart median house price of $530,570.
What can you buy in Hobart for $1.1m? It will buy you this beautiful family home with five bedrooms, two bathrooms, five car spaces and sensational views of the river and mountain.
Perth
Perth property values dropped by 1.9% last year - the poorest year on year result across the country. Sitting at the lower end of the nation's median house prices at $$537,013, Perth's property prices are showing signs of recovery.

For less than $1.1m you can acquire this divine three-bedroom, two-bathroom luxury resort-style home in Perth's prime inner-city. It boasts a zen-like design with an Inside/outside garden spa bath opening onto a pond, decking and private courtyard - and parking for eight cars.
Melbourne
Melbourne house prices are on track to set a new record with current figures showing the city's median house price sitting at $901,951 - second only to Sydney at the top of the table, and the second-best performer of 2019.
$1.1m in Melbourne can buy you a range of different things, like this renovated three-bedroom, one-bathroom Victorian cottage in Abbotsford.
Brisbane
People are opting out of expensive and crowded Sydney and Melbourne, and many are choosing to move to Queensland, attracted by the prospect of a laidback lifestyle and a smaller mortgage. However, Brisbane houses have seen steady price growth over the past seven years, pushing values to a new record high of $577,664.
$1.1m in Brisbane can buy you this generous four-bedroom, three-bathroom home in Kelvin Grove with a swimming pool and parking for two cars.
Adelaide
After years of slow and steady value growth, Adelaide's property market has switched up a gear with a strong performance nudging house prices to a new record high. Adelaide has a median house price of $542,947.
$1.1m in Adelaide can buy you with this incredible three-bedroom, two-bathroom bank conversion in Stepney, with high ceilings, original features and loads of creative potential.
Canberra
Canberra's median house price surged by 5.4% last year to a new record high of $788,621. Showing the steepest annual growth in recent years, new residents continue to be lured to the nation's capital.
$1.1m in Canberra can buy you this designer five-bedroom, three-bathroom family home in Curtin, with a double garage and loads of living space including a fabulous deck.
Get More Of The Latest News
Grandparents Who Babysit Live Longer
The Best Cities In The World For Families
Where To Visit On The South Coast In The Wake Of The NSW Bushfires

Have you signed up to our newsletter? Join ellaslist to get the best family and kid-friendly events, venues, classes and things to do NEAR YOU!