Westbourne College Sydney: Where STEM Dreams Take Flight
Westbourne College Sydney: Where STEM Dreams Take Flight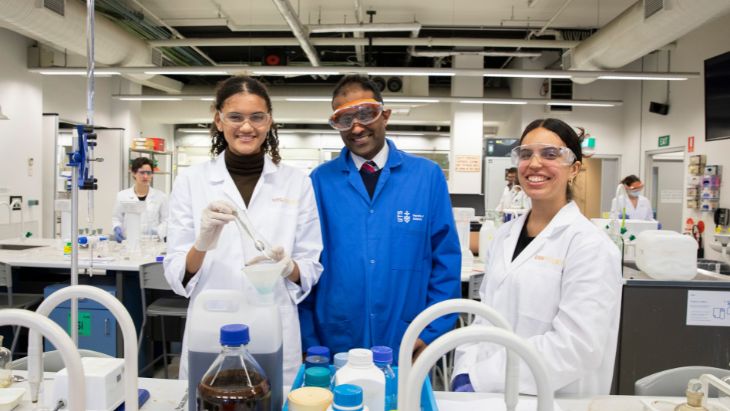 Imagine a school where the walls hum with innovation, where the future leaders in STEM are nurtured, and where the word 'impossible' is not in the vocabulary. Welcome to Westbourne College Sydney, a trailblazer that's redefining education in the heart of Ultimo.
So, what's the Westbourne difference? How have they had so much success since opening their doors in 2021, with Westbourne IB graduates consistently ranking in the top 1% worldwide?
Here's everything you need to know about this inner-city gem of a Sydney school.
A Launchpad for Innovators
Westbourne isn't just a school; it's a launchpad for brilliant minds. Here, students don't just learn; they experiment, innovate, and lead. With a mission that transcends traditional education, Westbourne is committed to preparing students for global STEM careers and nurturing the leaders of tomorrow.
Westbourne College is the only school in Sydney that only offers the International Baccalaureate Diploma Programme (IBDP), and not the HSC. The rigorous and rewarding two-year programme is STEM-centric and globally focused; offering a ground-breaking, simulated work environment approach that builds incredible skills to prepare students for success at university and in their careers. Interest piqued? Read on!
The Westbourne Experience: A Gateway to the World
Nestled in the vibrant heart of Ultimo, Westbourne College is more than a school; it's a gateway to the world beyond. Westbourne's powerful location gives students the chance to walk to UTS and USYD, or get the light rail to UNSW to do their practical experiments in the university labs; which gives them exposure to a great range of equipment, as well as a broad scope of mentor opportunities through university professors, lab technicians and post-graduate students.
In fact, current Westbourne students spend their whole day on Fridays at UTS, providing sustained exposure to a university environment. These mentoring opportunities and the chance to work in different settings are fundamental to building and strengthening the network that Westbourne students are empowered to create.
A Global Perspective
Global networking is the Westbourne way—it starts in the classroom and spans continents.
The networking opportunities provided to students from an early age are entirely unique, globally-minded, and incredibly forward-thinking. There is the option for Westbourne College Sydney students to undertake an excursion to Westbourne School UK in year 11—where students can leverage the synergy between the two schools to broaden their network and learn alongside their UK counterparts.
The newly launched Westbourne College Singapore offers students a strong business focus alongside the STEM spotlight, and with virtual workshops on offer, Westbourne students have yet another opportunity to tap into the unbridled power of their global network.
The Golden Ticket: International Baccalaureate Success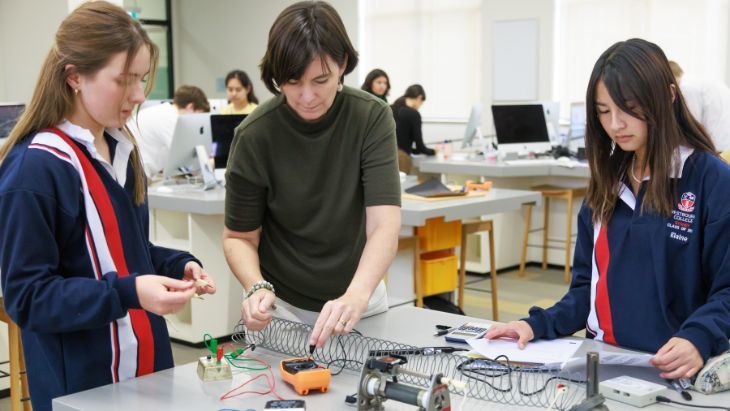 The STEM-centric International Baccalaureate framework offers a real point of difference for Westbourne students, as they study two sciences as part of their two-year academic programme. But! Because the IB Diploma Programme is about academics and so much more, Westbourne students also complete a number of Core Components that are fundamental to personal development and growth.
This framework helps create incredibly well-rounded STEM students at Westbourne, who are able to go out into the world with confidence; empowered by their own abilities. What a gift!
Awe-Inspiring Outcomes
While we know that there is more to education than just academic results, the stats pertaining to Westbourne's success speak for themselves. As well as ranking in the top 1% of IB graduates worldwide, Westbourne's median IB score achieved by Sydney's first graduating cohort, Class of 2022, is 39 points (96.70 ATAR) out of 45 IB points, and these graduates have gone on to a diverse range of esteemed universities - from USYD, UTS, ANU, and Bond University, to University College London across the pond and Nanyang Technological University in Singapore.
The Future of Education: A Unique Educational Environment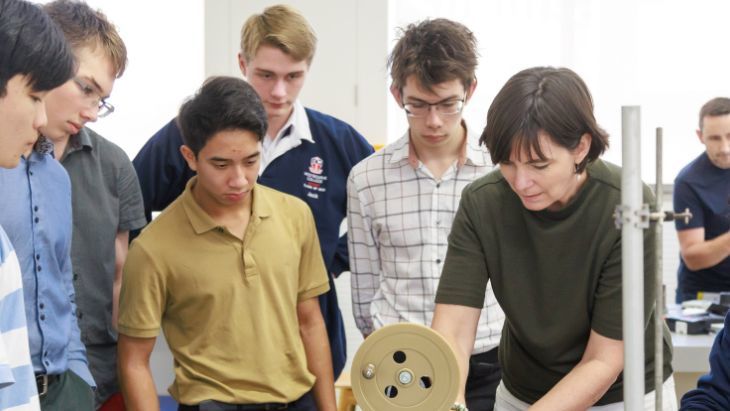 Complementing its primary focus on academics, the culture at Westbourne is also fundamental to its success.
This co-ed school aims to bridge the gap between school and university and eventually workplaces. To this end, smart business attire replaces school uniforms, teachers are addressed by their first names, and an open-plan college-style environment all serve to simulate a business environment. How empowering!
This fresh approach connects the Westbourne academic curriculum to the outside world, encouraging and empowering students to take charge of their own futures.
The Next Big Thing: Year 10 Intake for 2024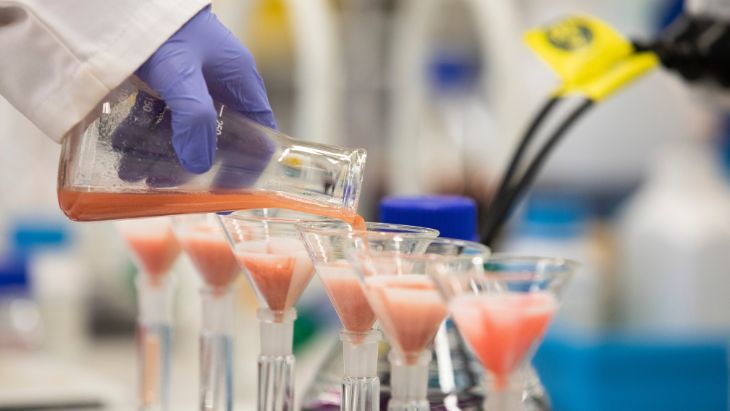 Westbourne is about to shake up the educational scene once again, opening its illustrious doors to Year 10 students for the first time in 2024. This new offering promises to be a game-changer, setting the stage for even greater achievements.
The school has designed a STEM-focused Year 10 academic curriculum (approved by NESA), complete with an outdoor camp to build research and data analysis skills, that will springboard students into their STEM-focused IB Diploma Programme, and set them up for incredible outcomes.
A Global Mission
If you're looking for a different approach when it comes to your child's schooling, Westbourne stays true to its mission statement:
"Westbourne develops well-rounded, deeply thoughtful, socially responsible and globally minded leaders of the future – for the careers of the future."
We're sold!
If you're keen to find out more about this exciting school in the heart of Sydney, check out the Westbourne College Sydney website and its prospectus. Apply before it's too late! Applications are open for students currently studying Years 9 and 10. Limited scholarships are available for students truly passionate about STEM, girls are highly encouraged to express their interest.
More School News
The Best Primary Schools in Sydney
Where to Use Creative Kids Vouchers in 2023-2024
Meditation for Kids: A Parents' Guide
Have you signed up for our newsletter? Join ellaslist to get the best family and kid-friendly events, venues, classes and things to do NEAR YOU!