We Review The New and Improved Gumbuya World
Mums & Bubs
Toddlers
Preschoolers
Kids
Teens
Family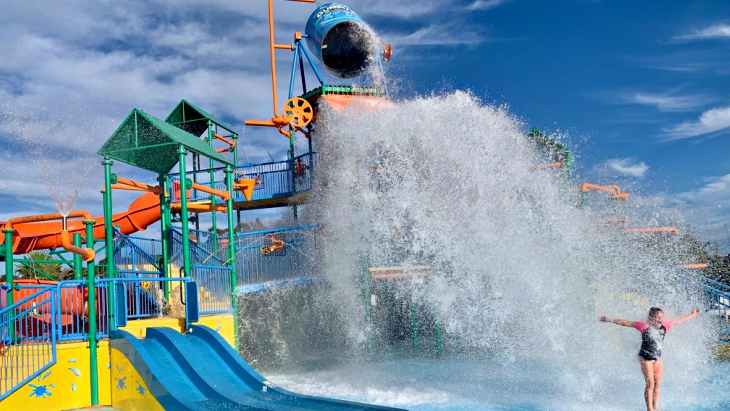 By: Nikki Zaicz, ellaslist explorer
Driving in I was feeling a bit of a nostalgic, it's been several years between visits, amazingly the pheasant statue is still out the front, but the entire place has been overhauled (including the name) and the new version is awesome!
Think of Gumbuya World as a zoo crossed with a slightly smaller scale Gold Coast theme park, but the whole place is clean, spacious, modern and not even an hour away from Melbourne!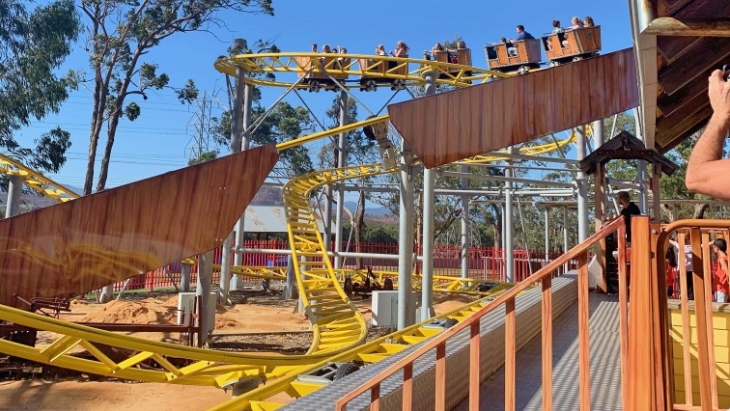 You'll pay around $50 each at the gate each, stick on the wristband and you're in and set for the day (the wristbands are quite rigid so don't do them up too tight or they'll annoy you the whole day!) There's a few additional costs (for additional experiences), things like surfing or cuddling a koala but most things except food are covered by the entrance fee.
The park is divided into 4 sections - wildlife, 2 ride sections and a water park. They're all seamlessly connected by nice and wide, stroller friendly paths plus it's all signposted for those of us who are directionally challenged! So much lush grass, greenery and open space so even if the park was at maximum capacity I really don't think it would feel crowded.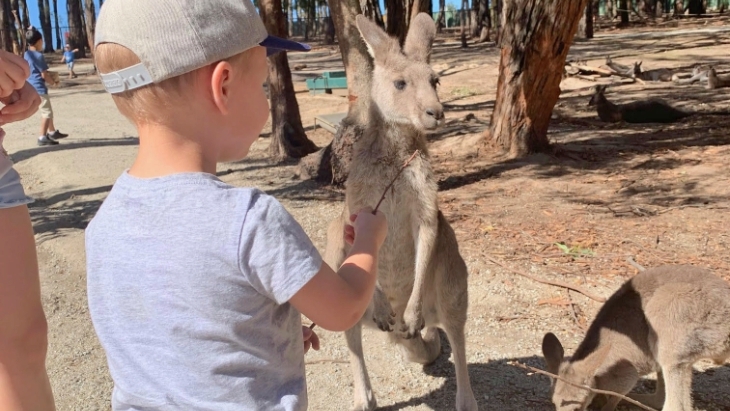 With all the areas combined there is more than enough to keep a family busy for a full day, even a couple of days if you were to see every show and explore every corner - if you're local the annual pass could be a great investment.
Grab a map near the entrance booth and head to the wildlife or rides first (save the water park section until last because, if my kids are anything to go by, once you're there you will not be able to drag them away from the water!).
The wildlife (off to the left)
So many animals! There's a petting zoo with chooks, rabbits, lamb and calfs, plus lots of native animals to see - I'm sure the map isn't to scale, we spent so long looking at and reading all about the animals! There's even a reptile area, an aviary and my son's favourite was being up close with the kangaroos!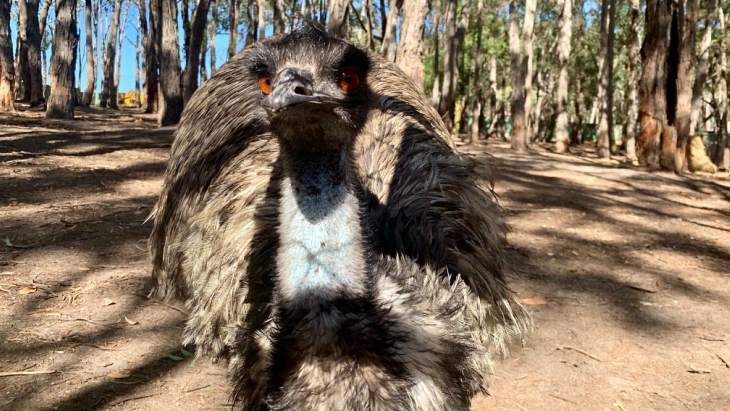 One little thing I liked was the background music that was playing, I kept catching tunes like waltzing Matilda which fits in perfectly with the 'outback' theme that they have.
The rides (straight ahead)
Some height restrictions meant the toddler couldn't go on all of them, but my 9 year old was in ride heaven!
There's teacups, dodgem cars, a pirate ship, train, rollercoaster and lots of others, there's even one that's for thrill seekers that throws you around in circles and upside down at great heights! The absolute favourites were the chair-o-plane style swing ride and the teacups, we had to go on them a few times, we're lucky there was hardly any waiting the day we went.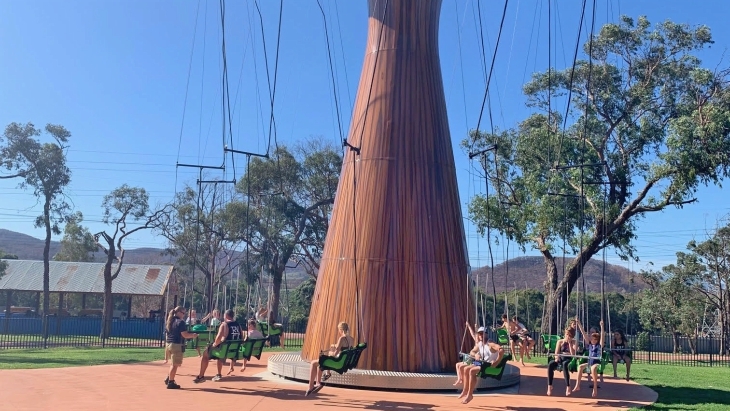 The water park (off to the right)
The water is heated to approx. 27 degrees and is incredibly clean, and and there's loads of sun lounges around to dump your towel (or yourself!) on. We all LOVED the lazy river - what's not to love about floating around on a big blow up ring?! It's a must do when you visit, our toddler loved that and the little beach style pool, the other bits were a bit too crazy for him just yet.
The two big watersides you can see when you drive in are great fun for daredevils, my 9 year old has rated the many turns of the green slide as her most favourite part of the day, I'm pretty sure that the biggest kid (aka my husband) thoroughly enjoyed the big water sides too!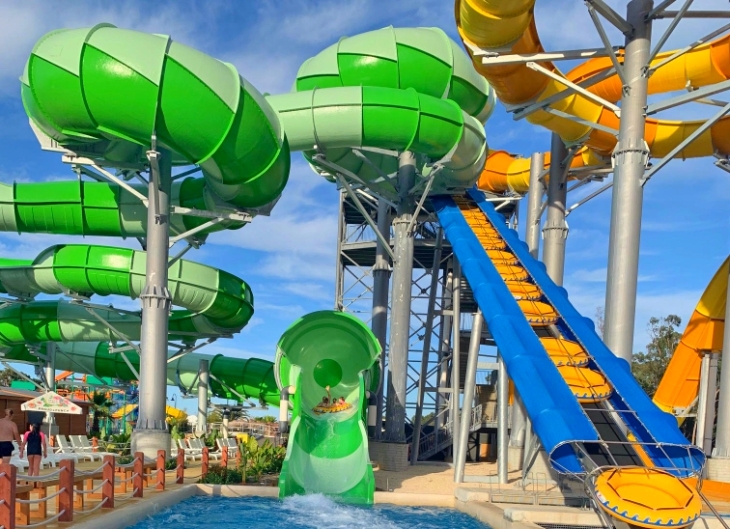 The water playground was great too, a big size with lots of slides, the water dumping bucket was enormous!
Lots of the cabanas to hire are around the pool area, they even have a fridge in them - what a great idea, would be awesome if you have little kids that nap during the day, or even a shady spot to park yourself while watching the kids play all day!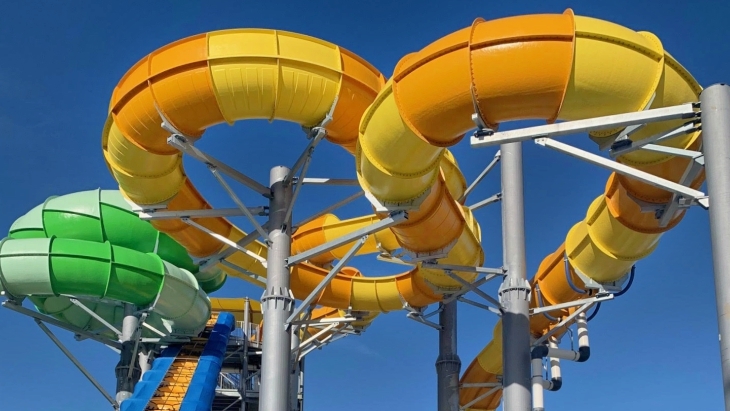 The food
There's two food venues inside, both seem to have almost the same menus. Unfortunately you can't get out of buying lunch as there's a 'no outside food' policy, but there's a standard selection of the usual chips and nuggets/fish or pizza along with the pre-made wraps and rolls, even the fussiest person will find something and to be honest they were fairly generous servings. As for the cost, you'll be looking around $15 per person for a meal and a drink, but there's lots of indoor and outdoor seating which was a welcome surprise, no stalking people for their table!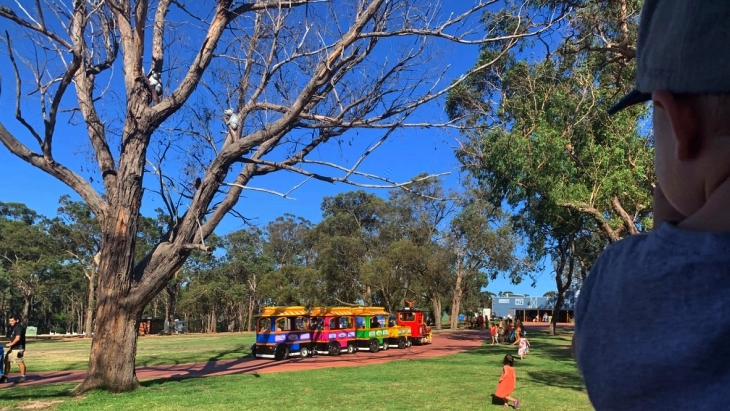 Top tips
Hire a cabana (online around $149 a day) or locker ($10 a day), located in the water park area to the right once you've entered)
Try to plan out your visit before you go to make sure you don't miss anything (book online for extra cost activities, which shows you'd like to see etc)
They have annual passes which would be absolutely worthwhile if you live locally
It's a good idea taking a stroller for toddlers and younger kids, there's lots of walking to be done around the animals and rides
Don't forget sunscreen and a hat, while there's lots of shady spots there's plenty of sun!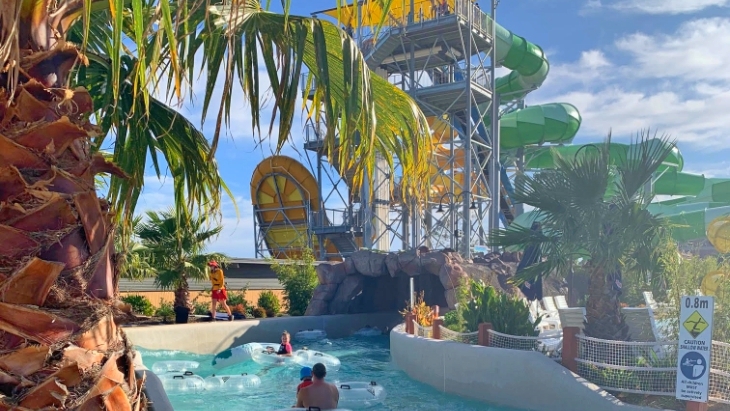 Overall, we had a great day out and made some fun memories. Will we go back? Absolutely! It even looks like more is being added to the park which we look forward to trying out on our next trip. The staff were all friendly, it's set up for families and it suits kids from little toddler up to teens. To make the most of it, it'd be best on a hot day, hire a cabana, take some friends, have a beer with lunch (I wish we knew that was an option on our visit!) get there early and don't leave until closing time!
For more information on Gumbuya World, head to the website.