Wacky And Wonderful Creations at Bar Luca and BL Burgers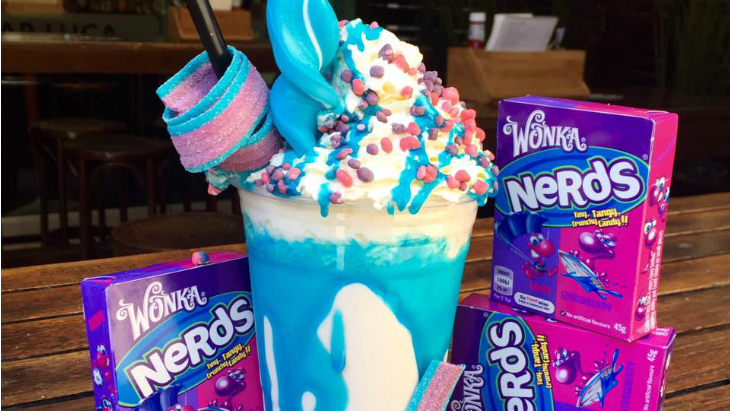 By: Phoebe Ackland, ellaslist
If wacky and wonderful (and oh so indulgent) desserts and burgers are what you're after, then look no further than Bar Luca- Sydney's popular eatery and it's spin off burger bar, Darlinghurst and Bondi's BL Burgers.
Their Latest Creation
Don't forget- today is May the 4th, international Star Wars Day! To celebrate, Bar Luca has created the "Return of the Chedi"- a rainbow-bunned burger that packs a whole lot of force. Stocked with a beef patty, American cheese, triple-smoked cheese kransky, red cheddar-cheese sauce, pickles, spicy ketchup and a milk bun the resembles the galaxy. May the fourth be with you. Bar Luca's owner, Sarah Robbins told Broadsheet: "The boys in the kitchen are big fans [of Star Wars]." Of the galaxy-buns, she said: "Our amazing baker does them at St Malo. He [dyes the dough] all the different colours, folds them together and then they get rolled out," she says. "Some people complain 'there's not enough galaxy in my bun', but they are all different. A lot of them are just blue on outside, but open them up and the colours are whirled in."
Other Star-Wars themed menu items inlcude Yoda Soda (with Vodka!), Jed Eye Juice (fresh apple juice with Jamesons and vodka), and Mountain Blast Powerade. The menu runs until Saturday (6 May 2017) at the Pitt Street store, and until Sunday elsewhere, so get in quick.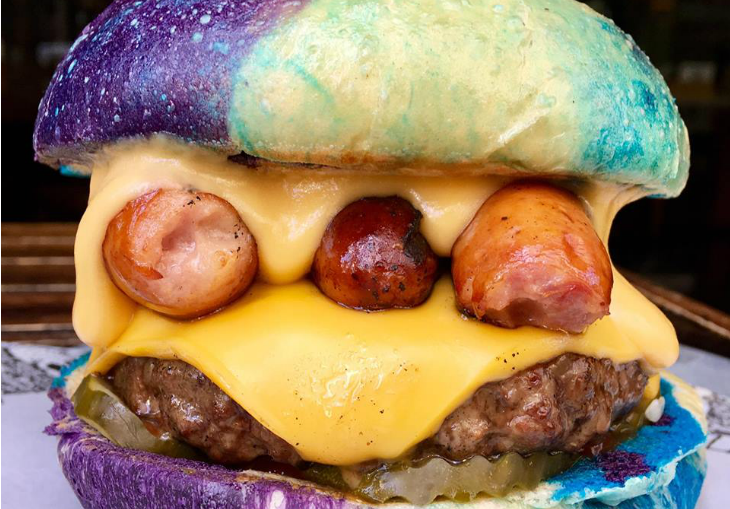 BL Burger Slide
If not for the burgers themselves, at least make a trip to BL to witness the Burger Slide in all its glory! Pictured below, you can see the slide where orders of indulgent takeaway burgers like the award winning "Blame Canada" (think double American style cheese, a stack of Wagyu Beef and maple soaked bacon) come flying down a slide in a brown box covered in stickers.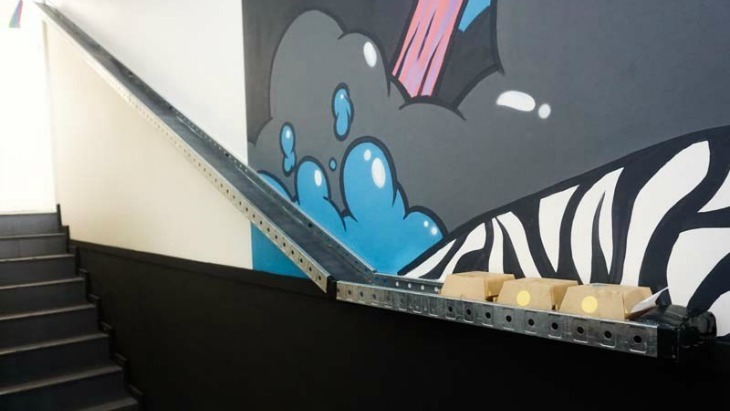 Source: Juggernauts
Bar Luca Dessert Specials
If you and the kids are ever in the mood for a sugar coma, then get down to Bar Luca. One particularly popular recent special was the Pop N' Shake milkshake special- a caramel popcorn flavoured shake oozing whipped cream, buttered popcorn and other sweet treats.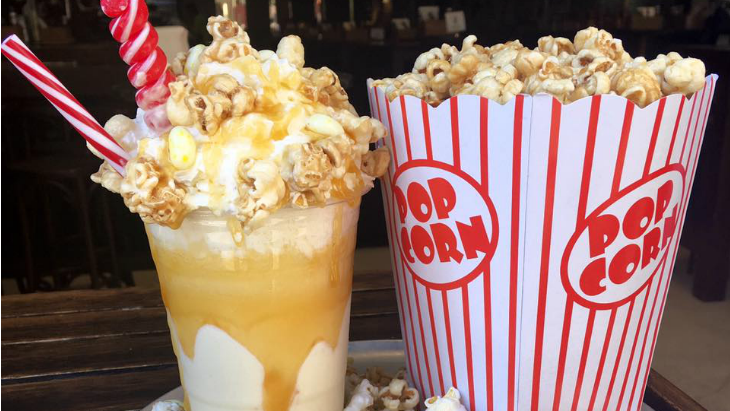 The "Blue Dane" was another Insty-worthy Blueberry & custard flavoured shake, topped with whipped cream, blueberries & a blueberry danish! For just $10, we think that's pretty epic.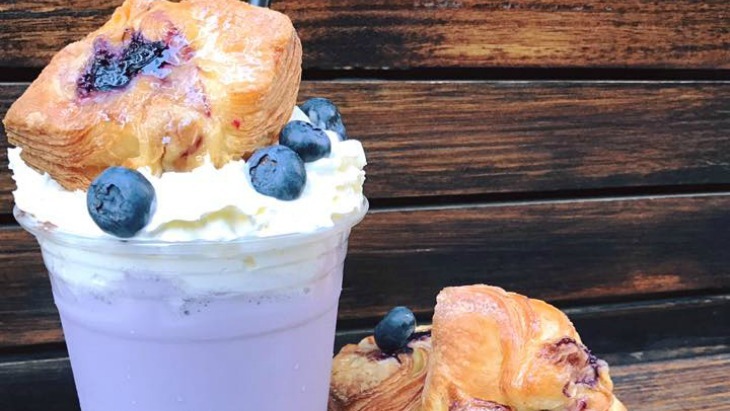 Wonka Week- A Gene Wilder Tribute
And who could forget Wonka Week- a week long menu tribute to the late Gene Wilder and star of Willy Wonka and The Chocolate Factory, that made headlines and turned burgers into rainbow explosions.

Source: Daily Telegraph Facebook
The Beauregard Burger (named after the movie's gum chewing Violet) had a beef patty, tomato soup jelly, blueberry onion jam and Wonka sauce on the highly-Instragrammed rainbow milk bun.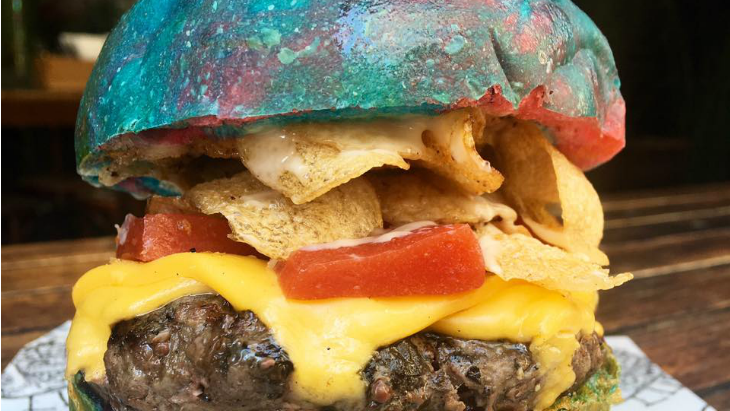 The fun part? Hidden in 16 burgers across the 2 locations were GOLDEN TICKETS- also known as free burger and drink vouchers for the lucky finder and a friend. This was one week we're sure Gene Wilder would've been proud of.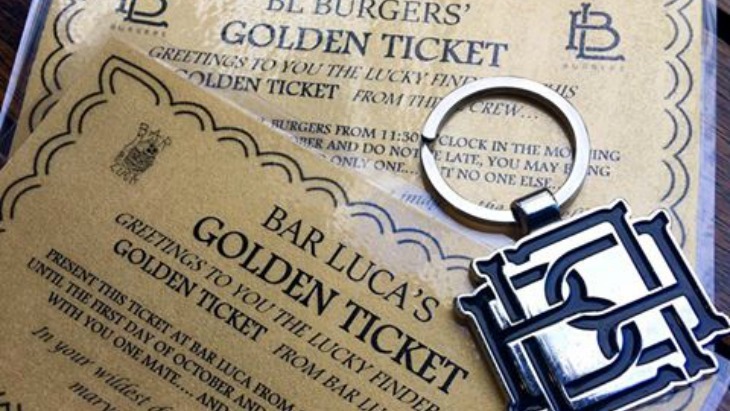 Check Out Some More Food You've Got To Try On ellaslist