voco Gold Coast - Family Hotel Review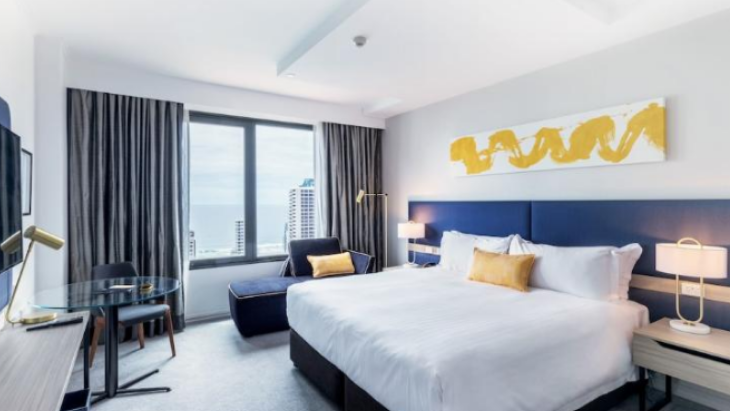 Living in Brisbane, it's always a treat to get down to the Gold Coast for a weekend. It's just far enough away that you feel like you've escaped (I always feel the tension leaving my shoulders around Beenleigh), but not so far that you have to worry about keeping the little ones entertained in the back seat for too long.
So we were thrilled to be invited to check out voco Gold Coast in Surfers Paradise. Right in the heart of everything, the location was perfect. Our room looked out across the water through floor-to-ceiling glass and was super comfy.
voco Gold Coast is part of the InterContinental Hotel Group's new upscale brand, launching in November 2018, and it's the global first in the voco brand. The hotel, which used to be the Watermark, has undergone a significant refurb which you can feel as soon as you walk through the glass doors (that's after the valet parks your car for you, natch).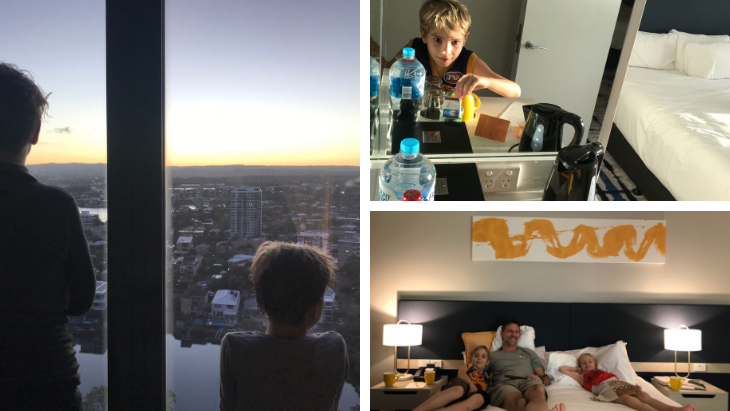 Well, I say "room", but actually we had two adjoining rooms. One of the challenges of having a larger family is finding hotel accommodation that can take us all, but voco easily allocated adjoining rooms - one with a king sized bed and one with two queen beds - all with a door that we could shut to block out the noise and shenanigans (and have some rare adult time), but coud then open to check nobody was up to anything. Perfect!
The children were thrilled with the little touches around the room like the mini bar chocolate, the welcome shortbread we were given at reception when we checked in, and the rosemary and mint toiletries in the bathroom. My eight-year-old son voluntarily washed his hair for the first time in about four months, so thanks voco!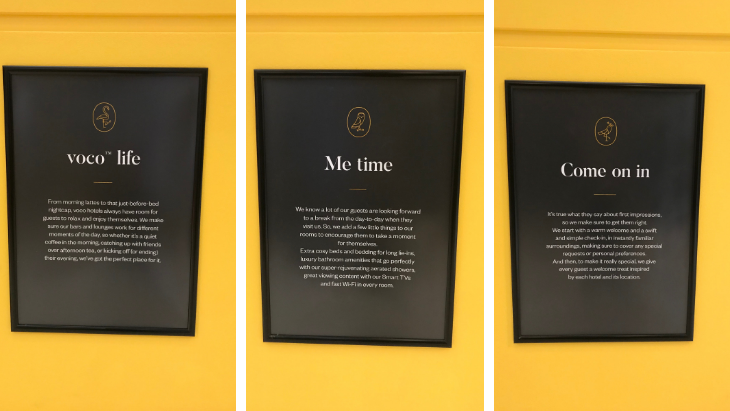 As if the rooms weren't delightful enough, we had reservations to eat at Waves Buffet Restaurant on the ground floor of the voco, and that was every child's dream! The staff are clearly experienced with having rambunctuous kids running around because they didn't bat an eyelid as mine spilt things and asked a zillion questions. And for us parents, they knew the wine list back to front and recommended a delicious dry rosé.
The buffet catered for all tastes, from roasts and salads to noodles and pasta - but the savoury section was just something my children had to endure before they were allowed at the chocolate fountain and children's dessert buffet (that's right, there's an adult dessert buffet AND a children's ice cream bar - heaven!).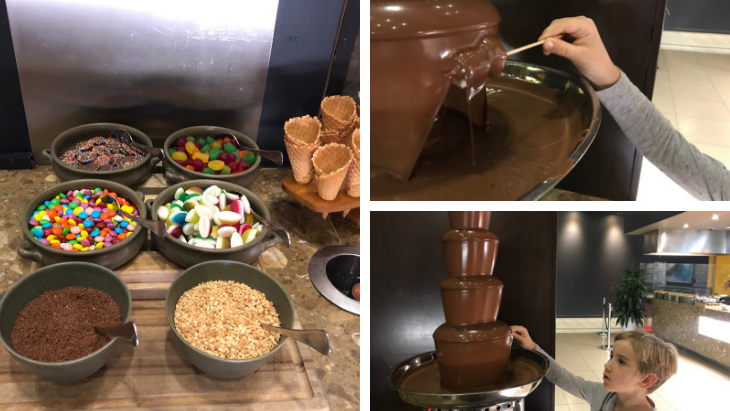 Strawberries and marshmallows are all there, pre-skewered, for the kids to hold under the chocolate fountain. (voco have cleverly put this up high so most children can reach it without being able to put their face underneath it - well played...).
And the children's ice cream bar was a massive winner too - with the children able to scoop and decorate their own ice creams.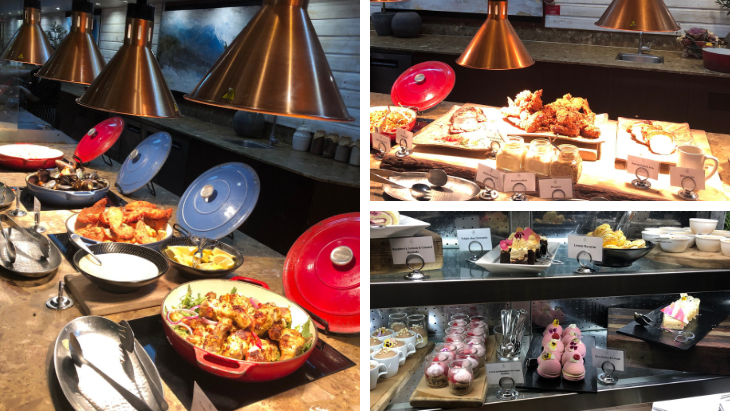 By the time we made it back upstairs, the sugar crash was imminent so I turned on the massive TV on their wall and went to my room to do the same. There I lay on the COMFIEST BED I'VE HAD THE FORTUNE TO MEET.
Suffice it to say, I slept like a dream, waking to head down to Waves Buffet again for breakfast.
Breakfast was just as great as dinner, with everything from eggs to chia pudding and everything in between.
Unfortunately I didn't get a chance (read: three children) to try it on this visit but there is also a day spa in the hotel, which looks divine. There's also a gym, two pools, a meeting space and two more restaurants (one with cocktail lounge) - seriously, this hotel is DECKED OUT.
It's been a while since we've spent a weekend at the coast, and this visit made me wonder what's taken me so long. The Gold Coast has become sophisticated and family-friendly while we weren't looking - and we can't wait to head back to the voco Gold Coast again very soon.