Top Tips For Having The Best Date Night At Home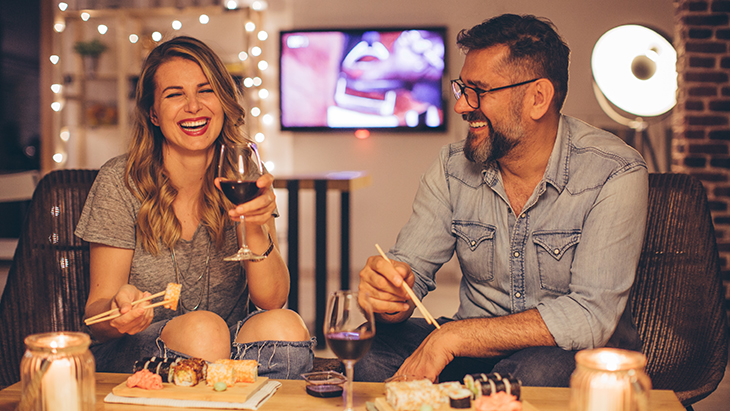 By: Lisa Wolff, ellaslist editor
Date night….seriously, what's that? When there are three young, energetic and loud kids and we've survived the gauntlet they call bedtime, we muster up the last glimmers of energy to switch on the remote control before collapsing on the couch in a heap. Pre-kids I was a passionate foodie and I had a never-ending list of restaurants to eat our way through. These days the closest we get to a meal out is sculling a cup of coffee before the little ones finish their babycino and declare themselves 'bored'.
But then one day when I was moaning to a mate about our serious dearth of date nights, she suggested we do a romantic night in. Oh yes, that's the answer! So I set about creating the best date night ever without having to even leave the house (or worry about getting a babysitter). And here are my top tips so you can do the same thing.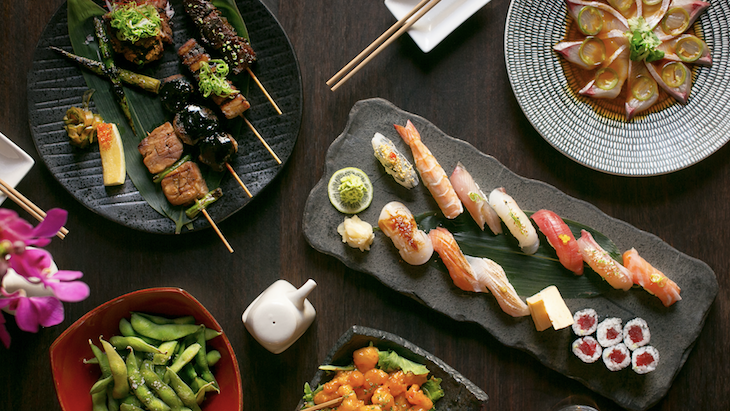 1. Tire The Kids Out
Do whatever it takes to get the kids into bed and asleep at a reasonable time. Having to attend to "mummy I need a wee-wee" or " da-a-a-a-d I'm thirsty" just as you're about to take a sip of wine, is a true romance killer. Take them to an adventure playground, get them to run relay races, take the bikes for a spin….just tire them out. Avoid excess sugar or other stimulants and move through the bedtime routine as swiftly as possible.
2. Pick A Theme
I love the idea of having a themed date night. For me, it was all about picking food to fit into the theme, but you can also dress up and decorate the dining area to follow the same style. I'm crazy about sushi so it was an easy decision to pick Japanese as our theme. But there are so many options - Moroccan, Indian, American Diner, Thai, Italian, All Things Sweet.
3. Make It Inviting
Design an invitation, inviting your partner to your date night in and add details such as day, time and dress-code. You can easily whip up a digital invite using free computer software like Canva or Paperless Post or simply get a plain piece of paper and draw up the invite with coloured textas.
4. It's All About the Food
For me, date night is all about the food. Since we wouldn't be going out to a restaurant, I found a way for the restaurant to come to us. Date night is all about relaxing and enjoying each other's company so the last thing I want to do is cook and the thought of washing up on date night is just dismal. So the only answer is UberEATS. UberEATS is this awesome new food delivery service from Uber which allows you to easily put in your food order from a variety of restaurants and cafes and get it delivered directly to your door. It's so cool how you can make your order on the app (a different Uber app than the one you're familiar with) or website and you get notified in real-time when the restaurant is preparing your food and when it is ready for delivery. You can then track your UberEATS driver on a map to see exactly how long they will take to get to your door, and the coolest part is that the app even tells you whether it's being delivered by bike, scooter or car!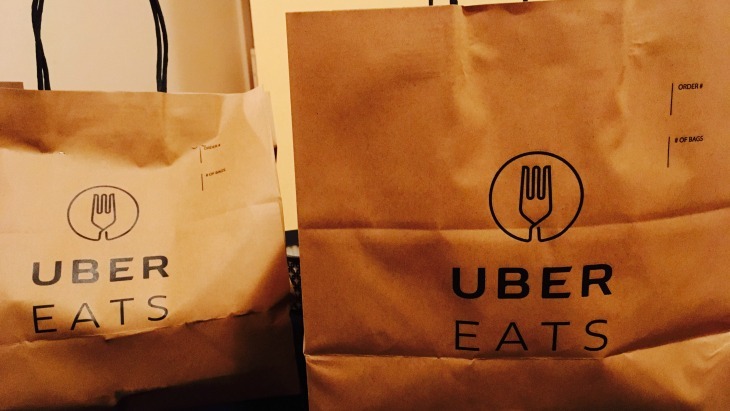 So while hubby was reading to the kids, I went onto the UberEATS mobile app and ordered our food. It wasn't easy to decide what to order as the choices were so extensive. But given the Asian theme, I went with Sake - an upmarket Japanese restaurant. The last time we went to Sake was before we had kids and I remember it to be a taste-bud treat and I was so excited that we could re-live the experience in the comfort and convenience of our home. It certainly wasn't the cheapest option but I figured we'd be saving on parking and child-minding so we could afford to splurge a little.
5. Light It Up
It's amazing how a few flickering candles can convert any space into a room of romance. I scavenged around the house to dig out a heap of candlesticks and I dotted them around the dining area. You can get cheap candlesticks from a two dollar shop so it can be an inexpensive way to make date night that little bit special.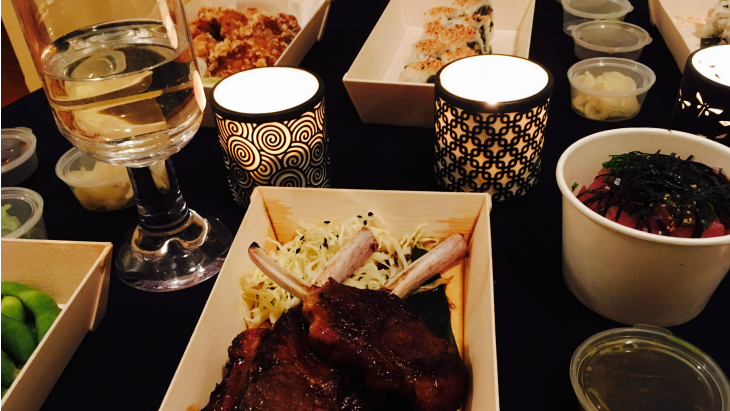 6. Don't Forget The Music
Make sure you get some perfect background music to go with the date. I'm sure you already have appropriate music on your iTunes or you can stream music for free with Spotify. If you're in the mood for fun, you can even set up a karaoke concert. Simply search Youtube for Karaoke and you'll find some great sing-along versions of popular songs. It's a great way to jump-start a date or have some laughs after your meal.
7. Wine Tasting
If you're into your wine, get a few bottles and do some wine tasting with your partner. Pretend you're experts, even if you're not, and comment about the 'nose' and 'bouquet' of the wine. And best of all you can get as tipsy as you want as you don't need to drive home.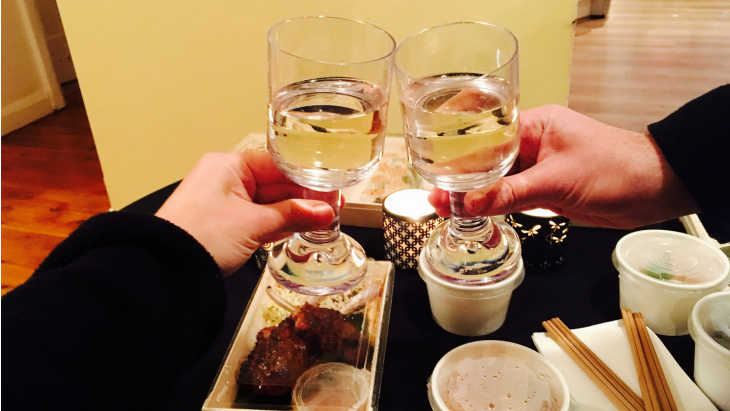 8. Set It All Up
Once the food arrives, put a tablecloth on the table to cover the crayon doodling and paint stains and decorate the table with your meal, wine glasses and candles. Our Sake delivery came in separate containers with chopsticks so we didn't even have to take out plates and cutlery. No washing up…bonus!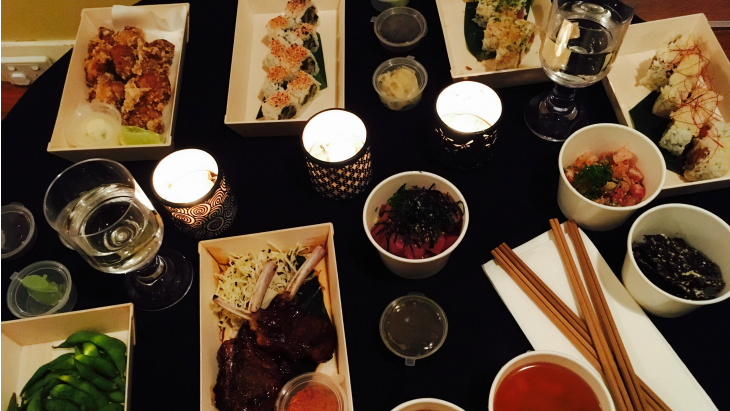 9. Eat
And now for the best part. Our delivery went through without a hitch - the UberEATS driver bringing our food in two large paper bags. It was all ready to eat and even the miso soup and lamb cutlets were still warm. We just relished some quieter time with the TV off and the kids asleep. We loved trying out the new tastes - adding the crunchy seaweed crackles to the fresh tuna and drizzling the scrumptious dressing over the avo salad. We feasted on sushi rolls, miso and edamame until we had no more space left. YUM!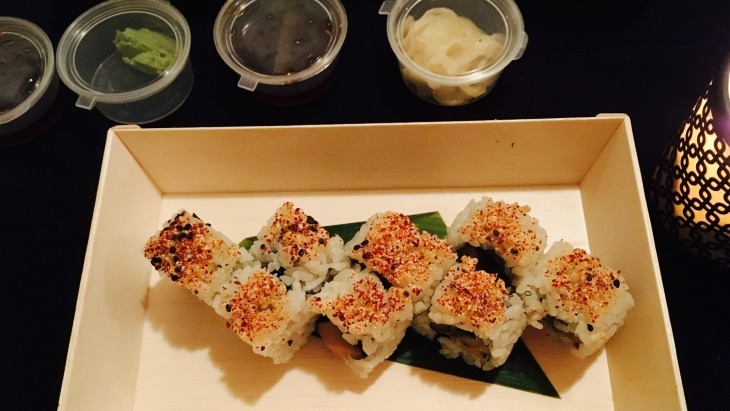 10. Dessert
Give date night a sweet ending. The cool thing about UberEATS is that you can order from two restaurants at the same time, so perhaps a main from one place and a delicious dessert from another. Curl up on the couch and enjoy! What can be more romantic than sharing cookie dough and brownie batter with your loved one?
Now you can create your own romantic date night at home. UberEATS are giving ellaslist readers $10 off their first UberEATS order.
To Enjoy $10 Off Your First UberEATS Meal, Follow These Simple Steps:
2. Enter the promo code EllaEATS
3. Set your location
4. Search for your favourite meals
5. Request and track your order
First time UberEATS users only. Valid in Australia where UberEATS is available until 1.1.2018.