Top Ideas for the Best Kid's Party Ever
Preschoolers
Family
Kids
Mums & Bubs
Parents Only
Teens
Todders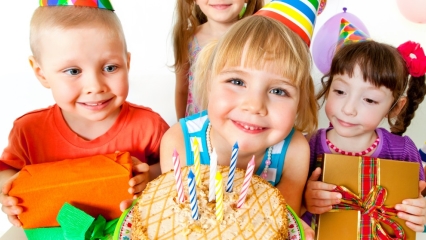 ellaslist COVID-19 update: Please note that all the information on the website is correct at the time of publication. Please check the relevant website before visiting a venue or destination for the latest COVID-19 information. ellaslist is not responsible for any cancellations or closures.
By Lisa Wolff, ellaslist
These days you need a pot of gold and a personal event co-ordinator to organise your kid's birthday party. I've been to some parties where the decor, cake and food is so over-the-top lavish that I am left wondering how I can ever compete. And my daughter is only 3! Juggling a household and a job, doesn't leave much time to plan that dream party. Oh, how I need a Fairy Godmother to wave her magic wand right now.
So I called up Kate from the Good Fairies. She is the original Fairy entertainer and having started her party business over 21 years ago, this Queen of the fairies knows all there is to know about throwing the best birthday bash. I begged her to share some secrets with us time-poor mums.
These are Kate's Top Tips:
1) What's the best time for a kid's birthday party? Morning or afternoon?
Deciding on a time depends on the age of the children. For kids 2 – 5 years I would suggest morning time is better. Kids 6-years-plus can usually handle an afternoon party.
I suggest do what works for you in terms of family convenience. But when you are scheduling an afternoon party, let the kids sleep in and think about ways to keep the kids calm and engaged for the morning so they don't burn out by party time!
2) Is there an ideal number of kids we should invite? How many is too many?
There are a couple of things to consider here!



Think about the amount of space you have and how many children will comfortably fit in it! (Remember depending on the age of the kids you may have some grown ups to entertain as well.)


The number of kids should be matched by the number of performers. One entertainer is perfect for up to 16 kids. Over and above this number, we would suggest a 2nd performer to keep them totally engaged and entertained.


For younger children keep groups smaller so the occasion is not too overwhelming. Older kids 5 + years why not invite the whole class and have some fun!
3) How do I choose a theme for my kid's birthday party?
Chat with your kids and get them involved in the decision if they are old enough! Think about Universal themes that you can realistically pull off. If you are over the usual Fairy, Pirate, Princess or Mermaid theme – think about something fun and unisex like a "Rainbow" / "Neverland" / Mad Hatter's Tea party / Under the Sea. Make it achievable for your guests to get a simple costume together!
4) What do I do for entertainment?
If you are hiring an entertainer make sure you ask them to be specific with you about what games are planned for the time frame of the party. It is really important to have the structure and running order clearly defined so that the party doesn't run overtime and you are rushing at the end to get cake out etc.



Choose a combination of stationary activities and movement based games that will keep the kids engaged.


Don't let a game go on for more than 10-15 minutes before transitioning into the next one.


If you are doing your own games keep ideas simple and remember to introduce each game with simple and exciting instructions.
5) Do I need send out invites?
Invites really do need to be sent out. If you are going to the trouble of organising the party you want to make sure people will come! Ideal time to send them out is 3-4 weeks beforehand – any earlier people may not be able to commit / any later they may already have plans. Make sure you make it easy for people to RSVP – either to an email address or a mobile and keep a list of the names you have invited so you can tick them off as they make contact.
6) What's the Best Party Food for a Kid's Birthday Party?
There are two ways of handling the food.



Either have a designated table where you put food out for the kids to graze on.


OR set aside a 15-20 minute time frame where children sit at a special party table and have their party food.
Again it really depends on the age of the group of children – littlies 4 and under really won't eat a lot of food so pick three of their favorite items on platters and have it ready to go for them after the first half hour of the party. A ratio of 2 savoury and 1 sweet is plenty plus cake for this age group.
For older kids more comprehensive food options such as High Teas or themed party food platters can be so much fun! Use fruit based dishes such as easy fresh fruit skewers as a more natural sweet hit rather than fructose or chemical based sugar items. Small savoury items such as mini pies and pizzas that kids can pick up easily and eat in a couple of bites are perfect. Favour Jugs of cold water or good quality diluted organic cordial over fizzy drinks.
7) What are the Most Popular Games/Activities for a Kid's Birthday Party?
The old favorites such as "pass the parcel" / musical statues and musical chairs are still popular – in fact kids almost expect them! Turn pass the parcel into a treasure hunt for little ones or a larger group so it doesn't take so long. For older kids games of skill such as memory activity / balloon relays / egg and spoon and sack races will ensure the program is not too babyish.
8) What Should I put in the Lolly Bags?
Keep it traditional and old fashioned – marshmallows / freckles / caramel buds / natural jubes and snakes / freddo frogs will always be a winner. Use Carob buttons / yoghurt bites / apricot delights and sultanas for a more natural lolly bag.
Avoid hard candy / chocking hazards or lollies with too many synthetic food colourings and letters that begin with E such as sours and sherbets!
9) What are your Best Tips for the Best ever Kid's Birthday Party?



Be organised in advance


Shop a couple of weeks before for everything you need.


Outsource what you don't feel you can do yourself so you don't wind up on party day feeling overwhelmed and exhausted.


Have a clear idea of how the party will run in terms of timings for games and food.


Keep an eye on the time so things don't run overtime.


Choose games and music that are age appropriate.


Plan a party menu that is simple and delicious and don't go overboard with too many food items.


Relax and celebrate that you have made it through another amazing year with your wonderful kids!
10) Any Specific Tips for a Fairy-themed Birthday Party?



Use simple decorating ideas such as lengths of pretty soft fabric draping to transform a backyard corner into a "Fairy ring".


Use a picnic rug and scatter cushions from the lounge room to make a designated spot where children can gather for facepainting and Fairy whispers games.


Simple cupcakes with pretty soft icing and some Fairy bread cut in flower shapes with a cookie cutter are easy and yummy – add a fresh fruit kebab to make an instant Fairy morning tea!


The Good Fairies have been operating for 22 years. Starting as a small business based in Sydney we have expanded to operate across the east coast of Australia.


We provide parties and entertainment services Sydney wide. Our fairies are also available in Brisbane, The Gold Coast, Melbourne, Wollongong, Newcastle and the Central Coast.


We offer packages for all budgets. Whether you want a face painter or entertainer for your party or a complete party package including, food, entertainment, set-up and pack-up, we can provide it.


We are the home of the original Themed Deluxe Fairy High Tea. You choose the theme: Cinderella, fairy, genie, mermaid, frozen, pirate, jungle, Alice in Wonderland


We provide a magical table setting, generous high tea party food, a fairy godmother facilitator to help set up and pack up and an entertainer to run party games and paint faces. From $35 a head.


Although we specialize in fairies we offer a wide range of characters, catering to a range of children's interests.


All Good Fairies Performers have had working with children checks, police checks and are covered by Public Liability Insurance and Workers Compensation.