Throw Paint at The Walls at This New Smash Splash in Sydney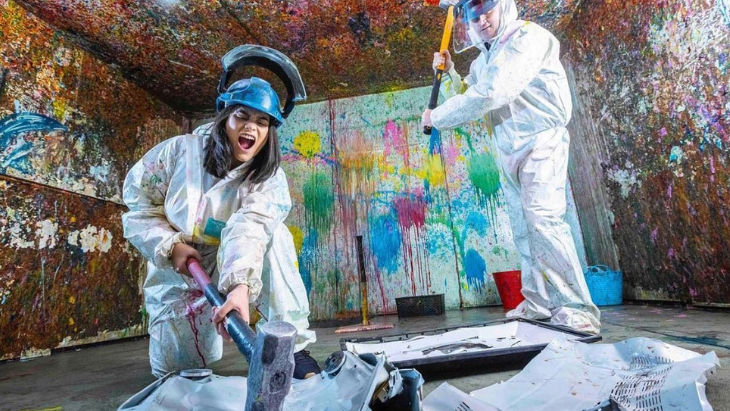 Calling all strung-out parents wanting to let off some steam. The first-ever Smash Splash has opened in Sydney and it's awaiting the release of your inner rage.
Found in Gladesville, the warehouse now offers two stress-releasing experiences.
The first is a smash room. You choose your weapon, such as a baseball, sledgehammer or golf club, and then satisfyingly smash up the whole room.
There's even an opportunity to pay for more items to smash up, depending on how your week or month or Covid year has spanned out.
For those who prefer a more relaxed means of stress relief then there's also a splash room, where you can hurl paint at the walls or at each other.
This has a two-person minimum booking, with boiler suits provided. There are even canvases available to purchase if you want to showcase your art at home.
Smash it Up is only available for 18s and overs. It costs $15 for a solo 15-minute smash but group booking up to nine people are available.
A Splash Room is suitable for children five years and older and costs $50 for 30 minutes.
Where: Smash Splash, Unit 2, 37 College Street, Gladesville
When: Friday 6-8pm, Saturday 11am-6pm and Sunday 11am-6pm.
Cost: From $15pp for 15 minutes
To book or to find out more, visit Smash Splash.