This Much-Loved Children❜s Toy Is Full Of Mould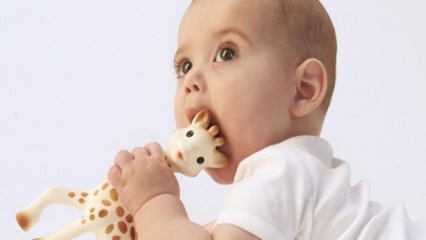 By: Phoebe Ackland, ellaslist
Air coming out of the hole in Sophie the Giraffe's head was the catalyst for one of the yuckiest children's toy discoveries we've ever seen.
Dana Chianese, from New Jersey, is a paediatric dentist who often recommends teething toys to mums with little ones. Her personal choice for her young boys was the same as so many new mums in Sydney- the cute yet functional Sophie the Giraffe. After an unpleasant odour came out of a hole in her child's Sophie, she decided to cut into the rubbery toy to see what was going on. She shared what she found with Good Housekeeping, and the photos and story has since done the rounds online all over the world: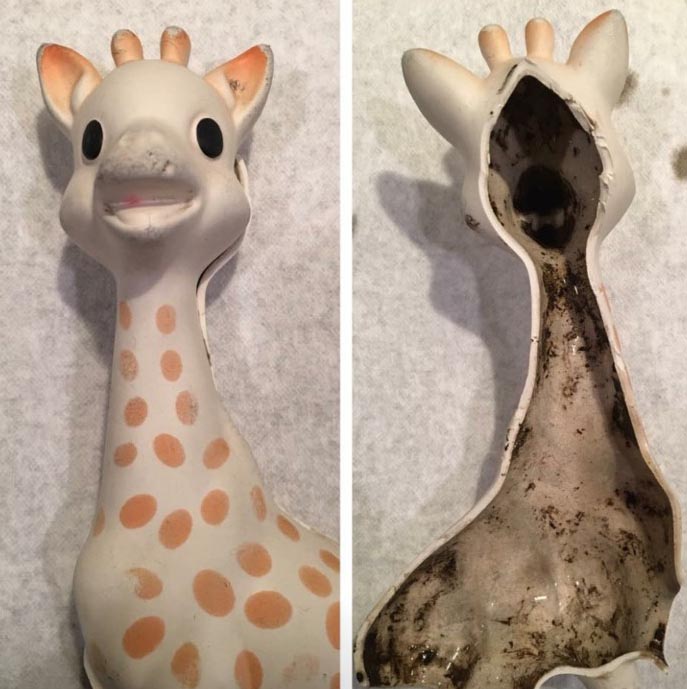 Mouldy Mayhem

"I decided to cut into Sophie out of curiosity and discovered a science experiment living inside. Smelly, ugly mould living in my infant's favourite chew toy!" Chianese told Good Housekeeping. For months, despite apparently following the instructions and washing the squeaky toy with warm, soapy water but not completely submerging it, the mould had apparently been growing, whilst being placed endlessly in her children's mouths. "I no longer buy any chew toys with a hole or recommend any to my patients."
Poor Sophie's Getting A Pretty Bad Wrap

This isn't the only case of poor old Sophie losing her shine. Stephanie Oprea reviewed the teething toy on Amazon, with a warning to other mums beguiled by Sophie's cuteness and magical way with disgruntled children. "Beware!! If you have a drooly baby, moisture will get in the hole and you'll end up with mould! We've had ours for two years and the entire inside is coated with black mould!"
Is There Really Any Reason To Fear?

Due to Sophie's popularity, these bad reviews have gotten a lot of traction, with Lara Worthington (formerly Bingle) even weighing in on the mouldy debacle with an Instagram post warning against the product, scolding the makers and reposting the photos posted by Oprea.

However, is there really cause for quite so much concern?
CNN spoke to health and mould specialists, who said that any toy with a hole in it that has been in water or drooled on could potentially have the same problem, and that parents should, for lack of a better word, relax. According to Dr. Ellen Dutta who lectures at Harvard University, the small percentage of children who have been exposed to mouldy Sophies will only be affected in a minor way, or perhaps, in rare cases, experience some "stomach upset". It is thought that exposure to mould can lead to allergies in later life, but in terms of this, Dutta "remains unconcerned". Super sensitive children could potentially be affected, whilst most will not be at all.
Since the company's inception in 1961, over 50 million Sophie's have been sold worldwide.